*Go straight to the FULL REVIEW.
Overview (Final Score: A-)
The 2017 Buick Encore is newly refreshed, but largely the same as it has been for a couple of years. This means it has an excellent interior, great ride quality and good versatility – all the things it's been known for. Holding to the Buick name, the Encore has a smart interior and excellent drive dynamic to go with its tiny size.
The Encore is a compact premium crossover that seats up to five. There are six trim levels and either front-wheel or all-wheel drive is offered. Two engines are also on tap, both based on a true-performing 1.4-liter 4-cylinder. Its standard automatic transmission is one of the smoothest you'll ever experience.
New for this year on the Encore is a revised front fascia, a few trim level details and an upgraded interior to include better materials and a more ergonomic driver's experience for controls and gauges.
In all, the 2017 Encore is one of the best premium crossovers we've driven this year.
What We Love About the 2017 Buick Encore:
Excellent interior with good materials and workmanship
Upgraded engine is very good for this vehicle
Unusual interior cargo options such as the fold-flat passenger's seat up front
What We Don't Love About the 2017 Buick Encore:
Fuel economy not as good as we'd hoped
Interior is smaller than some competitors, especially in cargo area
Exterior looks are disproportionate like most in this segment
Performance (9/10)
The 2017 Buick Encore has two engine choices. The base engine is a 1.4-liter 4-cylinder engine that outputs 138 horsepower and 177 foot pounds of torque. An 8-speed automatic transmission is standard and front-wheel drive is the norm. All-wheel drive is available with this engine in upper trims.
The base engine is enough to motivate the little Buick well, but starts to struggle when steep on-ramps or heavy passenger/cargo loads are involved. At highway speeds this engine will require the transmission to shift regularly in order to keep the vehicle moving at speed. The automatic is smooth and quietly unobtrusive – another Buick hallmark.
The upgraded engine is the same one but turbo-boosted to 153 horses and 177 lb-ft. The same transmission and all-wheel drive are used. With this engine driving becomes much more enjoyable. Especially under load. The Encore virtually sprints out of stop lights and jumps into the fast lane for passing. It's a great little engine for this crossover.
Added to that is the Encore's basic excellence in engineering. Steering is well done, not too sloppy and not too heavy. Handling is excellent with good suspension tuning to absorb the road while allowing plenty of feedback for engagement.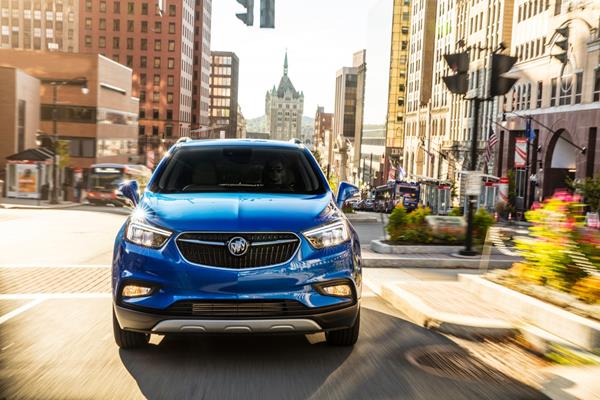 The 2017 Buick Encore is a joy to drive around town and does well on the highway too. It's nimble and easy to maneuver in tight spaces with good visibility for the driver.
Pricing and Value (10/10)
The starting price for the premium-level 2017 Buick Encore is very reasonable and includes a lot of equipment. Most buyers will not need all-wheel drive, but the jump to that drivetrain is not steep. A well-equipped model in the upper trim tiers can be had for $25,000 with AWD and more, making this one of the better deals in premium crossovers.
Resale for the Encore is difficult to assess but has generally been good for the segment. AWD models tend to hold value more than do FWD options and the engine upgrades are always a good idea for value retention.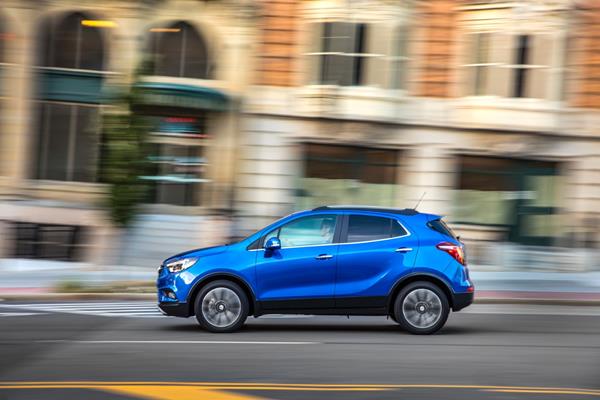 Total Score and Competitive Comparison (73/80, 91%)
Most competitors to the 2017 Buick Encore are from less premium brands with higher tier points that are competitive in terms of packaging. Those include the excellent Mazda CX-3, which we consider very competitive to the Encore in most every way.
The Fiat 500X is also competitive, though not quite as premium at its top point. The Honda HR-V offers more interior space, but a less premium feel to its interior and overall drive quality.
In our assessment the 2017 Encore stands alone in terms of premium appeal, value and excellence on the road. This is a tiny crossover whose purpose is to be compact and versatile while delivering the ride quality and interior excellence Buick is known for. The Encore definitely makes that grade.
Read the FULL REVIEW Now to get expert tips on the 2017 Buick Encore's safety, reliability, fuel economy, interior, exterior, technology and more.
Search used cars for sale and find the best deals near you at iSeeCars.com.
To get a FREE iSeeCars VIN Report for a car, click here.