*Go straight to the FULL REVIEW.
Overview (Final Score: B)
The 2016 Subaru Forester is a small crossover competing in a segment full of excellent choices. Yet it manages to continue to thrive thanks to the legendary Subaru capability and high marks for family-use versatility and ergonomics. The Forester may be somewhat plain to look at when sitting in a parking lot full of its rivals, but few can boast the overall package of excellence this crossover brings when a closer look is had.
The 2016 Forester sees several updates this year to include a much more intuitive and capable touchscreen interface (the next-generation StarLink), now on a standard 6.2-inch screen that upgrades to 7 inches in some models and packages. Other highlights of the Forester include an above-par backseat experience, a huge and usable cargo space, and a high value proposition for the buyer.
The Forester is a compact, five-seat crossover that comes standard with all-wheel drive and a choice of two powertrains and six trim levels.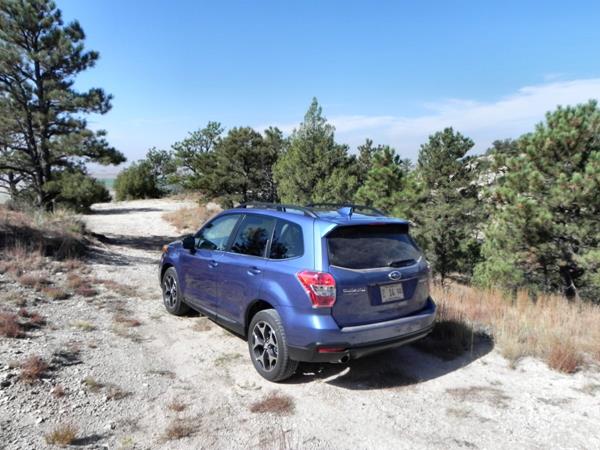 What We Love About the 2016 Subaru Forester:
Excellent bang for the buck overall.
Interior ergonomics and overall daily use is very good.
Has a solid, predictable and well-earned reputation for capability.
What We Don't Love About the 2016 Subaru Forester:
Interior is not as classy as some options.
The exterior of the Forester is plain-Jane compared to most rivals.
Lack of a 2WD option means others may have better fuel economy.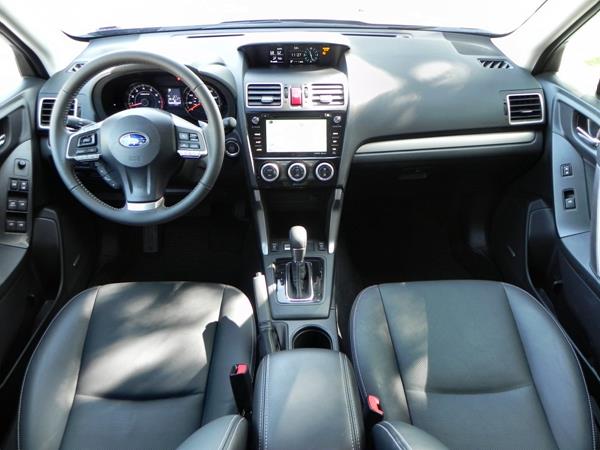 Interior Comfort, Quality, Ergonomics (9/10)
As a product line, Subaru vehicles are not known for their flashy interiors. Simple and functional are the norm in a Suby and the Forester follows that philosophy. That's not to say that the 2016 Forester lacks amenities or comfort, just that the focus is on functionality and usefulness, not making things pretty. It's more adult and grown up, if you prefer, and is very easy to get used to once you're in it.
The 2016 Forester has three things that will immediately jump out at those who first get into the crossover. First, the driver's controls are so simplified that they're intuitive. Second, the rear seats are some of the best in the business with a higher seating position than is the norm, which affords better hip and thigh comfort as well as a better view – all without losing headroom, surprisingly enough. Third, the Forester has wide-opening doors with tall entries, making it easy to get in and out. These are the beginnings of the ergonomics that the Forester's interior designers seem to have obsessed over.
Quality materials are found throughout the Forester and everything in the crossover appears solid and able to take abuse without complaint. Things aren't exactly plain to look at, but they aren't showy either.
In the front, seating is spacious and well done, with enough firmness to keep the Subaru "hey, I'm just here to drive you to places where fun things happen" vibe. The rear seating is also surprisingly spacious and comfortable, with even the middle position having more legroom than would be expected in the small crossover segment. The outboard seats are very good too, with a lot of shoulder and headroom for the class.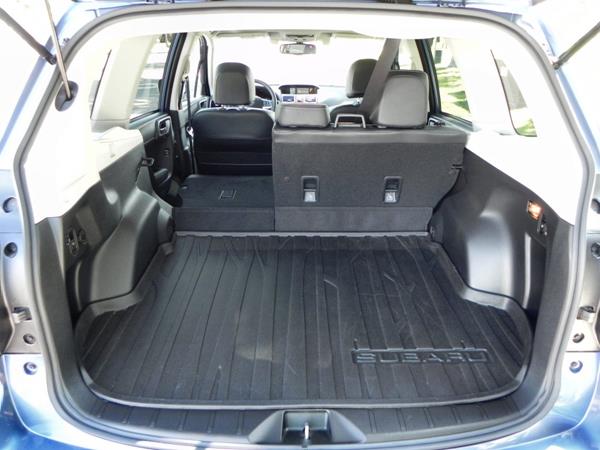 Cargo is a shining point in the 2016 Forester as well. With all seats up, there is 34.4 cubic feet of space to fill. A square rear hatch opening and low floow with a small sill all add up to easy use of this area. When the rear seats are folded down, the cargo opens up to a massive 74.7 cubic feet, leading the small crossover class in roominess.
One big caveat with all of this applause for the 2016 Forester is that the headroom and cargo space are dependent on not having the (admittedly beautiful) panoramic sunroof. Adding that lowers the interior roof by about half an inch or so, which doesn't impede passenger headroom too much, but it does cut down cargo space and make the rear loading area less square at the top.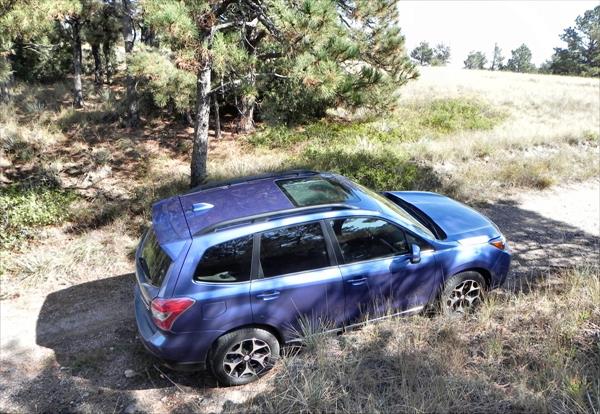 Fuel Economy (9/10)
Fuel economy has always been a surprising strong point in Subaru vehicles, which are usually known for their excellent all-wheel drive drivetrains. In the 2016 Forester, fuel economy is good, being above average for the class when compared to many AWD-equipped rivals. Competitors with two-wheel drive options, of course, are generally better at the pump.
The standard 2.5i models have solid economy numbers at 27 mpg combined, with 24 mpg in the city and 32 mpg on the highway. These numbers drop significantly for those who opt for the manual transmission in the base model, lowering them to 25 mpg combined.
The upgraded 2.0XT model has more performance, but sacrifices some fuel economy to get it. The EPA rates this engine at 25 mpg combined, with 23 mpg in the city and 28 mpg on the highway. Real world driving will not likely return those figures, however, as our test model was difficult to "drive nice" due to its fun nature and punchy off-line performance. So those who upgrade to this turbocharged option should be forewarned that their results are not likely to match the EPA's estimates.
Performance (9/10)
There are two engines and two transmission combinations for the 2016 Subaru Forester. Both engines are, of course, signature Subaru boxer-style horizontally opposed configurations. This is a well-balanced engine design and imparts to all Subaru models the smooth operation they're known for.
Most models come equipped with a 2.5-liter four-cylinder engine that outputs 170 horsepower and 174 pound-feet of torque. This engine is featured in all models with a "2.5i" designation. The base model Forester has a five-speed manual transmission or continuously variable transmission (CVT) option. Both are in all-wheel drive as standard.
The majority of drivers can expect that the 2.5L engine will do well for them, though the manual transmission does add some spunk to it thanks to the extra control it gives. Most casual drivers will greatly enjoy Subaru's very well-done CVT, which has good manners and generally low noise levels on the road. It adjusts well to various conditions and doesn't hesitate to ramp up RPM levels when the throttle is pressed.
The upgraded engine option for the 2016 Forester is a 2.0-liter turbocharged four-cylinder in the 2.0XT model. This engine outputs a respectable 250 horsepower and 258 lb-ft of torque. The CVT is standard here and is the only option. AWD is also standard, of course. With the 2.0L engine option, the Forester becomes a quick little drive with 6.5-second 0-60 times being easily achieved. That's better than most in this class and it makes the 2016 Forester 2.0XT a sporty option without sacrificing interior space or versatility.
In any powertrain choice, the 2016 Subaru Forester is still a Suby, with strong capability in inclement weather and with more off-road "get there" ability than many in this class can boast. Like all Subaru's, the Forester is both family-friendly and rugged, with a composed highway drive, nimble around-town feel, and "go up the mountain on the weekend" vibe.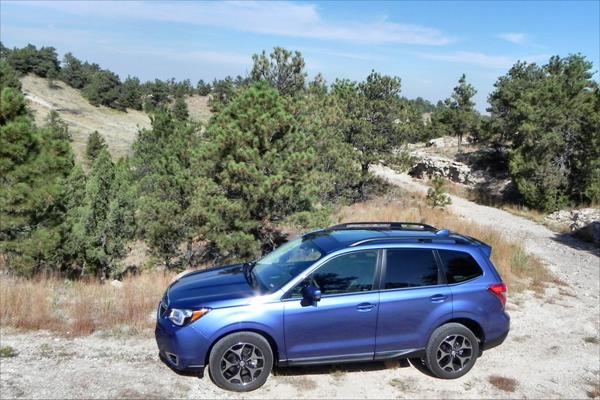 Pricing and Value (10/10)
The strong point of most Subaru models is in value. Initial purchase price is about average for the segment, though real-world purchase prices are often higher due to the general lack of incentives given by Subaru to encourage buyers. Where most of the Forester's competitors will see dealer-based incentives as a draw to buy, the Subaru lineup rarely sees these. On the flip side of that, though, Subaru vehicles, including the Forester, enjoy high resale values.
This plus the value versus packaging and fuel economy puts the 2016 Subaru Forester as a top value-oriented buy in our assessment.
Total Score and Competitive Comparison (69/80, 86%)
The competition in the small crossover class is heavy. Great contenders are to be found on nearly every lot in dealership row. The 2016 Forester is a great option for overall ergonomics and versatility, but other options can offer a more engaging drive or a more upscale interior experience.
The Hyundai Tucson, newly revamped this year, is a solid contender against the Forester on all fronts. The Mazda CX-5 is a good-looking crossover inside and out with a fun drive dynamic. The Ford Escape is another value-oriented choice with a smart road presence. The Honda CR-V is a best-seller in the segment for overall excellence as well. These are all strong contenders, but the mixture of family ergonomics and daily-use excellence, not to mention Subaru's legendary all-weather capability, keep the 2016 Forester in the running.
The 2016 Subaru Forester is a solid, capable crossover with plenty to offer small families and adventure seekers who don't need extreme offroad capability. The Forester's ability to get you there is a reputation well-earned and its simplistic elegance is a draw that many find compelling.
Read the FULL REVIEW Now to get more expert tips on the 2016 Forester's safety, reliability, exterior and technology.
Search used cars for sale and find the best deals near you at iSeeCars.com.
To get a FREE iSeeCars VIN Report for a car, click here.