*Go straight to the FULL REVIEW.
Overview (Final Score: B-)
The 2017 Nissan Murano is largely unchanged from its redesign of two years ago, but some of this year's updates boost its scoring with us – namely in technology. The Murano is one of the most refined and upscale offerings in the non-luxury midsize crossover segment with a decidedly eye-catching appeal that still remains value oriented.
The minimal changes for the 2017 model year are mainly to technology. A new appearance package has been added: the Midnight Edition for the Platinum trim. The Murano otherwise continues with its four smart trim levels, strong V6, and front-wheel or all-wheel drive options.
The Murano is a 5-seat (2-row) crossover in the midsize segment. It is generally more premium than most other offerings and stands separate from Nissan's Pathfinder 3-row crossover as a more upscale option. The 2017 Murano offers a great package of options for most budgets and needs. All with a style and presence that far outclasses its price tag.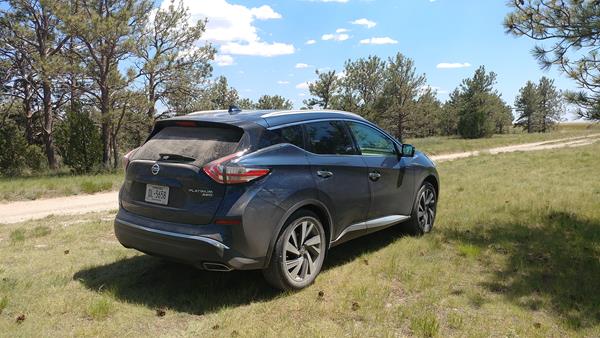 What We Love About the 2017 Nissan Murano:
Excellent exterior design that stands out from the competition with eye-grabbing looks
Interior experience is premium level with high amounts of posh comfort
Smooth drivetrain delivers excellent MPG returns without feeling weak
What We Don't Love About the 2017 Nissan Murano:
No third row option is available
Can be hesitant to accelerate when pressed, especially at lower speeds
Not as family ergonomic as some options in this category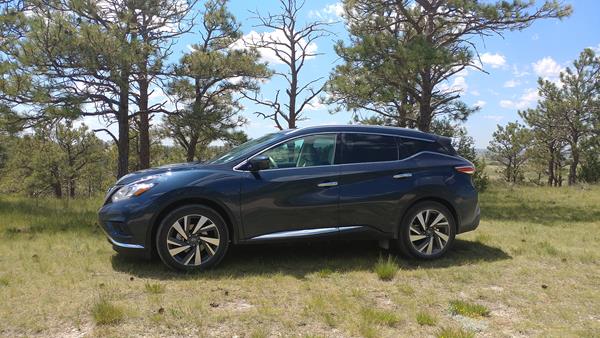 Performance (8/10)
There is only one engine and transmission option and two drivetrain options for the 2017 Murano. The engine is a 3.5-liter V6 that outputs an honest 260 horsepower and 240 foot pounds of torque. A continuously variable transmission (CVT) is also standard equipment, acting as an automatic transmission but with greater efficiency than a traditional gearbox. Nissan has an excellent reputation for well-done CVTs and the Murano proves that reputation is accurate with its CVT's smooth operation and unobtrusive presence.
The V6 in the Murano is a good motivator with smooth energy delivery throughout the power band and in most situations on the road. At highway speeds, it's quiet and efficient and around town the engine and transmission combination is smart and reliable.
Our only complaint is with the Murano's occasional hesitation to push up the RPM in order to quickly gain speed when pressed. This happens mainly at highway speeds during passing maneuvers. In town it does well with quick acceleration when requested.
Visibility out of the Murano is also very good, making it easy to maneuver in tight spaces. The AroundView 360-degree camera system helps this immensely.
Pricing and Value (9/10)
The 2017 Nissan Murano has an upscale appeal and feel without the premium price normally associated with that. In the middle trims (SV, SL), the value mark is high for the content included. Options can raise prices, but most will get into a nicely accoutered Murano for about $35,000. This will be comparable to higher-priced competitors or even premium-level brands.
Resale values for the Murano are average for the segment, but can be a bit higher in its upper trim points with AWD.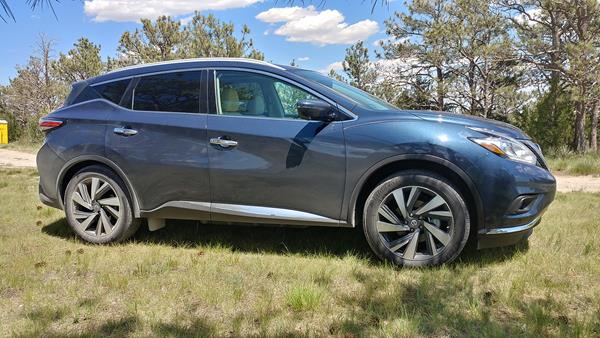 Total Score and Competitive Comparison (64/80, 80%)
There is plenty to choose from in the midsize crossover segment. Most are great choices with plenty of strengths brought to the table. The Toyota Highlander, which has a third row, is likely the top choice in this segment, but it doesn't have the high refinement or suave presence of the Murano. The Ford Edge offers a sporty option that has a good look and smart appeal, but doesn't have the interior refinement or ergonomics of the Murano. The Hyundai Santa Fe is a great choice for its value and excellence and the Kia Sorento offers a similar proposition for a lot less money.
The Murano is chosen largely for its upscale appeal without the premium brand pricing. This year's Murano sees a score that gains from last year's by a point, boosting its overall rating. A few of the details we didn't like about the Murano last year have been remedied, specifically with the infotainment upgrade.
The 2017 Nissan Murano offers a lot for less than expected and brings a real premium appeal to a non-premium segment. Its family ergonomics, smooth daily drive dynamic and high curb appeal are its primary appeal points. Fuel economy and high tech offerings are also nice bonuses.
Read the FULL REVIEW Now to get expert tips on the 2017 Nissan Murano's safety, reliability, fuel economy, interior, exterior, technology and more.
Search used cars for sale and find the best deals near you at iSeeCars.com.
To get a FREE iSeeCars VIN Report for a car, click here.