After a whirlwind year of all sorts of news about companies getting into the business of figuring out and developing the technology behind autonomous vehicles, automakers and technology giants and newcomers to the industry, we've reached a point where the waters of innovation are poised to gain strength. While it may not be a swell in 2016, the signs are definitely there that momentum is gathering. Be prepared for lots more news on the self-driving car front this year, but first, take a look at two recent developments that may help bring driverless cars along.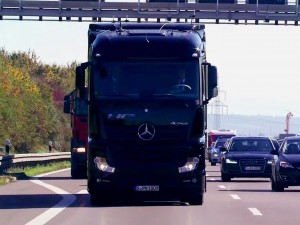 Mercedes-Benz Tests Driverless Truck
In early October 2015, German automaker Mercedes-Benz made history in a different way: testing a driverless big rig dubbed Actros on a public highway in Germany. More specifically and to the point, the Mercedes Actros wasn't built to be a self-driving truck. The Actros is the company's production big rig, but with the Daimler AG (parent company of Mercedes-Benz) Highway Pilot technology installed. This is a package of cameras, radar and sensors that transform regular trucks into driverless rigs.
Daimler says that Highway Pilot can steer and brake in traffic on its own. In the event the rig approaches a stopped vehicle or other obstacle in the road, the system asks the driver to take over. Should the driver fail to react in time, the system itself stops the truck. Other instances when the system will ask the driver to take over include situations where there are no road markings or times when the weather conditions change.
Other safety features on the Highway Pilot-equipped trucks that could help make them the some of the safest on the road include brake assist, active cruise control, and drowsiness detection.
The Highway Pilot system, says Daimler, is still in the testing mode, but should see real-world application by 2020, although according to Dr. Wolfgang Bernhard, with Daimler's Board of Management, "we're probably going to be ready a bit earlier … because our customers showed more interest than we expected them to."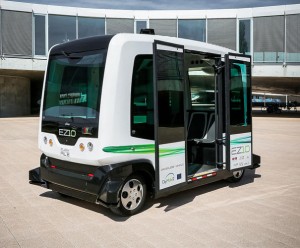 Robot Buses Quietly Gain a Foothold
It's not just one metropolitan area where buses with no human at the wheel are beginning to be used. Robot buses are literally in use in several countries around the world, some even in the U.S., albeit in small numbers and many of them in the test or pilot phase.
For background, those familiar with the People Mover in downtown Detroit, Michigan can get a good idea of the concept: a programmed, autonomous vehicle travels a closed, circular route making prescribed stops to allow passengers to enter and exit. The system is safe, effective, dependable and driverless.
But the real world out there is populated with human drivers of many different skill sets and experience. Some drive too fast and cut corners, others pay more attention to their smartphone than the traffic signals or cars ahead, some fancy themselves as so skillful they can ignore the rules and take chances, while still others are fuzzy-headed from a night of drinking, or taking various medications, smoking a joint, or just distracted by what's on their agenda.
Where do robot buses fit in such a scenario? Furthermore, how can we be assured they're safe, effective and dependable while being driverless?
That's what the small-scale tests of robot buses are designed to figure out. Here are a few examples of where such driverless buses are being used or planned.
Switzerland – Come spring 2016, robotic buses will hit the road in Switzerland, part of a two-year pilot program designed to test how well the driverless buses operate in real-time traffic situations. These nine-passenger buses will be the first such public test of autonomous driving technology in Switzerland. BestMile, a technology startup, will operate the vehicles under PostBus, the Swiss bus company. According to the two graduates of the Swiss Institute of Technology who launched BestMile, their technology allows them to "control fleets of autonomous vehicles in the same way a control tower does in an airport."
United Kingdom — Ed Vaizey, conservative member of Parliament for the Wantage and Didcot constituency of the UK recently wrote in The Times that "we can use driverless robotic buses in rural communities or help people find parking places using GPS technology." These are among the ideas for the UK's proposed digital strategy that Vaizey said would be set out in early 2016.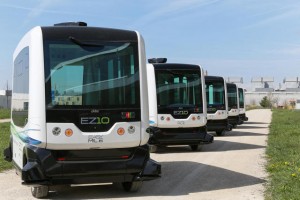 French Robo-Buses Coming to San Ramon, California — The first U.S. application of robot buses will be in the Bishop Ranch business park in San Ramon, California. Easymile is the company that makes the EZ10 driverless bus that's been deployed in Finland, France and Spain. These are 10-passenger electric vehicles, complete with ramps for wheelchairs and strollers, and designed for short hops. How the EZ10 gets around is simple: It uses GPS to follow a pre-programmed route, aided by laser sensors to avoid obstacles in its path. The ideal current use for the EZ10 is in business districts, theme parks and transit stations, locations where travelers can use the robot buses to get around without the hassle of driving and parking.
Greek Commuters Get Around in Driverless Bus — After a few months of testing without passengers, in November 2015, Greek commuters in Trikala finally got the chance to get on board a completely driverless bus operating in normal traffic. Trikala has six automated buses that coexist in an area surrounded by other vehicles, pedestrians, and bicyclists. Maximum speed is 12 mph and new laws had to be passed in order for the project to get underway. While other cars are allowed to merge into the lane of the driverless bus, it can't change lanes or make turns. Instead, the robot bus takes a circuitous route. The program, part of a European Union-funded project called CityMobil2, will continue until March 2016, at which time it will enter the assessment phase. Researchers will then look at how the buses performed as well as the reactions of passengers, citizens and city management.
Search used cars for sale and find the best deals near you at iSeeCars.com.
To get a FREE iSeeCars VIN Report for a car, click here.