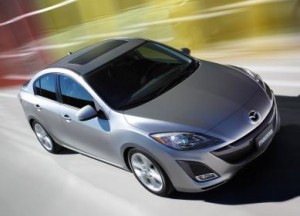 Is there a more nerve-racking task than trying to find the safest cars for teenagers? It's hard for any parent to watch the birds leave the nest and teens learning to drive is one of those big steps all parents must survive. It's most difficult because parents have been driving for quite a few years and have seen how many morons are allowed on the road. It's like releasing your guppy into a sea filled with sharks. The only thing you can do is give them the best tools possible to help keep them safe should they be bitten. That's why we've taken the time to research the safest cars for teenagers. Just remember, they don't prevent accidents like taking out the mailbox or driving through the garage door.
1. 2010-2011 Mazda 3          New Model MSRP: $15,345
Its size makes it maneuverable, its safety rating makes it secure, and its features and options make the Mazda 3 a premier choice for teen drivers. The 2.0L 4-cylinder is not overpowering but still possesses a quick acceleration at takeoff and gets an estimated 24/33 mpg (city/highway) in fuel efficiency. "Standard safety equipment on the Mazda 3 includes antilock disc brakes with brake assist, active front head restraints, front side airbags and side curtain airbags." Braking distance was 127 feet, stopping from 60 mph, very decent for this type of car. Partially-owned by the Ford Motor Company, the 3 has many of the same popular options and features available in Ford vehicles. (www.edmunds.com, www.iihs.org, www.caranddriver.com)
2. 2010-2011 Honda Accord          New Model MSRP: $21,180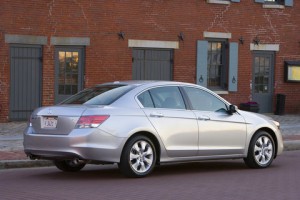 For those who want their child secured in a bit larger car that still provides all the economy and options of smaller cars, the Honda Accord is a sound choice. The 2.4L 4-cylinder pumps out 177 horses, so upgrading to the 3.5L V6 is probably not the best of ideas if you're teen is going to be driving this one. Besides, he/she will probably be much happier with the fuel economy of 21/30 mpg if he/she is buying the gas. Airbags are standard all the way around and the Accord scored a perfect five stars in all front driver and passenger crash tests. Upper trim levels include such teen favorites as a sunroof, Bluetooth, and a 6-disc CD changer. (www.edmunds.com, www.iihs.org, www.caranddriver.com)
3. 2010-2011 Ford Fiesta          New Model MSRP: $13,320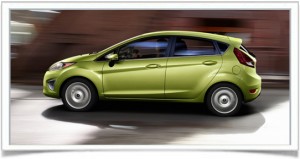 If it's a combination of economy and safety you're looking for then it doesn't get much better than the Fiesta. With a very low MSRP and fuel efficiency estimated at 30/40 mpg, the Fiesta will save loads of cash in the long run. It also comes standard with front-seat side airbags, side curtain airbags and a class-exclusive driver knee airbag. If, knock on wood, a crash happens, the driver will be cocooned in a nest of balloons. Braking distance from 60 mph was a respectable 119 feet and Ford's Sync system, should you decide to spoil your teen and spring for it, is a very popular choice among that age group. (www.edmunds.com, www.consumerreports.org, www.caranddriver.com)
4. 2010-2011 Kia Forte          New Model MSRP: $13,695
The price alone should draw your attention as a great choice for a teen driver; but, if it's safety you want, then it's safety you've got with the Forte. Five stars across the board in driver and passenger front impact tests and a rating of Good (the best available) from the Insurance Institute for Highway Safety are both on its report card. It doesn't do bad with gas mileage either, estimated at 27/36 mpg with the Fuel Economy package. The interior may seem rather boring for a teen but can be spruced up with options such as Bluetooth, a six-speaker sound system and a sunroof. (www.edmunds.com, www.iihs.com, www.caranddriver.com)
Search used cars for sale and find the best deals near you at iSeeCars.com.
To get a FREE iSeeCars VIN Report for a car, click here.