Having a first-time driver is nerve wracking. Between distracted driving, uncertain driving skills and general inexperience, parents are rightfully apprehensive about handing over the keys to their teen drivers. According to the Insurance Institute for Highway Safety, the fatal crash rate per mile driven for 16-19 year
olds in the U.S. is almost three times the rate for drivers 20 and older. Today's car makers are using modern technology help prevent distracted driving and also provide parents some amazing safety features.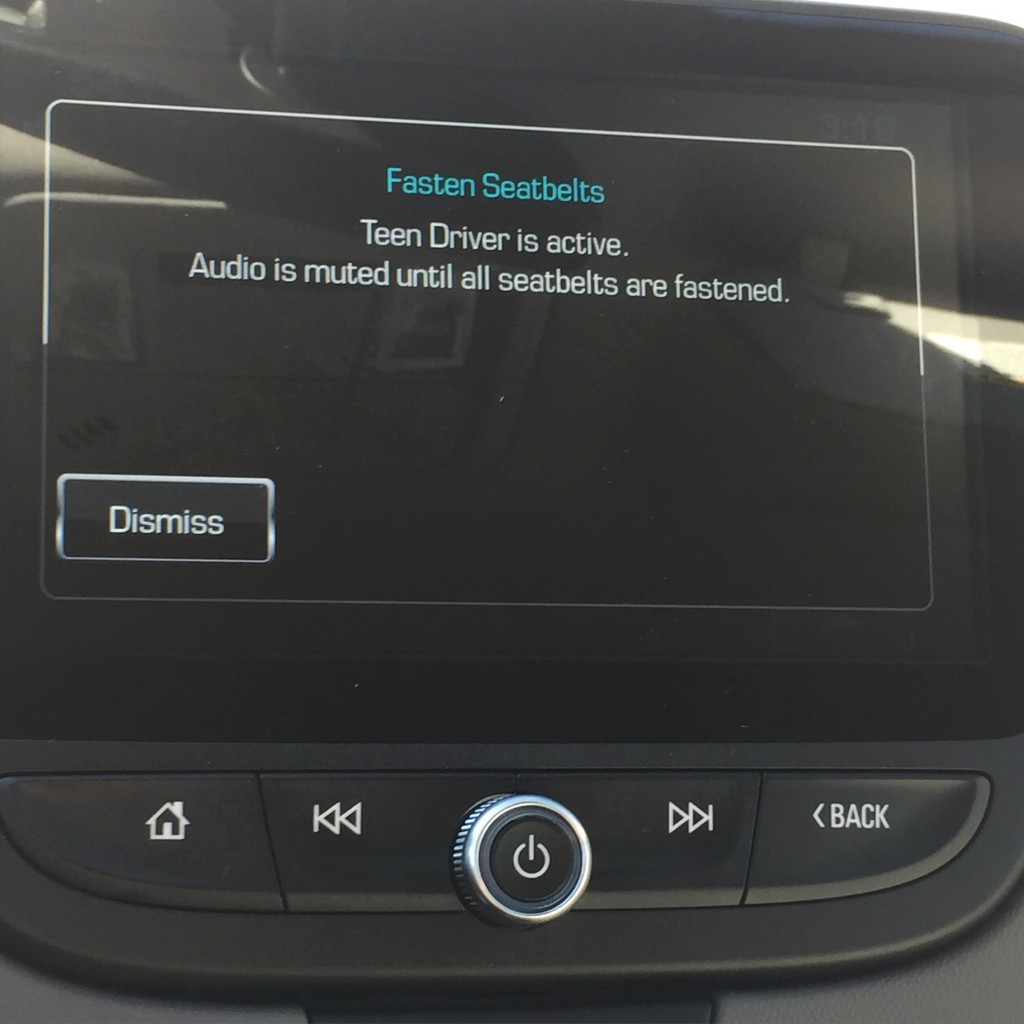 In the 2016 Chevy Malibu, for example, General Motors introduces Teen Driver, an installed program that provides parents with a "report card" of how their new driver did on the road. It also mutes the audio system, until all passengers engage their seat belts. Parents can register a key fob, which then integrates with the Malibu's infotainment system and the built-in safety features and generates an in-depth report detailing the driver's performance. Those details include: distance driven, maximum speed reached, stability control events, antilock brake events, forward collision alerts, and and forward collision avoidance braking events. In addition to the seat belt needing to be engaged in order for the audio system to work, parents can set a speed warning which will again disable the audio system if a set maximum speed is hit. According to Chevy, the system cannot be disabled by a tech-savvy teen, because it works off a passcode system and can only be disabled with access to that passcode. Teen Driver is exclusive for the 2016 Chevy Malibu.
Through Hyundai's BlueLink system, parents can also establish safeguards for teen drivers. The Vehicle Safeguards Alerts App allows parents to monitor and set limits on the Hyundai's speed, hours of operation and movements via text message, email or both. This enhanced app helps parents reinforce safe driving habits for their teen drivers. Some of those safeguards include a speed alert where parents can be notified if the vehicle is exceeding a predetermined speed. Curfew alert allows parents to establish a time the Hyundai can be driven, and it will not operate outside of those hours. There is even a more extreme option where parents can set a boundary for the vehicle to be driven. If the vehicle travels outside of that geo-fenced area, the Hyundai will disengage. These features are available on several Hyundai vehicles including Azera, Elantra GT, Tucson, Genesis, and Sonata Hybrid.
Ford's innovative MyKey system offers parents peace of mind in several ways. For parents worried about their kids texting and driving, there's a Do Not Disturb feature that runs through the infotainment system Ford SYNC. It blocks incoming calls and holds all text messages on phones connected through SYNC. Additionally, a speed alert chime can be set up by parents when a vehicle hits a certain speed, letting their driver know they're going too fast. Similar to the Chevy Malibu system, the Ford MyKey mutes the radio until all passengers buckle up, and a reminder pops up on the instrument panel to remind them too. MyKey is available on most Ford and Lincoln vehicles. According to Ford, it's now available in more than six million vehicles on the road today.
Similar to General Motors On Star system, which has been a safety-oriented subscription service for decades and leader in much of this technology, Mercedes-Benz has a telematics system that can also assist teen drivers. It works similar to Hyundai's BlueLink system in that it offers geo-fencing features, and also provides a driving report about how the teen driver performed on the road. And like On Star, this subscription service can help with directions when a driver is lost or needs assistance. The MBrace system is available in many Mercedes vehicles at a subscription cost.
Parking lots can also be the place where young drivers run into the most problems. Thankfully the National Highway Traffic Safety Administration (NHTSA) is requiring all vehicles built as of May 1, 2018 to have a rear-view backup camera system that shows a 10×20-foot area behind the car. This can not only save lives, but is a great safety feature for young drivers. They can see if there's objects they may back into and it will help them navigate parking garages, the bane of many new drivers. More than half of 2014 or newer vehicles now have some form of parking assist. And that number will continue to climb.
According to AAA, car crashes kill more young people than cancer, homicide and suicide combined. With car accidents being the number one killer of teens in the U.S., it's great seeing more and more of today's vehicles offering extra safety precautions. These type of vehicles should be considered as parents search for the right vehicle to buy for their first-time teen drivers.
Search used cars for sale and find the best deals near you at iSeeCars.com.
To get a FREE iSeeCars VIN Report for a car, click here.