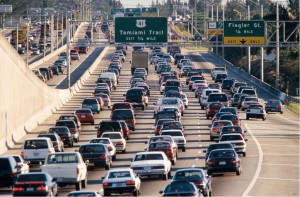 In the perennial quest to save as much as possible on car insurance premiums, one of the best and easiest ways to maximize savings is to consider increasing your deductible.
A new study from InsuranceQuotes.com found that Americans can save over 9 percent on their annual car insurance premium by increasing their deductible from $500 to $1,000. Depending on where you live, that savings can double.
For example, increasing the deductible to $2,000 (from $500) results in a 16 percent average savings. Massachusetts drivers save the most, 19 percent, when they increase their deductible from $500 to $1,000.
Other states with big driver savings for a larger deductible include: South Dakota (14%), Kansas (13%), Wyoming (13%) and Iowa (13%). On the other end of the spectrum are states with the smallest noticed differences: Michigan (4%), Florida (5%), Louisiana (6%), North Carolina (6%) and Nevada (6%).
To find out more about this survey, specifically, what it entailed, how the average consumer can benefit, and answers to certain questions, we spoke with Laura Adams, senior insurance analyst, Bankrate Insurance.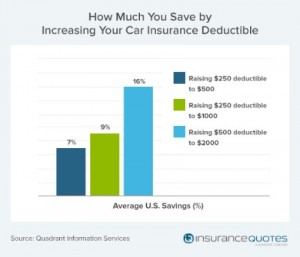 What accounts for the difference between states in the savings rates?
Adams: There are hundreds of factors that affect car insurance rates, such as state laws, claims history in the state, a policyholder's characteristics, and the insurance company. There isn¹t one specific factor that explains the savings differences from state-to-state, however, we do see states with a high number of uninsured drivers at the bottom of our list. For instance, Florida and Michigan have uninsured rates as high as 24% and 21% respectively and offer some of the lowest savings for increasing your deductible. On the other hand, Massachusetts residents get the biggest savings and that state has the nation's lowest rate (4%) of uninsured motorists.
What should drivers do before deciding to raise their deductible? What factors should they take into consideration?
Adams: Your car insurance deductible and premium work like a see-saw. When you increase your deductible, the premium goes down and when you decrease it your rate goes up. When raising your deductible it's important to remember that you must pay that full amount out-of-pocket before your collision and comprehensive insurance would cover you. There is no deductible applied to liability claims.
If you have plenty of savings to cover a deductible, it makes sense to raise it and reduce your premium. But if not, make sure to never raise a deductible higher than you could afford.
Since your savings will depend on many factors, such as where you live, your driving history, and your insurance company, ask your representative for exact quotes that would result if you raise your deductible by different amounts.
When should you not consider raising the deductible?
Adams: Raising a deductible will always result in some amount of savings on your car insurance rate. However, you should never raise it if paying it would cause a financial hardship. Even if you haven't had an accident or claim in many years, you never know when you might need to make one.
What about multi-car families?
Adams: No matter how many vehicles you own or their ages, you can reduce your car insurance rate by increasing your deductible. The savings amount will vary, so check with your insurance representative first to make sure it will be enough to make you comfortable having a higher deductible.
To see the full average premium savings in all 50 states and the District of Columbia, go to http://www.insurancequotes.com/auto.
Search used cars for sale and find the best deals near you at iSeeCars.com.
To get a FREE iSeeCars VIN Report for a car, click here.