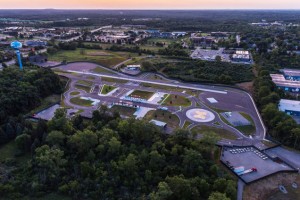 It sounds like something out of a children's story, but this is no fable. The researchers at the University of Michigan have created a fake city where they'll be testing autonomous vehicles – we know them as self-driving cars. The purpose is to prepare for the eventual incorporation of driverless cars into society.
Who Is Sebastian And What Does He Have To Do With Driverless Cars?
Sebastian is the name researchers gave to a mechanized pedestrian who will stroll the streets of this fake town in Michigan. The town, called MCity, is built on the Ann Arbor campus of the University of Michigan, sits on 32 acres and consists of all the things a small town would have: fire hydrants, stop signs, traffic signals, fake buildings (like a Hollywood set, just building facades), mail boxes, trash cans and such, pedestrians like Sebastian, and even mechanized cyclists at some future date.
Why construct a fake city, mechanized pedestrians and cyclists, and go to all this trouble testing autonomous cars? Why not just test them in the real world? According to Peter Sweatman, director of the U of M's Mobility Transportation Center, it's to gain more valuable experience than testing on public roads. The reason is that in the fake city, real-world situations can be tested over and over again, whereas on public roads a driverless car might struggle with rare real-world occurrences.
"The testing becomes incredibly efficient," says Sweatman. "One minute we're in a downtown block with buildings… The next minute we're in a suburban street with a tree canopy."
A tree canopy? Yup, the researchers built one – fake, of course – with a system of water tubes to simulate the moisture that trees have, moisture that can interfere with and block GPS signals from driverless cars.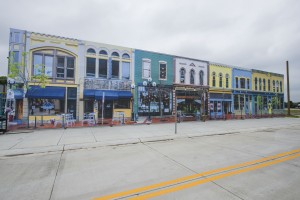 Besides the city streets and blocks, MCity also has a short span of expressway, complete with on- and off-ramps (accommodating speeds of 40 mph), a 70-foot simulated underpass and two railroad crossings. The building facades are also easily moveable, the better to create blind corners and odd intersections. How realistic MCity is can be seen in the graffiti on signs, the brick pavers, gravel roads, and faded lane markings.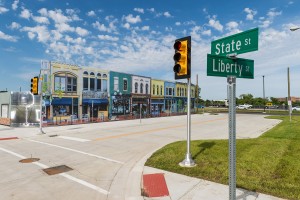 Getting back to Sebastian and his purpose in this scenario, Sweatman says that to test these types of situations properly, "You have to get awfully close to a crash… We hope we're not actually going to hit them too often."
48 Partners Working As A Team 
MCity, which the U of M says has already cost $10 million, is a work in progress, consisting of a team of partners numbering 48 companies. These include big names like Bosch, Delphi, Ford, General Motors, Honda, Nissan, State Farm, Toyota, Verizon and Xerox. Who's missing? Neither Google nor Uber are part of the team.
Some of the partners, Sweatman says, are already constructing tests in MCity. The Here group from Nokia  provides maps for navigation systems in many U.S. cars and work on creating detailed MCity maps to help guide the driverless cars being tested. The accuracy is pinpoint  to between 10 and 20 centimeters, according to Nokia, measuring and tracking everything from curb sign height to how tall stop signs are on the streets.
Search used cars for sale and find the best deals near you at iSeeCars.com.
To get a FREE iSeeCars VIN Report for a car, click here.