It may come as somewhat of a surprise that the loads of advanced technology automakers are cramming into their new vehicles doesn't excite consumers all that much. In fact, as a report from J.D. Power and Associates clearly points out, a lot of the features in new vehicles are technology that consumers don't use – and don't want.
The startling news is revealed in the 2015 Driver Interactive Vehicle Experience Report. This is a study that looks at how owners of new cars actually use their vehicles during the first three months (90 days) of ownership.
Out of 33 technology features the report studied, at least 20 percent of owners never used 16 of them.
Which technologies are new-car owners tending to shun? Here are a few of the highlights:
Voice-link to human concierge – 43 percent didn't use this feature to make things like restaurant reservations or asking for directions.
Wireless link to create a vehicle Internet hot-spot – 28 percent said they never made use of this tech.
Automatic parking – Although highly touted as convenient and effortless, 35 percent of consumers said they never even tried the automatic or self-parking feature in their new vehicle.
Heads-up display – Another high-tech feature that new car owners avoided using is the heads-up display. This type of system projects the car's speed and other information onto the car's windshield.
Apps like Yelp and Pandora embedded in the car's infotainment system – This was ignored by 32 percent of new car owners.
Voice texting/voice recognition – More than 50 percent expressed reluctance to use these systems.
What Accounts For Such Lack Of Use? 
As to why owners of new cars are failing to use the technology that's in their cars, J.D. Power executive director of driver interaction research, Kristin Kolodge, said that it's often that consumers prefer to use technology they're already used to, such as their iPad or smartphone. They're familiar with the devices and consider them accurate, so why switch to figuring out a new system?
In addition, many consumers said the dealer never explained the new tech features and how they operated, which contributed to the owners' reluctance to try them.  Some owners didn't even know certain technology was on their car, as it was never called out for them.
The most frequently cited reasons for new car owners not wanting a particular feature were:
"did not find it useful"
"came as part of a package on my current vehicle and I did not want it"
This ultimately translates into "millions of dollars of lost value" for both manufacturers and consumers, said Kolodge. She said that of about 14 million vehicles sold this year — about three million (2.8 million) consumers are paying for technology that they aren't using.
Considering vehicle purchases after the current one, new car owners surveyed said they'd like to dump some of the tech the next time around.
There is some technology that new car owners not only want, but also use. These include vehicle health diagnostics, blind spot warning and detection systems. And they want this built into the car, not as add-on or provided via an external device.
Get Ready For Even More High-Tech  
As automakers work on technology that will connect cars to other cars and to roadway infrastructure – in preparation for autonomous or self-driving cars – consumers should expect a cascade of new and even more high-tech features that will be either standard or optional on new cars in the next half-dozen years or so. This includes all sorts of radar-sensors and collision mitigation and prevention systems, detection and warning systems that go beyond mere alarms and visual displays and take over control of the vehicle to prevent an accident in the event you don't react quickly enough. It's not enough to just have the tech on the car and rely on the driver to use it; these cars will do it for you – making the driver more or less an extraneous factor.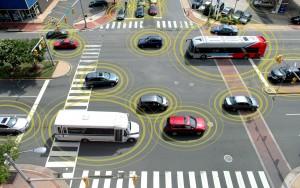 Vehicle-to-vehicle, robotic cars, self-driving cars (see Google, Apple and other players getting into the autonomous vehicle design and development) may be the wave of the future, but for consumers who have to shell out the hard-earned money for vehicles that can get them where they want to go – and allow them to drive said vehicles – paying all this money for tech they don't really want or use may be an uphill battle.
What's your experience with technology in your last new car purchase? Did the dealer fully explain what the vehicle came with and show you how it worked to your satisfaction? Were the benefits of each technology feature or system detailed? Did you look at lesser-equipped vehicles or were you more or less forced to buy one that had all the bells and whistles in order to get the model you wanted? How much more did you have to pay than you anticipated? How much is too much?
More to the point, if you were in the market today for a new car, what tech would you want to ditch in order to pay less and get what you want? Let us know your thoughts in the comments section below. We'd love to see where you'd like to economize – and what you find as non-value-added technology.
Search used cars for sale and find the best deals near you at iSeeCars.com.
To get a FREE iSeeCars VIN Report for a car, click here.