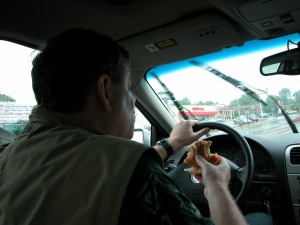 With June already in full-swing, the kids out of school and summer vacation trips beckoning, here's one bit of advice that's worth paying attention to. We've heard about the dangers of distracted driving in the form of using a cell phone to make or take calls and to text, but did you know that eating and drinking behind the wheel is nearly as dangerous?
Who hasn't gobbled down a fast-food burger or sloppy taco or some other hastily grabbed food item on the road and shoved it in our face while we navigate the road ahead? Come on, admit it. We've all done this.
Ditto slurping our favorite cold beverage (and we mean non-alcoholic, of course), or a hot latte, cappuccino or espresso to keep us awake while we put in long hours of driving.
Frankly, we're putting ourselves and our passengers, not to mention others on the road and pedestrians, dogs and other creatures at risk by doing so.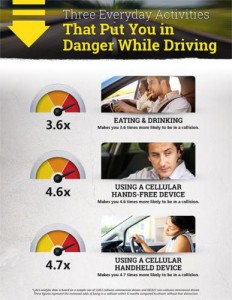 Evidence comes from a new study conducted by Lytx is rather revealing and disturbing:
Eating and drinking: makes you 4.6 times more likely to crash when you do this behavior while driving
Using a hands-free cellular device: this distracted driving behavior makes you 4.6 times more likely to be in a collision
Using a cellular hand-held device: here the risk of being in a collision when doing this behind the wheel is 4.7 times more likely
In fact, the Lytx study says that drivers engaging in any of these three activities behind the wheel are as risky as teenage drivers updating social media while driving.
What Is Distracted Driving?
According to the National Highway Traffic Safety Administration (NHTSA), "distracted driving is any activity that could divert a person's attention away from the primary task of driving." All of the following are distractions that endanger everyone in and around the vehicle:
Texting
Using a cell phone or smartphone
Eating and drinking
Talking to passengers
Grooming
Reading – including looking at maps
Using a navigation system
Watching a video
Adjusting a CD or MP3 player or a radio
The AAA Foundation for Traffic Safety says that each year more than 80 percent of drivers in the safety organizations annual Traffic Safety Culture Index name distraction as a serious problem and behavior that makes them "feel less safe on the road."
Besides being distracting, such behavior is also deadly. According to federal estimates, distracted driving is at least a contributing factor in 16 percent of crash fatalities, resulting in about 5,000 deaths each year.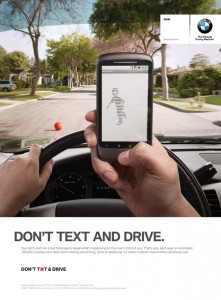 How to Curb Your Behavior
It takes a concerted effort to rid yourself of distracted driving behavior, but it is something that is well worthwhile – considering the lives that may potentially be saved, including your own.
On a summer road trip with the family or friends or even solo, take a break to get a bite to eat – before returning to the road.
If you must make or take a call or respond to a text, pull over to a safe spot off the road and then take the appropriate action. Do not think that you'll just do it this time. That could be a fatal mistake.
Be a good role model for your children by refraining from eating and drinking behind the wheel – even your coffee go-cup should be parked, turning off cell phones and not being tempted to use hands-free devices for connecting while driving.
After all, behavior is learned. Be a good teacher by watching your own behavior closely and practicing better driving behavior than you may be used to.
Search used cars for sale and find the best deals near you at iSeeCars.com.
To get a FREE iSeeCars VIN Report for a car, click here.