The Toyota Tacoma is already at the top of the mountain in the mid-size pickup truck segment. So it's nice to know that in 2016 it will go through a total makeover, including a new engine, new transmission, new suspension and some new technology never before seen within this segment.
Recently, we drove the 2016 Toyota Tacoma all around Tacoma, Washington (of all places) and were able to form a strong and definitive opinion of this pickup truck.
The 2016 Tacoma is the best it's ever been with more features, more fuel efficiency and more interior comfort. Additionally, according to the specs provided by Toyota, the Tacoma will start at $23,000 for a basic trim to upwards of $34,000 for the top-of-the-line TRD trim. With an all-new power plant, fuel economy is vastly improved as well for the Tacoma.
But none of these numbers are worth anything if the engine and ability aren't there. Let's just say that any Tacoma owner will be quite pleased with the 2016 performance. The Tacoma embraces its off road reputation. A Toyota executive told us that towing capacity was actually 22nd on the list of important features when considering the mid-size truck. In the top three was off road capability.

That explains why Toyota went and added a multi-terrain select system and crawl control to the TRD trim of the Tacoma. This is the rugged, off road version of the truck. We were able to truly test this feature out on an amazing off road course. Wheel spin is regulated by adjusting throttle and brake pressure to provide maximum traction on any terrain. We saw a demonstration where the TRD Tacoma got intentionally stuck in sand above the wheel well and managed to ease its way out using this technology.

Additionally, in the mountainous terrain of Tacoma, Washington, we put the new crawl control feature to test. We've seen this feature in Jeep Wranglers and Land Rovers before but never in a pickup. By engaging Crawl Control, the truck takes over acceleration and braking and the driver only has to focus on steering. We went down two different 45 degree rugged drops and slopes, back to back, while Crawl Control was engaged. This was both a little frightening but absolutely exhilarating to see this amazing technology come to pickup. For this reason alone, the truck enthusiasts will flock to the 2016 Tacoma.
But don't worry, on the road performance of the Tacoma is also improved thanks to two new engines. A 2.7-liter four-cylinder engine will make 159 horsepower and 180 lb./ft. of torque. We didn't experience this engine at all during our time in Tacoma, but believe this engine looks to be somewhat under powered (on paper). We spent significant time driving around the Tacoma countryside in the V6 power Tacoma which has a 3.5-liter Atkinson cycle engine. Using an Atkinson cycle engine is a bold move for a truck. This engineering is somewhat complicated but is meant to run as efficiently as possible using port and direct fuel injection. It holds the power and torque back until it's required by the engine.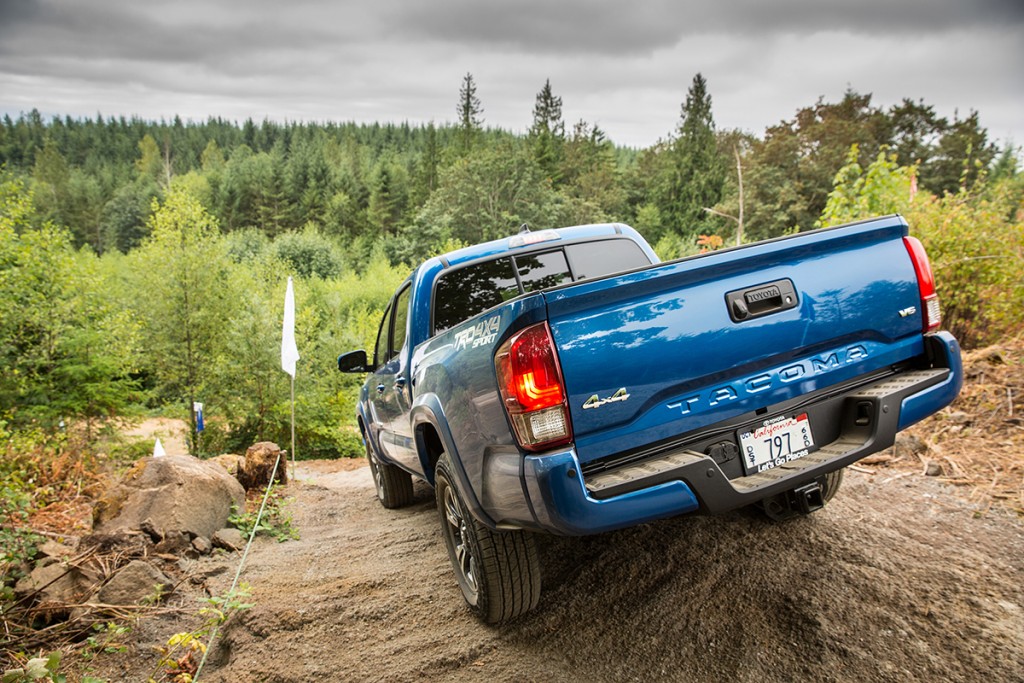 Over the road, the Tacoma with the V6 is plenty powerful and will function fine as a daily driver. The 3.5-liter engine generates 278 horsepower and 265 lb./ft. of torque. This is the type of power and performance truck owners want. This is an increase of 42 hp over the previous generation Tacoma.
While it may not be a priority, according to Toyota, the 2016 Tacoma will be capable of towing up to 6,800 pounds when properly equipped. This is an increase of 300 pounds over last year's Tacoma. So, as both a daily driver, or a weekend warrior, the 2016 Toyota Tacoma is up to the task and generally improved over the 2015 model.
A new six-speed automatic transmission is added as well, although a six-speed manual is an option for the four-cylinder engine only. The Crawl Control feature only works for automatic transmission TRD trims.
The 2016 Tacoma will be available in both 2WD and 4WD.
Inside, overall materials are improved to give the Tacoma a more expensive feel and modern updates and technology are noticeably better too. Seats, even the upholstered (non-leather) ones are soft and comfortable. This is a noticeable improvement over the lower trimmed models of past year Tacomas, which had firm and non-quality feeling seats. Road trips will be much more comfortable. A 6.1-inch high resolution touch screen display powers the infotainment system. There is ample technology through Toyota's Entune system, an easy-to-use system that features some cool smart-phone enabled apps.
There is a Go-Pro capable mount on the inside windshield for those who wish to record their off-road adventures. This mount is on all trim levels of the Tacoma and is almost unnoticeable for those who don't find this feature of interest.
Another new feature of the Tacoma that may go unnoticed will appeal to the outdoorsy type who may use the Tacoma to camp. A 110-volt outlet is part of the truck bed. This makes for powering up camping equipment a breeze and shows that Toyota is committed to Tacoma being a rugged ready vehicle. Also, sticking to the rugged-ready theme, a new double wishbone suspension is introduced making this Tacoma smoother over the road and also off-road capable.
The 2016 Toyota Tacoma will come in five total trims, with up to nine different packages to customize the truck. We recommend the TRD trims as the best option for this model year, but only if you ever need to go off the beaten path (hunters, campers, weekend fun).
Fuel economy for the 2WD smaller engine Tacoma is rated at 19 mpg/city and 23 mpg/hwy. The 3.5-liter Tacoma with AWD and the automatic transmission is rated at 17 mpg/city and 23 mpg/hwy. This proves once again, that 4WD is the optimal way to go for the Tacoma, so that when or if you need the traction, it's there, and there's practically no hit on fuel economy.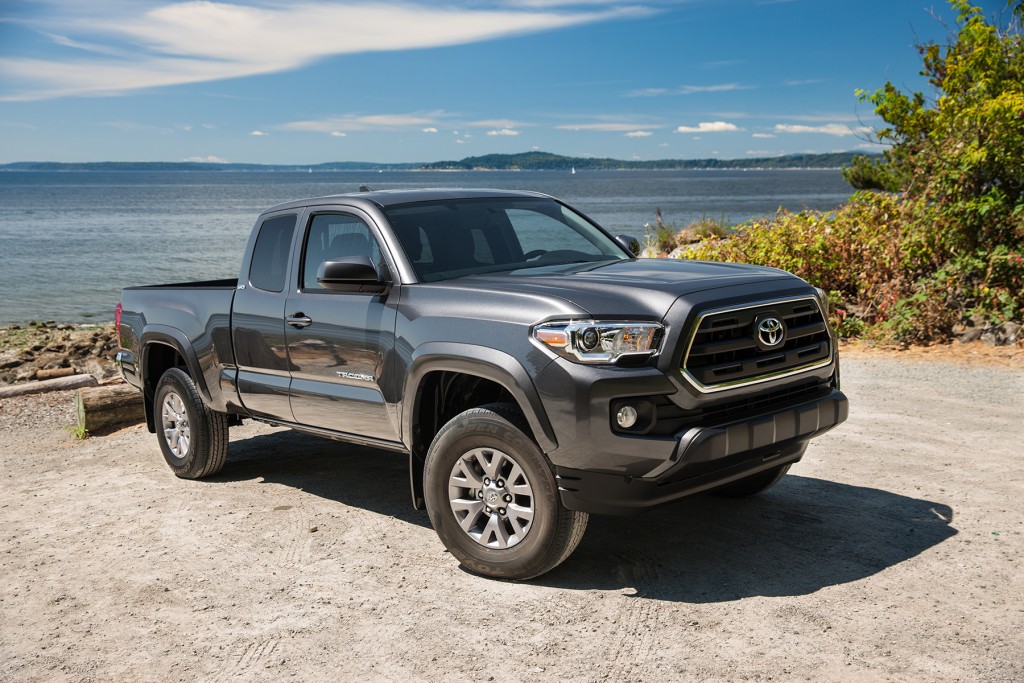 Facing new competition from General Motors in the mid-size truck segment, Toyota let their competition know that in this segment, there's still one king of the mountain. And now, more than ever, the small Tacoma can get up and down that mountain with ease and in comfort.
Search used cars for sale and find the best deals near you at iSeeCars.com.
To get a FREE iSeeCars VIN Report for a car, click here.