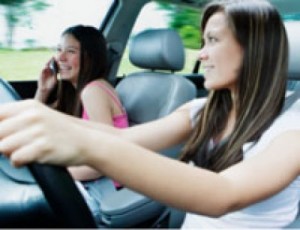 Motor vehicle crashes are the leading cause of teen deaths. In 2008, 16 percent of distraction-related fatal automobile crashes involved drivers who were under the age of 20.
These are grim statistics, indeed, and with increasing awareness in the U.S. about the dangers of distracted driving for drivers of all ages, efforts are underway to help curb this potentially tragic behavior behind the wheel – especially for teens.
Driver Distraction: A Perennial but Preventable Public Health Threat to Adolescents is outlined in a special supplement in the Journal of Adolescent Health.
New Technologies Increase Risks
There has been some progress through public health efforts to reduce the risk of teen motor vehicle crashes over the past 30 years, but the advent and proliferation of new technologies and evolving teen behavior patterns have prompted a focus on the risk of distracted driving.
C. Raymond Bingham, PhD, from the University of Michigan Transportation Research Institute in Ann Arbor, MI, highlights an important point in a guest editorial. "For many of the same reasons that alcohol-impaired driving represents a distinct risk for adolescents, distracted driving has an elevated impact on this age group."
Bingham goes on to say that the technology proliferation may accelerate this risky behavior, but it may also lend itself to "innovative prevention efforts."
Issues Surrounding Teen Distracted Driving Examined
The supplement takes an in-depth look at the many issues surrounding distracted driving by teens. It also:
Explores developmental states and the changes associated with adolescents' distractibility and their relation to driving
Examines patterns of distraction among newly-licensed teens as well as brain function
Considers the role parents play by modeling distracted behavior while driving
Accounts for the role of technology
Looks at the influence of peer passengers and societal norms
Investigates policy, legislation and intervention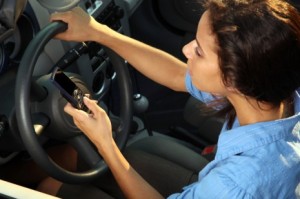 Why are Teens More Vulnerable to Distracted Driving?
In the article, "Adolescence, Attention Allocation, and Driving Safety," by Daniel Romer, PhD, et al., the authors explore explanations as to why teens don't pay attention behind the wheel, including the immaturity of their brains and their lack of driving experience.
This review encourages extensive driver training for new drivers as a means of helping to compensate for the unique problems that teen drivers face when it comes time to focus on the road.
Prevention Efforts
Outlining several specific efforts to prevent teen distracted driving is outlined in "Young Driver Distraction: State of the Evidence and Directions for Behavior Change Programs," by Lisa Buckley, PhD. et al.
Of note is that while legislative and contextual interventions can be effective prevention strategies, the authors point out that there is an unmet need for behavioral change programs specifically designed to target the most at-risk groups, to identify their risk and protective factors, and then design interventions that will be effective based on tailoring to teens' specific needs.
Such contributors to teen driver distraction as the presence and influence of peers in the car, overdependence on a vehicle's technology and feeling it unnecessary to pay as much attention to driving, length of distraction, teen driver inexperience, attempting to multi-task, and acting as if "it couldn't happen to me" are likely to increase as public tolerance for distracted driving continues. Certainly, state laws prohibiting or limiting cell phone use for talking and texting now in place suggests that such laws are either not effective or may have an unintended effect – people simply ignore them, pay the modest fine and continue the dangerous behavior.
There's also the question of who delivers the message and how the information is conveyed about the risks and prevention methods for teen distracted driving. Outlined are suggestions for school-based and computer or Web-based delivery methods. Parents can also serve as an effective voice in urging safer teen driving behavior.
Search used cars for sale and find the best deals near you at iSeeCars.com.
To get a FREE iSeeCars VIN Report for a car, click here.