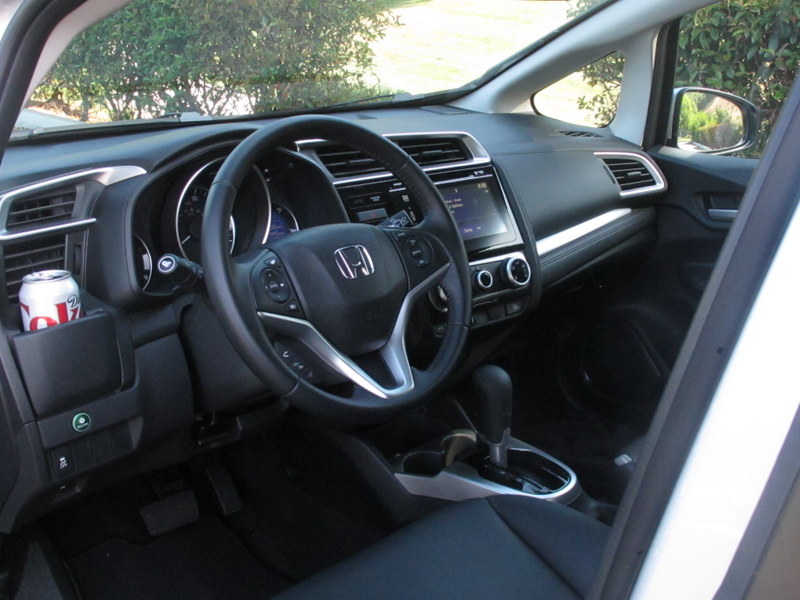 Written by James Hamel
Usually when new car buyers are faced with the daunting task of reading a comparison test of usually four to seven vehicles from a certain market segment they are deluged with the opinions of editors, sub-editors, deputy editors and at least one gets caught speeding during the course of the article by a deputy sheriff. Well, none of that will happen here today dear readers, because all of the following subcompact models were road tested for a full week by just one person. Yes, it took tremendous time and planning and the ability to say, "Sure I have no problem waiting 2 months to drive a Kermit the Frog Green Mitsubishi Mirage." (Actually, the Mirage's color got plenty of complements in public. And not just from Miss Piggy.)
So as follows in no particular order besides the first three models which also happen to be iSeeCars.com's top three picks in this class, we examine we loved, liked and came to loathe about some of the most popular subcompact cars on the road today. In fact, we believe we drove most every single one. But 2016 is coming with a redesigned Chevy Spark and Mazda2 set to upset the apple cart again forcing us back to the road test board. We hope our hard work helps you find the best new, fuel efficient, reliable, roomy, fairly priced and fun to drive small car seemingly just made for you.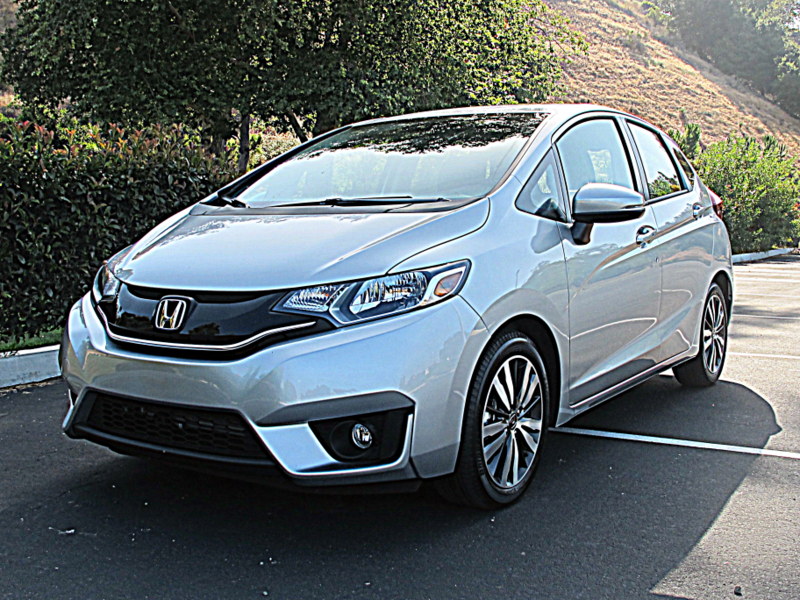 2015 Honda Fit EX (manual or automatic)—Ask us to think of something negative to say about the 2015 Honda Fit from the luxurious feel of its feature packed interior, to the availability of both an engaging CVT automatic transmission (no longer a contradictory statement) or a short throw six speed manual that makes this hatch feel much more caffeinated from behind the wheel.
Everything inside the cabin of the Fit feels built to last, there is room for four adults and a smaller person in the middle perch on the back bench plus the cargo area grows from 16.6 cubic feet to over 56 cubic feet if you fold that second row flat. But wait, there's more! The Honda's cargo hold is also very tall and the seat folding mechanisms can be set for partial storage and one passenger plus it has a refresh mode which when you remove the front seat headrests and recline them, the inside of the Fit becomes a great place to catch a short cat-nap. Or if you are a dog…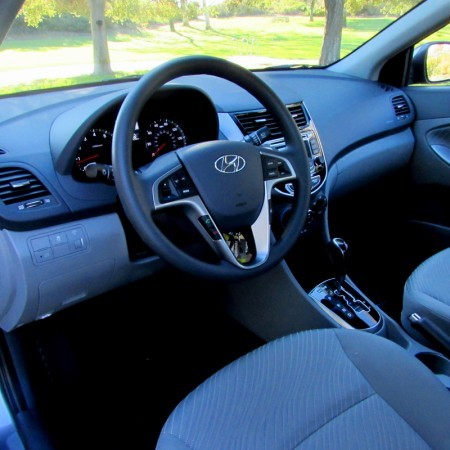 2015 Hyundai Accent GLS Sedan—The Hyundai Accent subcompact has been on the market now longer than most any competitor, about five years which is forever in car years, but somehow when we road tested the Accent we found in many ways it felt like the most grown-up, refined and classy car in the class. Although Hyundai offers the Accent in a more European looking five door hatch layout, the four door sedan GLS model we tested still looked as fresh as the day it was introduced but the proportions didn't just make it look like an Elantra they left in the drier too long.
Stepping inside the 2015 Accent GLS which stickered in the mid $17,500 range thanks to much appreciated options like the Popular Package ($800-Cruise Control, Steering wheel audio controls, Bluetooth, tilt/telescoping steering wheel), Style Package ($800-16-inch alloy wheels, projector beam LED headlamps, rear disc brakes, auto up driver power window, fog lights and some visually impressive piano black and chrome-type trim from two classes above) and $125 for floor mats. On top of that you get standard air conditioning, an impressively decent sounding 6-speaker AM/FM/CD/USB/-Pod sound system, durable feeling cloth on the seats that didn't feel made to a price. It just felt like a nice solid car.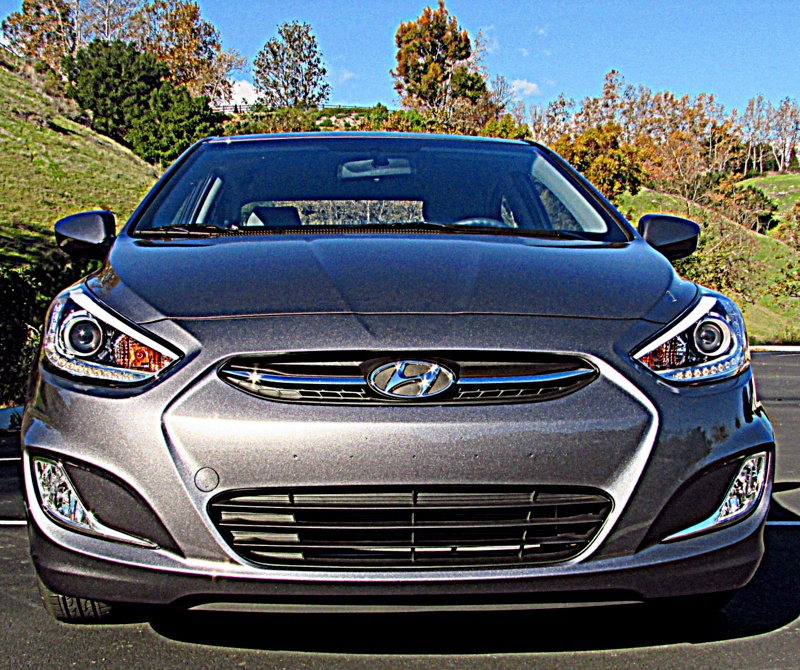 The standard 6-speed automatic was a very smooth performer mated to the standard 1.6 liter 137 horsepower/123 lb. feet of torque 4-cylinder that admittedly when pushed emitted a throaty growl was still one of the most pleasant sounding motors on test here. The Accent is an accomplished and smooth cruiser and rarely do you hear any engine or wind noise and trust us, once you hear the sound of the whizzing blender which resides under the hood of the Nissan Versa you will slap yourself every day for passing up a 2015 Accent.
2015 Kia Soul—No matter how you put it, there is no doubt that Kia really hit the subcompact ball out of the park when it redesigned the 2015 Kia Soul. Why? Well first off even when you buy the base model you don't feel short changed with cheap feeling interior plastics and no sense of style or panache. All Soul models look like nothing else on the road and that's why Kia sells so many of them. The interior, while obviously roomy enough for a small family, was a bit of a risk on Kia's part mainly because in the redesign they decided to offer serious luxury car options if buyers wanted them.
You can option up your 2015 Kia Soul with very high quality Nappa leather seating, heated front and rear seats, ventilated front seats, dual zone climate control, a panoramic sunroof, a very impressive Infinity premium audio system, in-dash navigation with a split screen to access the easy to use UVO infotainment system,, power everything, 18-inch alloys, LED and HID headlamps and a heated steering wheel potentially bringing the sticker price nearly to $27,000. But apparently Kia's gamble paid off as both the base models which start at just over $15,000 are selling just as well as the fully optioned models.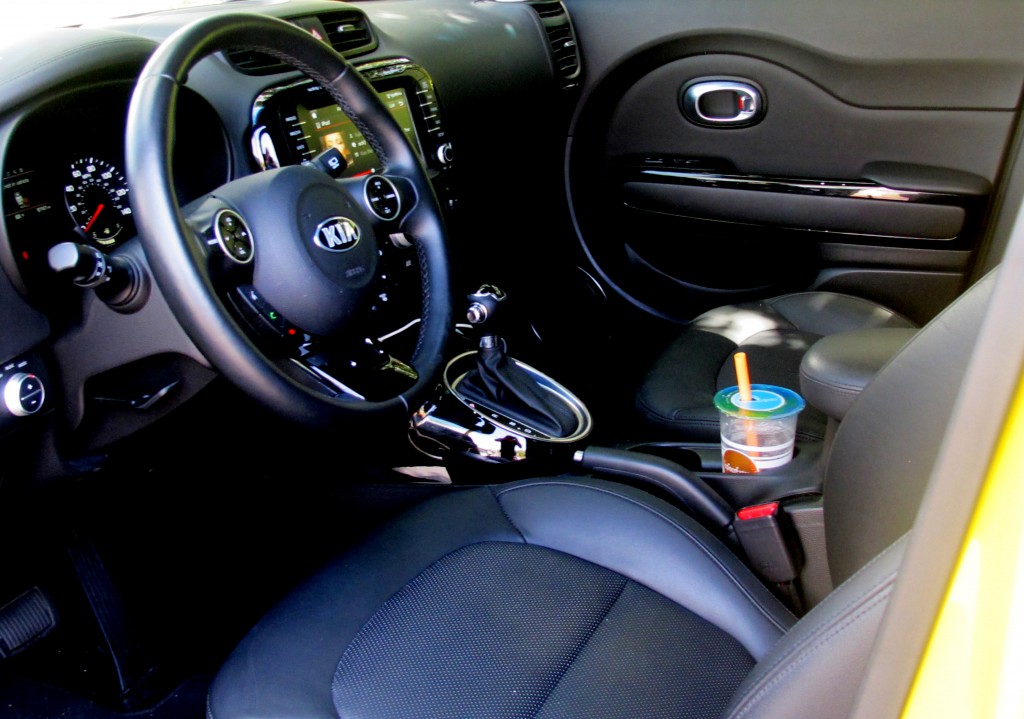 2015 Ford Fiesta 1.0 EcoBoost SE—We have one qualm with the Ford Fiesta with the amazing 1.0 liter turbocharged 3-cylinder engine and it isn't the fact that it is only available with a five speed manual transmission which we think was a wise choice on Ford's part with such a tiny motor. No, we wish that they offered the 1.0 liter EcoBoost model in a trim higher than SE and that ordering the 120 horsepower/112 lb. feet of torque 3-banger didn't mean we had to make do with embarrassingly dorky yet lighter and more aerodynamic plastic wheel covers.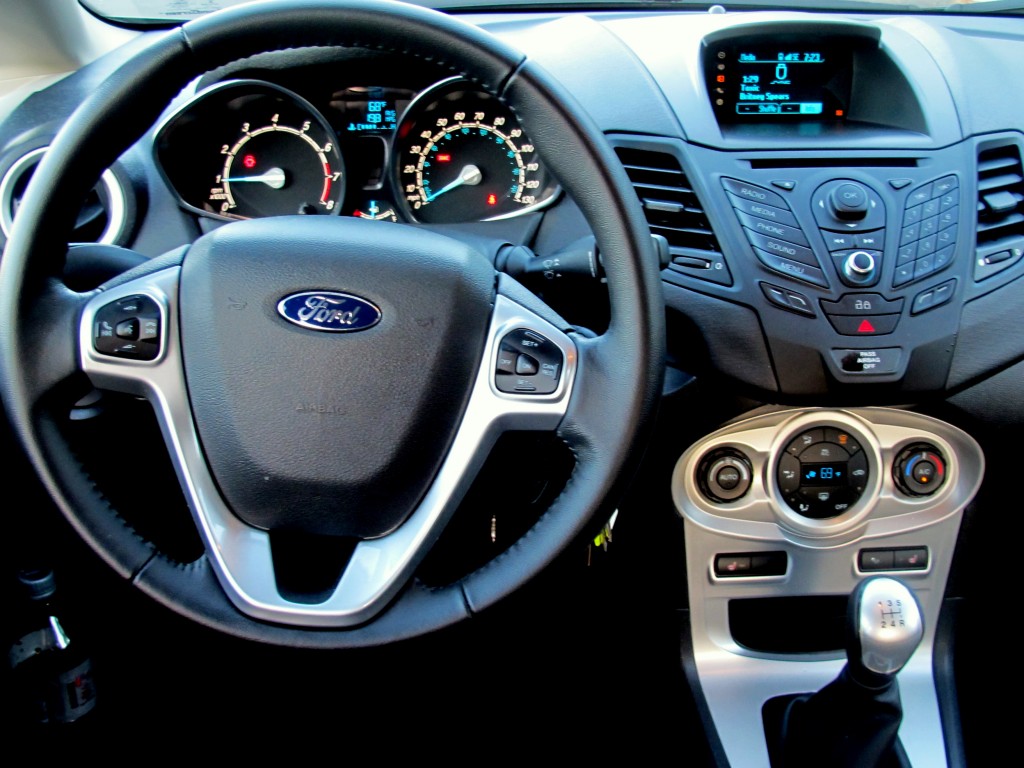 We wish Ford would offer the 1.0 liter EcoBoost Engine with the Titanium trim level in both sedan and hatchback bodystyles. Titanium Fiesta models come standard with a great Sony Audio system perfect for making any commute tolerable, a leather interior, heated front seats, the MyFordTouch Infotainment system, automatic temperature control, a back-up camera and a more grown up car feel. Because while we were amazed by Ford's 3-cylinder's total refinement compared to any rival, you do have to rev it hard to keep pace with traffic making it hard to reach the EPA fuel economy estimate of 31 city/43 highway.
On one tankful we drove the Fiesta Ecoboost with verve and all the alacrity it could muster and the fuel economy dipped to 24 miles per gallon. We are talking, all boost all of the time. But for the second tank we planned our passing maneuvers more carefully and plugged in our fuel efficiency monitor down at the bottom of the dash and managed to bring the figure back up to 38.7 miles per gallon of regular. So realize your economy will depend on how you drive this car. And at the very least, if you do choose to waste gasoline we guarantee you will have fun doing it.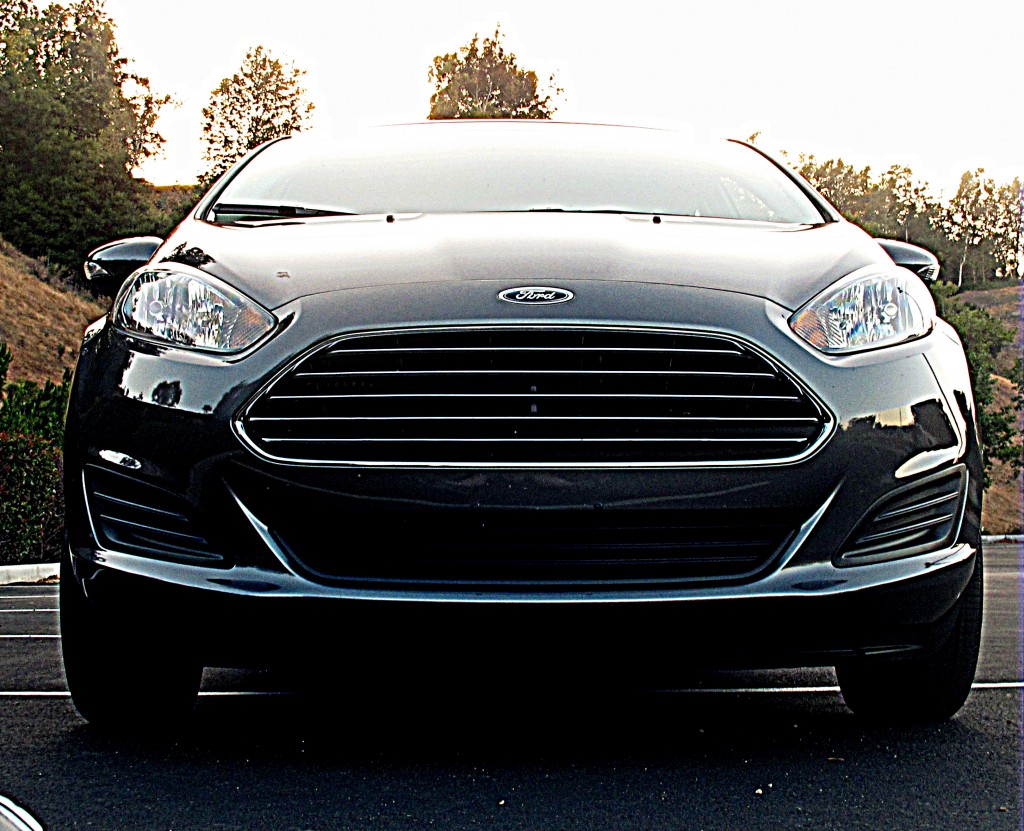 2015 Chevy Sonic LT—We especially love the styling of the 2015 Chevy Sonic hatchback over the more conservative and dowdy looking sedan, especially thanks to the very cool and European rear door handles hidden in the rear C-Pillar. Step inside and some of the plastics might never worry a Honda Fit but Chevy really took an interesting motorcycle gauge style approach to designing the dashboard. There is also an optional large screen ChevyLink infotainment system that is not only simple to use but also is packed with unexpected features. We tested a mass market LT model with a six-speed automatic and the same 1.4 liter 138 horsepower/140 lb. feet of torque 4-cylinder turbo borrowed from the larger Cruze sedan. A bonus that comes with the six-speed automatic is also an EPA fuel economy estimate of 40 miles per gallon highway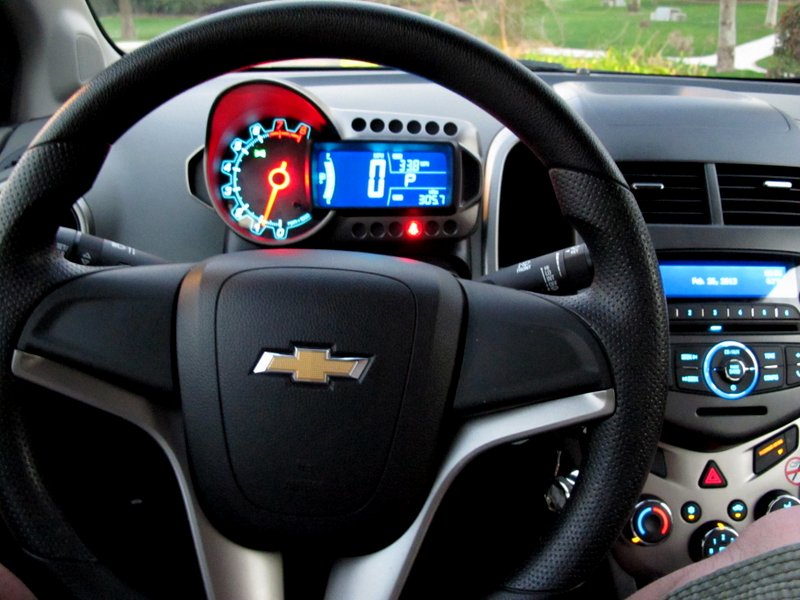 2015 Honda CR-Z EX—Sure, the Honda CR-Z sport hybrid has never been a runaway sales success for Honda but we guarantee it will remain an odd rarity of a classic due to the fact that it is the only hybrid vehicle to ever have offered a manual transmission option (which most buyers chose) and that it was surprisingly fun to drive with the self-shifter. You may think a two seat vehicle would be less than practical for anyone who had to ever use their car for anything other than pleasure drives but you would be wrong about the CR-Z as it's ride comfort, interior noise suppression and solid driving feel make it the perfect long distance or long commute companion. Just be sure to get one quick.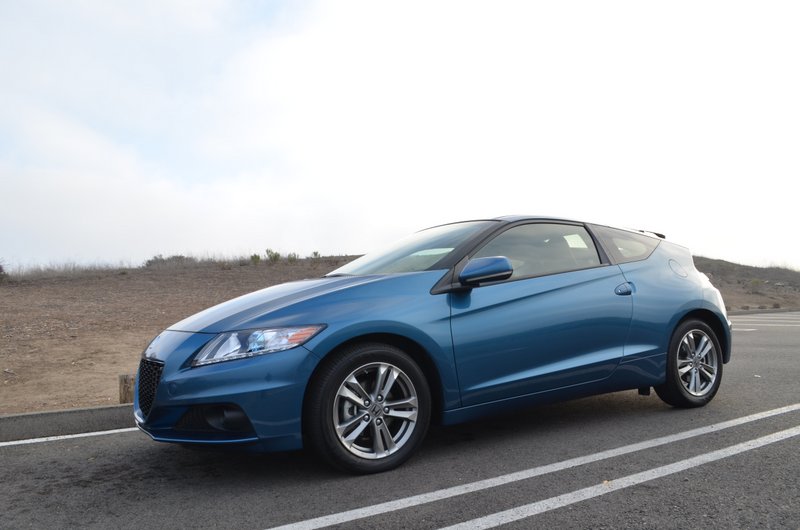 2015 Nissan Versa Note SL
We really do find the Nissan Versa Note subcompact hatch a likeable small car with clever use of interior space, cute exterior styling and an overall sense of no nonsense practicality with decent overall quality and zippy drivability. It is the total and utter opposite of its sibling the 2015 Nissan Versa sedan which is awkward looking to the extreme, drives as though it's a punishment for not buying a Sentra and is like a econobox torture chamber from the days of yore. Come on Nissan, the Note steers, handles and rides better plus it feels more refined so let's just drop the Versa from this model's name please?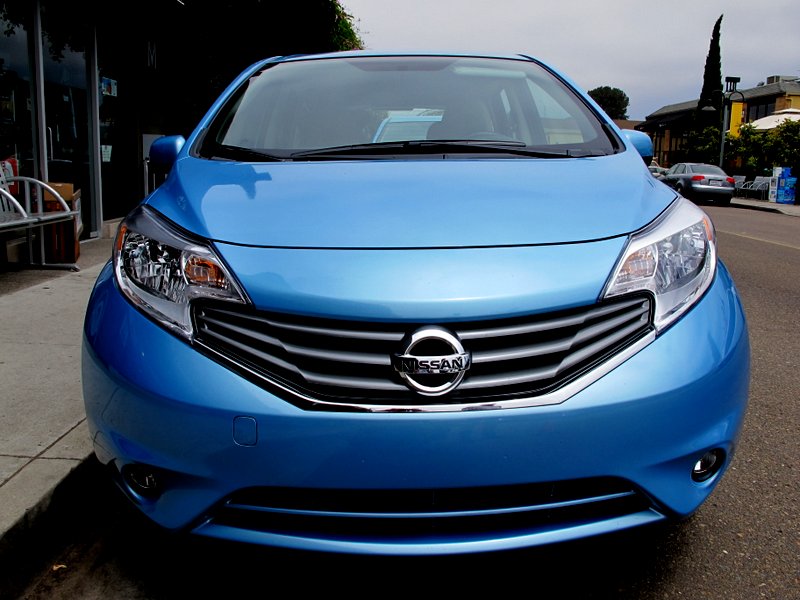 2015 Chevy Spark 2LT/EV—While a restyled 2016 Chevy Spark lies just around the corner, the current generation model marked a true turning point in Chevy's history as it was truly its most savvy entry ever into the small subcompact city car segment. Not only was it very cute and space efficient, Chevy countered the complaint that the standard 1.2 liter 4-cylinder engine was too low on power by unveiling an all-electric EV model which boasted 400 lb. feet of torque which is more than many supercars by comparison.
We spent our week in the Spark EV blowing past Prius drivers who had the gall to attempt to cut us off on the freeway thereby making it hard to get close to the 119 MPGe ratings. But that was our fault. The 2016 Spark isn't as stylish on the outside but interior materials quality is improved so take that into consideration before you decide which to buy. If you want an electric Spark EV, we recommend you buy yours in 2015 and start drag racing Ferraris for extra cash.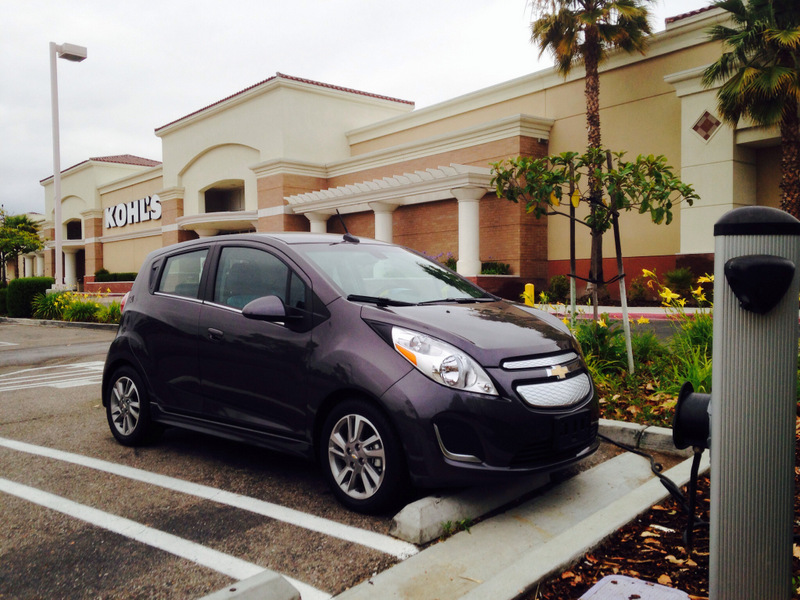 2015 Fiat 500 1957 Edition
Admittedly when we first beheld the mint green exterior color adorning our 2015 Fiat 500 1957 Edition (with matching green at the center of the very retro chromed out hubcaps), we weren't sure if this tiny fashion statement was quite our cup of tea. Then we sat inside where Fiat somehow managed to make sumptuously rich brown leather seats enhance the outer paint job all while giving the interior a very bespoke and special feel. By the end of the week we couldn't imagine wanting a plainer looking 500 (barring the Abarth) and as our tester was equipped with Fiat's enjoyable five-speed manual the standard 1.4 liter MultiAir motor is able to keep pace with traffic and return an EPA estimated 40 mpg highway. We advise against the automatic option on any 500 model unless it's turbocharged since the base engine puts out just a little over 100 horsepower.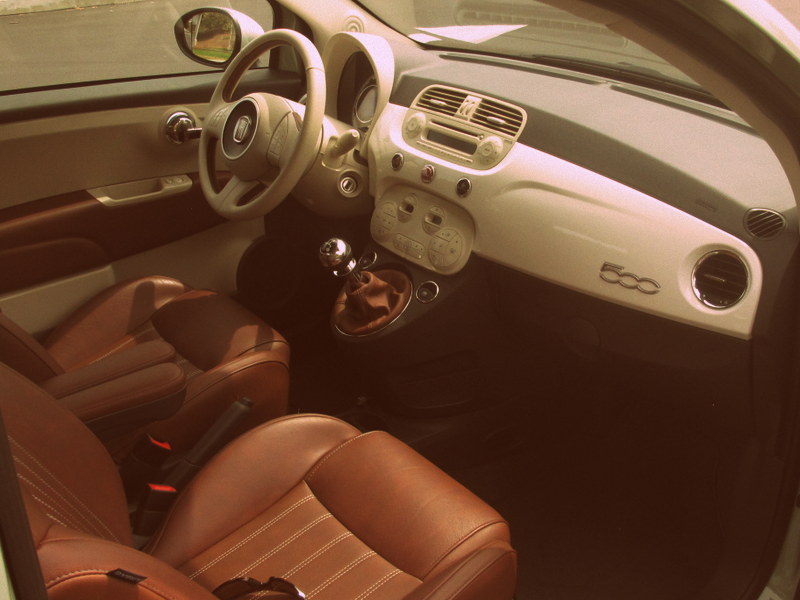 2015 Kia Rio SX—We admit that we were taken with the Rio's little pug dog puppy appearance especially from the front view (things get frumpy when you buy the sedan instead of the hatch) and we were amazed a subcompact car could offer leather heated seats, in-dash navigation, a moonroof, push button start, a smart entry key, a backup camera and tons more and just barely hit $21,000. But unlike the Rio's cousin the Accent from Hyundai, this little Kia disappointed when you set off to drive it. The 1.6 liter 138 horsepower 4-cylinder was willing enough but the suspension tuning was so soft and wallowing over bumps we found ourselves getting carsick driving it. Fix that Kia and this will be yet another one of your winning models.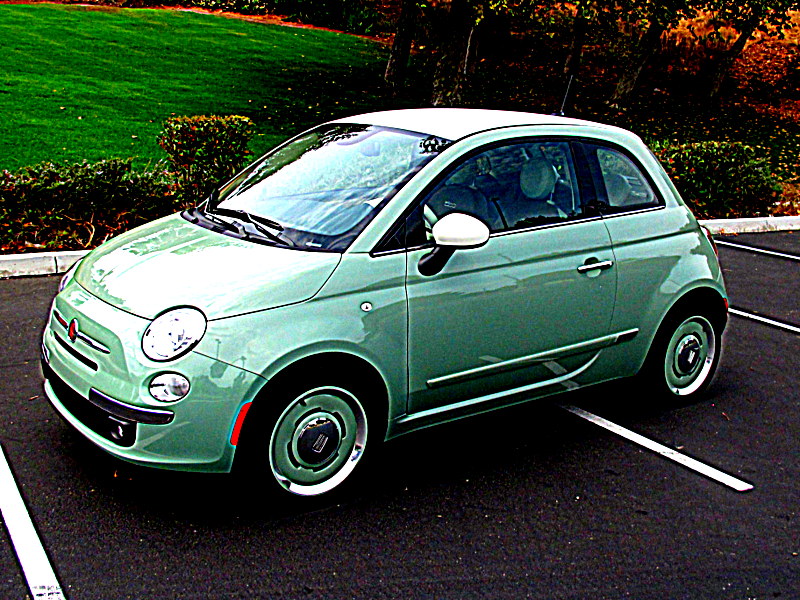 2015 Mitsubishi Mirage ES—The most unfairly maligned subcompact car of the last decade at least has been this little Mitsubishi which has been savaged as a matter of course by auto journalists who are unable to see exactly who this car is for since last week they were driving a $300,000 Bentley. Prices start at just $12,995 for a base model which comes with the nation's best warranty—6 years/50,000 bumper to bumper and 10 years/100,000 powertrain which is transferrable to the second owner unlike with a Kia or Hyundai.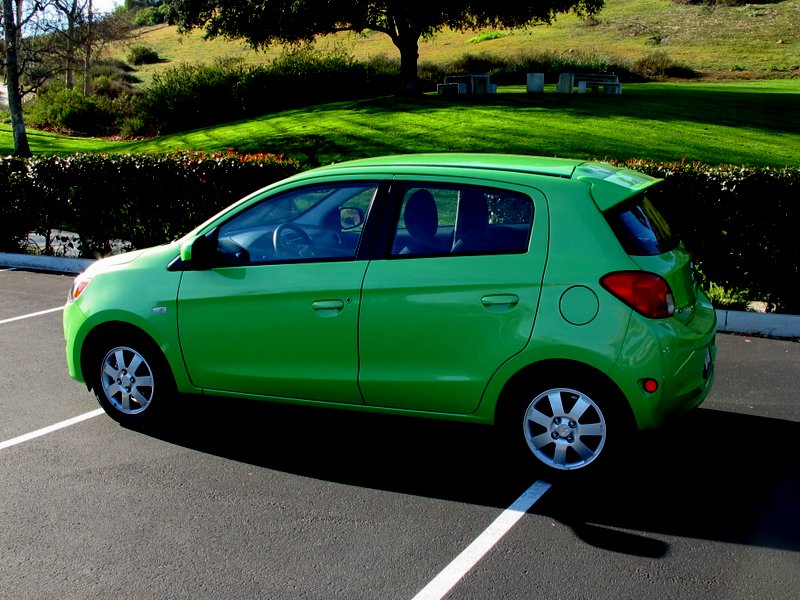 EPA fuel economy is 37 city/44 highway and we averaged 42 miles per gallon while admittedly revving the heck out of the rather anemic 1.2 liter 74 horsepower 3-cylinder engine. A paragon of refinement this engine is not but our ES model rang up at just over $15,000 with standard automatic climate control, Bluetooth, alloy wheels, power windows, door locks and mirrors, push button start, halogen headlamps, push button start and keyless entry, a USB/i-Pod jack, a 140 watt-audio system with four decent sounding speakers, cruise control and a standard CVT automatic transmission. Some might say a person should instead be looking at a used car rather than the Mirage but to many people this subcompacts low price, tons of features, years of warrantied peace of mind and fuel efficiency will be enough to win them over.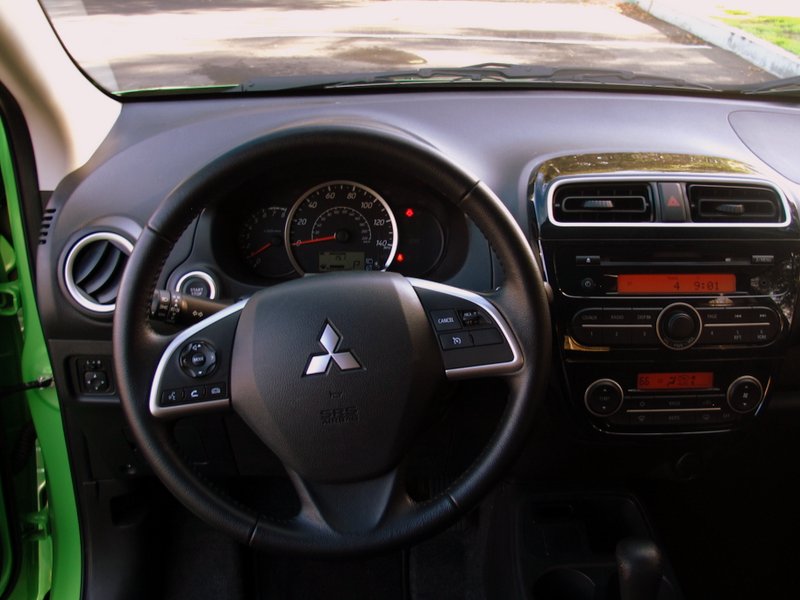 2015 Toyota Yaris LE—Time was that Toyota was a master at building some of the best small cars. They were technologically advanced and bulletproof reliable so why in 2015 does the Toyota Yaris still come with a four speed automatic? We seem to recall Honda being raked over the coals for keeping its five-speed automatic in production until 2013 so why does Toyota get away with giving the Yaris a more stylish front end treatment for 2015 but nary a technical enhancement to be found. Oh, wait. The six speaker Entune audio system is now a touch screen affair with easy to decipher graphics for deciding if you want the radio, CD, USB, auxiliary input jack or 8-track player.
Okay, the 2015 Toyota Yaris doesn't play 8-tracks or even cassettes but its gutless 1.5 liter 106 horsepower 4-cylinder would be much better suited no doubt to a manual transmission that is unavailable. Inside, the Yaris isn't particularly spacious with the cargo hold barely able to hold a week's worth of groceries for a life-long bachelor and his dog. Good thing the kibble fit back there or we might have neglected to mention that at least this Toyota is still dirt cheap at just over $16,000.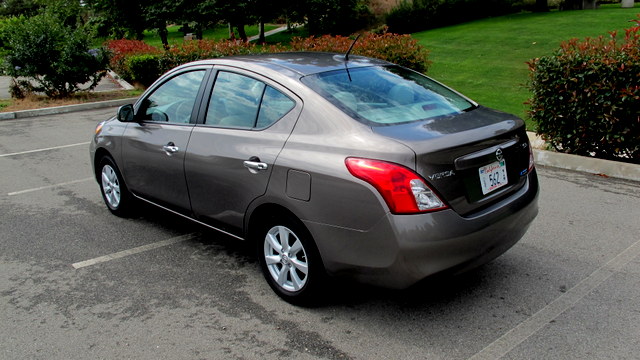 2015 Nissan Versa Sedan—With a base price of $11,990 we are pretty sure the Versa sedan still holds its place as the cheapest new car on sale today and considering the number of other excellent Nissan offerings this positively dreadful torture box is truly a cheap car all the way around. If you buy the most basic Versa sedan you are treated to industrial grade interior materials that seem designed to hurt when you touch them. Features include wheels, air conditioning, a stereo with two speakers, a four speed automatic transmission (optional) and a nicely sized 14.9 cubic foot trunk. On a more personal note, the Versa sedan is plain ugly and lopsided in appearance to our eyes and driving it is akin to an act of sado-masochism due to the amount of road noise coming from the engine, tires and various rattling trim pieces. Not recommended. Save a little longer and buy the Versa Note instead.
2015 Smart For-Two Cabriolet—We are more than willing to have faith in Smart in that the soon to be re-launched ForTwo super-subcompact two seat minicar will have engineered out all of the grossly negligent issues the first generation model suffered and still does suffer from. First off, the semi-automatic transmission was so harsh and jerky that every gearshift induced whiplash, the convertible version had a top so noisy at freeway speeds we exited after passing only one exit and the interior radio and climate controls were all labeled with illegible hieroglyphics rendering them impossible to use. The ride crashed over every bump and being in the car at speed was so terrifying that our dog refused to get back in it the second time we tried to road test it. She never, ever did that before and can't say we blamed her.0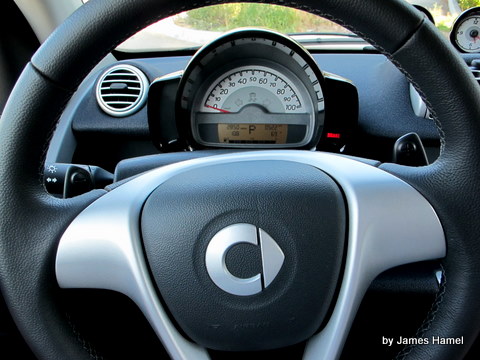 Search used cars for sale and find the best deals near you at iSeeCars.com.
To get a FREE iSeeCars VIN Report for a car, click here.