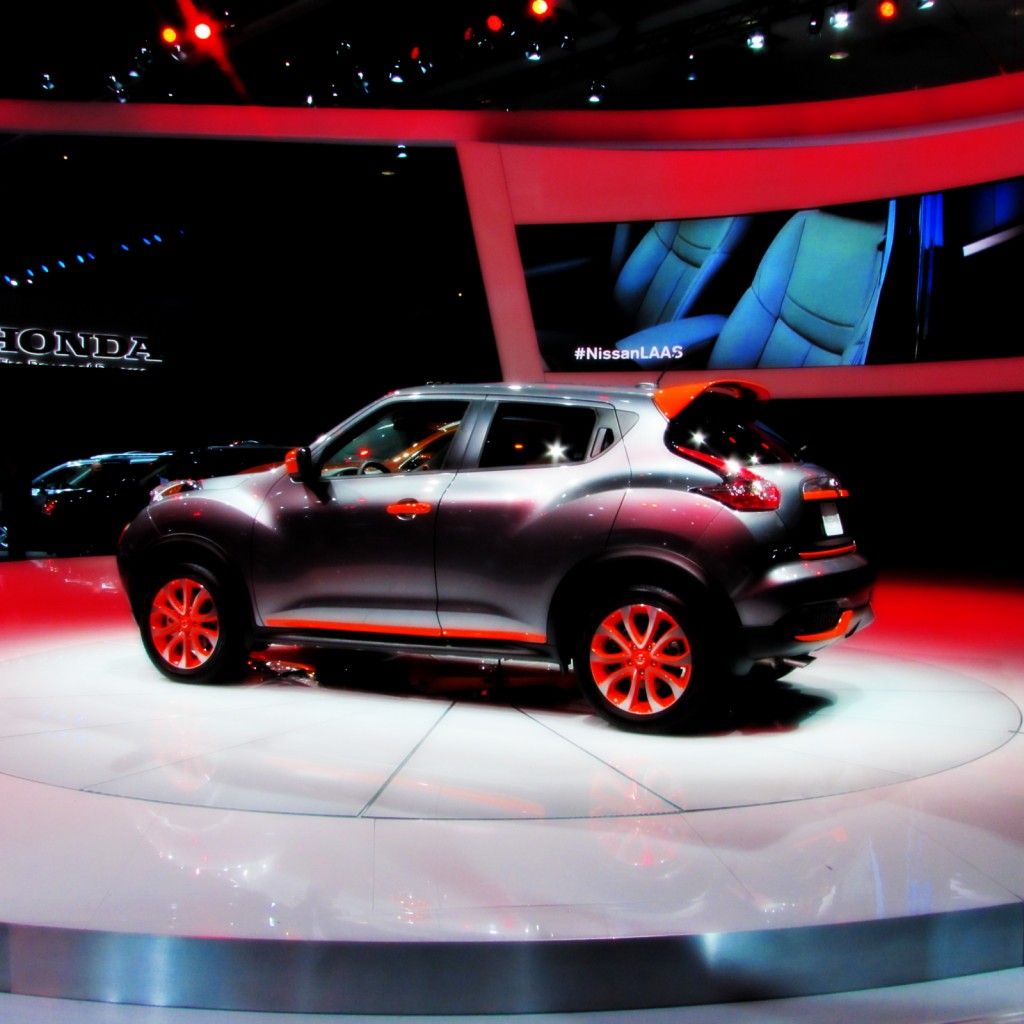 By James Hamel
Okay, enough serious journalism reporting the news and fact from the 2014 LA Auto Show. This article is where we channel our inner TMZ.com and let fly with all of the dirty drama, gossip and revel in the fact that each year at least one new vehicle debuts and almost instantly goes down in flames. And who loves a good meltdown more than the folks at TMZ. We also, given our many experiences at more auto shows than we care to mention, will give you an insider's look into what they are really like. And it's probably nothing like you imagined. Enjoy.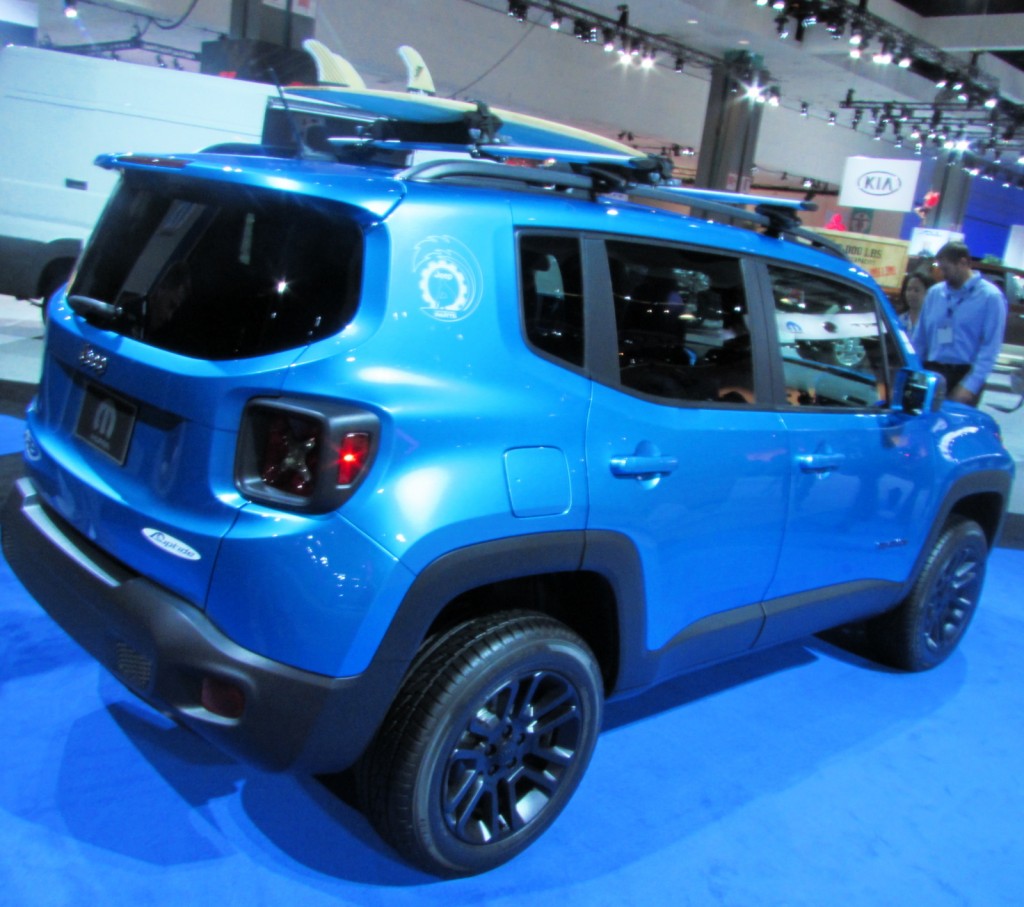 Number One
The 2015 Jeep Renegade claims to be all Jeep but Was Shown in Colors like Orange, Light Sea Blue and even a deep blood red only suitable for the Grand Cherokee SRT-8: We understand full well that economies of scale demand that automakers utilize joint platforms among as many brands as possible to try and improve their bottom line and quicken the time it takes to bring a vehicle for a certain brand to market. Since the Renegade is related to the oddly very attractive and chic looking 500X subcompact SUV, Jeep was able to add a baby SUV to its lineup very easily thanks to parent company Fiat also building these SUVs at the same factory in Melfi, Italy.
Yes, that's right. The 2015 Jeep Renegade is built in Italy. Not Canada, not Mexico and definitely not in Detroit. And the problem is that you can tell this SUV does not fit in with the rest of the Jeep family. Sure, it has greater off-road capability than Fiat's 500X but that's like saying a deep fried bacon sandwich is healthier for you than a French fry coated deep fried hot dog. Both of the aforementioned county favor specialties are about as healthy for you as both the Fiat and Renegade are equipped for long off-road treks into remote wilderness. At least the Fiat 500X doesn't pretend it's anything more than an all-weather fashion statement.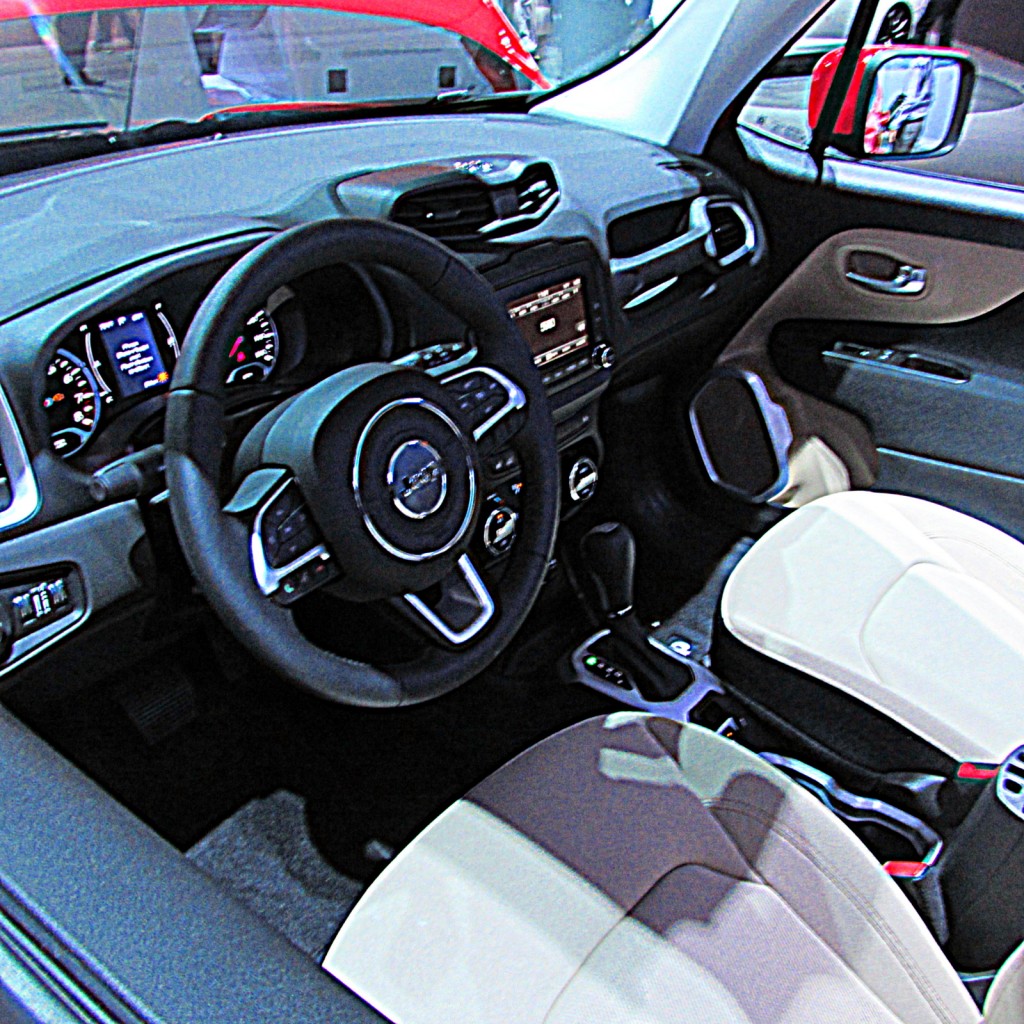 Number Two
Mercedes Not Only Changes Their Alphanumeric Names for their Vehicles Again but they Also revived Maybach as a Sub-brand: As if Mercedes didn't already have confusing names for its cars, they have decided to be as dumb as Infiniti and change up their alpha numeric system. All core sedans like the C, E and S-Class will remain the same but SUVs like the GLK, ML and GL will now be GLC, GLE and GLS. Then the SLK will become the SLC to ensure people know it slots below the SL roadster.
Also added if you buy a fuel cell, diesel, hybrid or natural gas powered model will be a small f, d, h etc at the end of the model name. Got that? Also, in a hideous display of bad taste Mercedes has resurrected the Maybach name and apparently the new uber-luxury S-classes come with fancy rear individual chairs, stainless steel champagne flutes and your very own leather embroidered throw pillows. What a deal!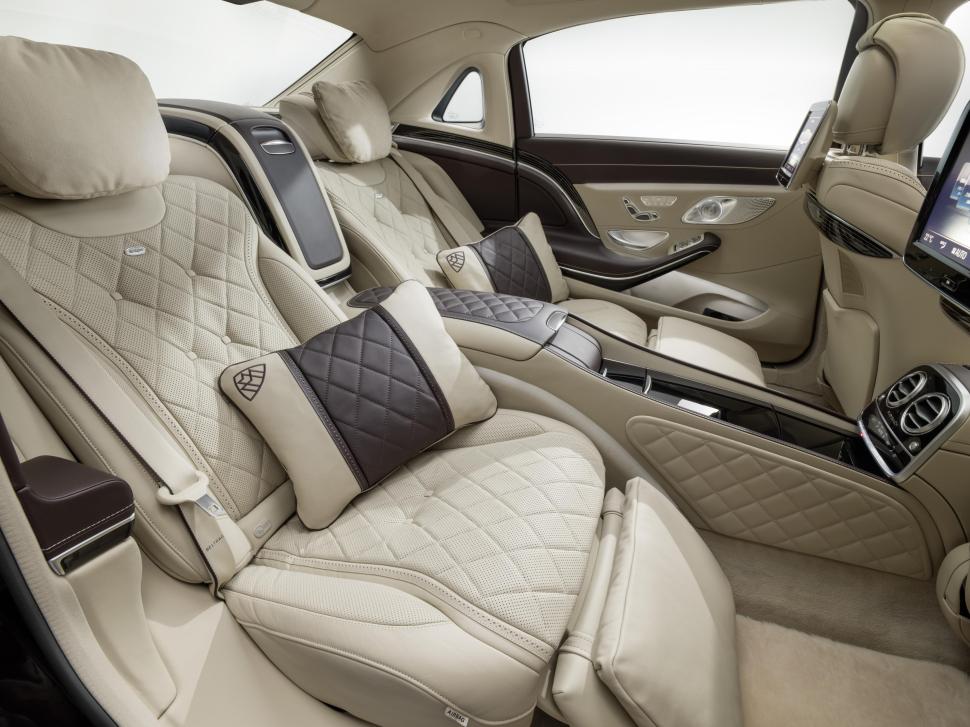 Number Three
We were shocked to see the Newly Renovated 2016 Acura ILX which, like the Honda Civic before it, has answered every criticism leveled at it from the day it was introduced: For 2016 the much maligned Acura ILX sedan gains a pair of cajones by dropping the base engine and hybrid and only offering the car with a 2.4 liter 201 horsepower VTEC 4-cyiinder mated to the amazing new 8-speed double clutch automatic that debuted recently in the TLX. We guarantee a sporty, light and agile feel to this driving experience if the TLX is any indicator. There is a higher quality dash, interior and myriad exterior enhancements making us sure this is the entry level luxury car we most want to sample next year.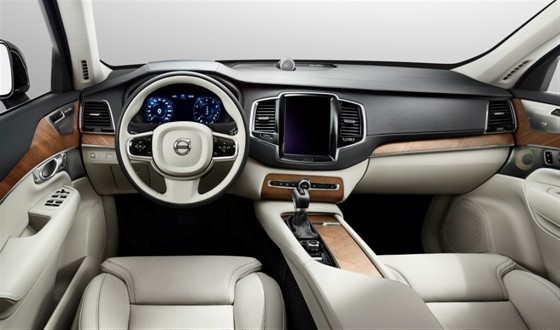 Number Four
Swedish automaker Volvo roared back to life at the Los Angeles Auto Show with not just one but two huge unveilings—the new XC90 SUV and V60 Cross Country: First off Volvo launched a direct competitor for all-wheel drive wagon models like the Audi Allroad and higher spec Subaru Outback variants with its stylishly butch V60 Cross Country wagon. This model offers all-wheel drive, is lifted nearly three inches higher than a standard V60, has underbody skid plates and skuff proof body add-ons. But the biggest news was the new Volvo three row luxury SUV the XC90 which is truly state of the art with an interior that looks much like that of a Tesla as it is dominated by a giant iPad-style tablet and is powered by a number of state of the art powertrains. This SUV will definitely be a surefire and much needed hit for Volvo.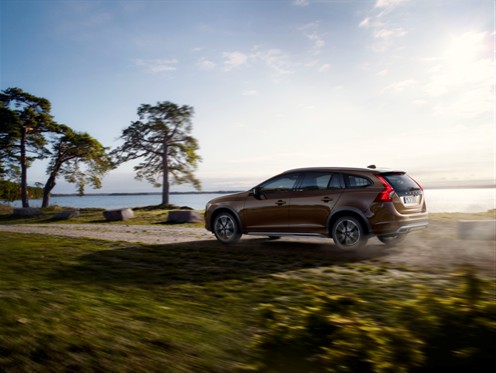 Number Five
After years of forgetting its roots as the pre-eminent sports car manufacturer in the world in order to build increasingly hideous SUVs and sedans, Porsche executives finally got a very harsh thumbs down from the press after presenting a bloated, ugly and overpriced Executive Exclusive Edition of the Panamera Sedan: People predicted with the launch of the first Cayenne SUV that people would revolt and that Porsche as a brand would suffer but that was not the case as this iconic sports car manufacturer has made huge profits as of late from two SUVs called Macan and the second generation Cayenne as well as a four door sedan called the Panamera. These vehicles outsell Porsche's sports cars by a large margin so it's no wonder the brand decided to keep pushing the luxury envelope which it apparently passed with the $220,000 plus Executive Exclusive Edition which elicited nothing but moans from the crowd. Maybe it was the stupid name.
Number Six
At an un-named stand from an unnamed manufacturer we ran into a common auto show issue—the people manning the desks out where the vehicles are located are usually little more than models who know nothing about the vehicles and serve only to keep the executives and PR staff from being harassed constantly by roaming journalists. Why?: Even though we knew the person who worked in PR at this brand, had spoken to them many, many times on the phone and via email and knew what they looked like apparently we were judged not important enough for the booth models to inform our contact we had stopped by. In fact, we watched as they walked into the back and stood right next to the person we wished to talk to without saying a word to them.
Upon this person returning and telling us our contact was in an interview for the next hour maybe try back again after that, we informed this person we had just seen what she had done and made sure we re-told it loud enough that we were heard by every member of the PR staff from that automaker. Suffice it to say, we had a lovely visit after that.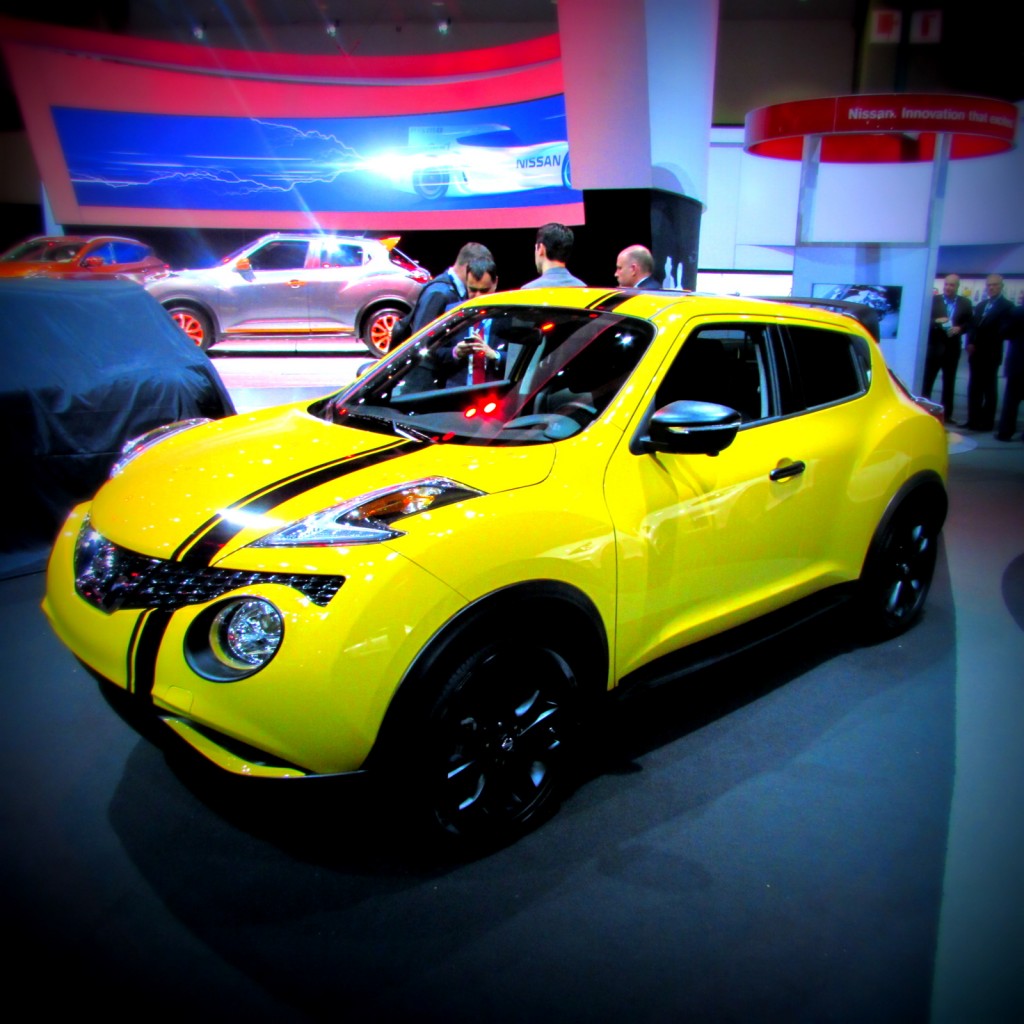 Number Seven
We came away hugely impressed with the goings on at Mitsubishi. Shocking: First we learned that Mitsubishi's much maligned (in the press at least) Mirage hatchback is on track to have sold 3 times as many units as this Japanese automaker originally had planned on during the 2014 model year. Then a highly placed source informed us that Mitsubishi had secured enough replacement parts at all of its North American dealers to be able to perform all Takata airbag recall work for all of its 12,000 plus vehicles which were affected. Everyone else is still scrambling to find enough parts. Lastly, Mitsubishi's concept vehicle the XR-PHEV which previews the brands upcoming design language.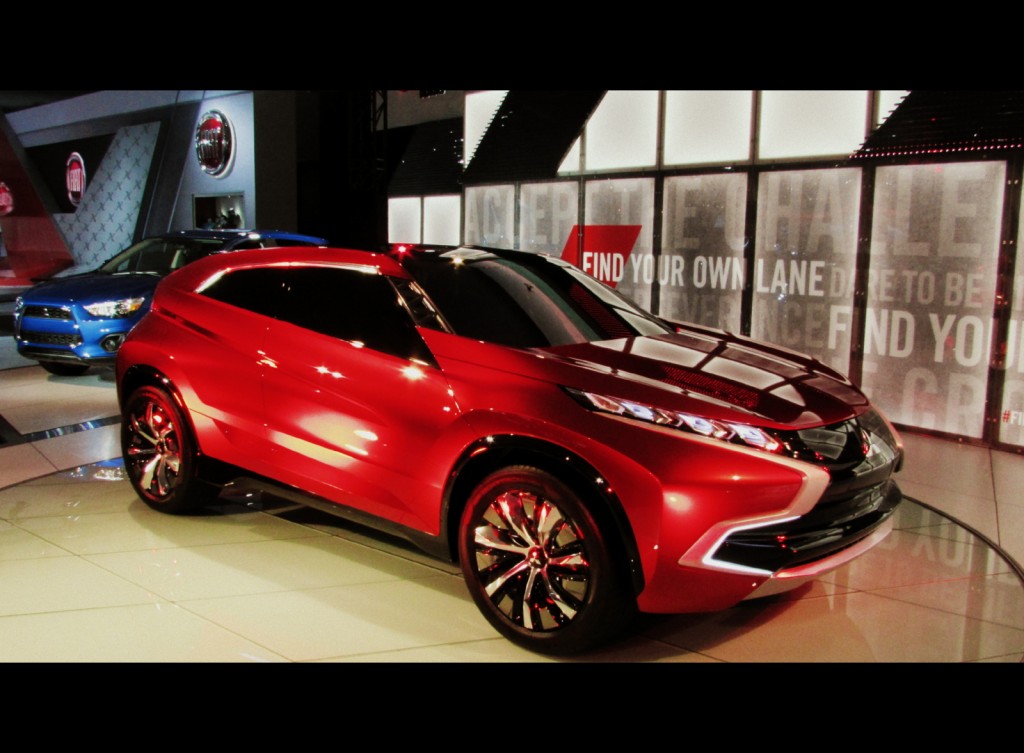 Number Eight
No one could figure out quite why a gentleman appeared to be attempting to use mountain climbing gear to climb into the scaffolding hundreds of feet above the Kia stand. Even Kia reps looked confused and distracted puzzled journalists by putting out a fun variety of salty snacks and beverages. Kia is so thoughtful: Yeah, this sort of performance art occasionally happens at an auto show and in this case it was just weird.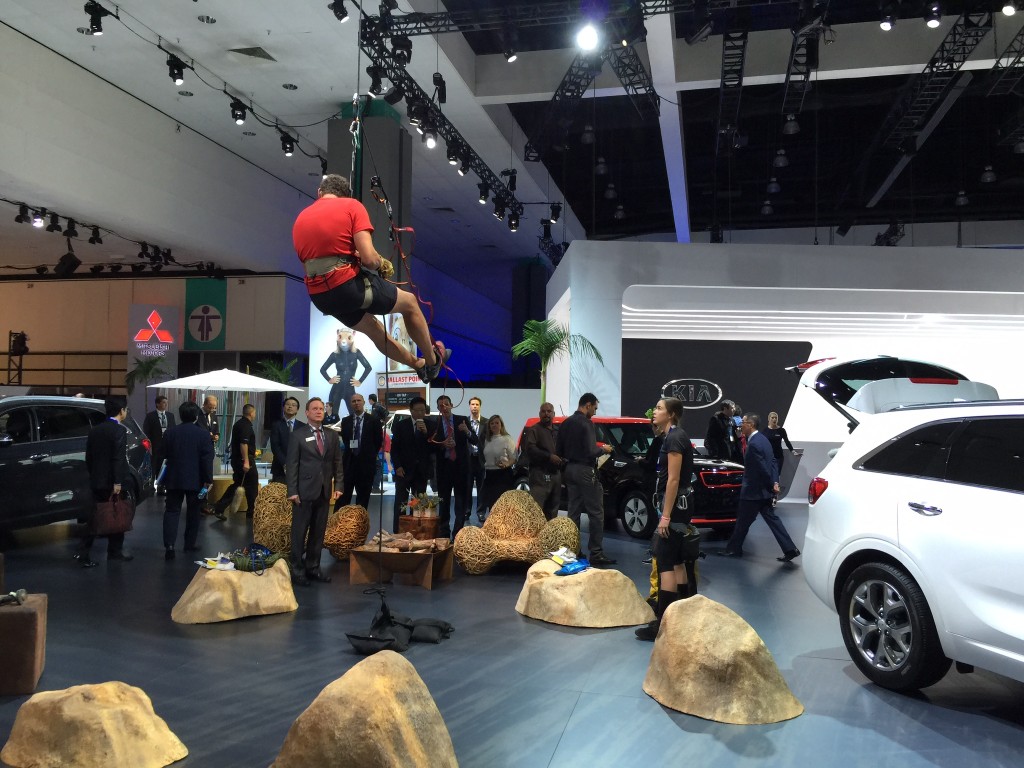 Number Nine
What's it like at a major international auto show during the media days?: Well, to be honest it is exactly like High School. You get five minutes between each automaker's presentation, there is a break for lunch where the food is just as bad as any cafeteria, there are more cliques and hierarchies than you can shake a stick at yet it is all held together by what really is a very small group of individuals who all in their own ways are enjoyably nuts. Creative types, you get the idea
Lastly, by the end of any media your feet will feel like they want to be chopped off, you will swear off walking again but usually you come away from the day most importantly making human connections with people who are just as passionate about cars as you are. And you never know, you might move up into a new clique.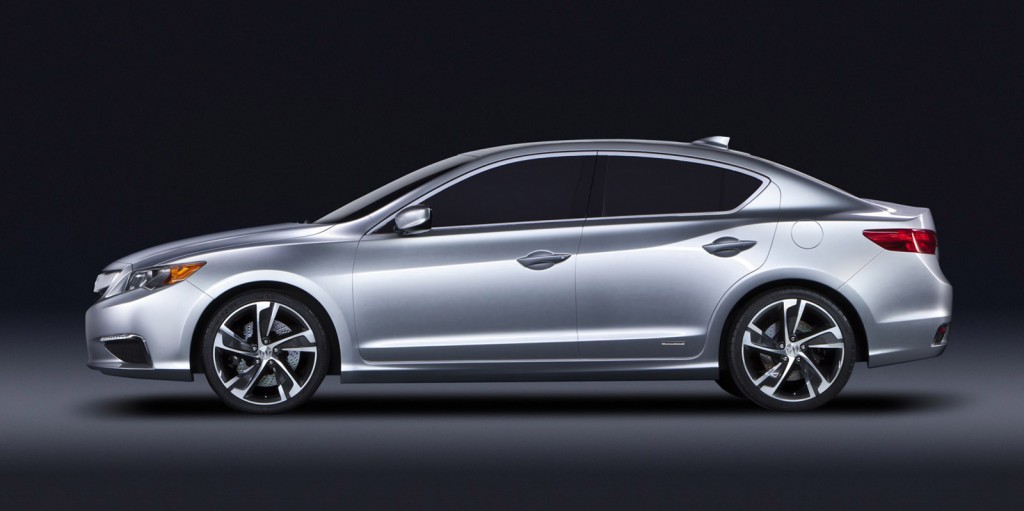 Number Ten
Who Let Henrik Fisker in the building with another car?: Possibly the most hated man in the auto industry, Henrik was at one time a highly respected car designer who penned such classics like the BMW Z8. But then he decided to start his own green luxury car company which, oddly enough, wound up being very similar in concept and engineering to his friend Elon Musk's plans for launching the now uber-successful Tesla.
Henrik did attempt to launch the admittedly handsome Fisker sedan but took an estimated $400 million from the U.S. Government and used the money to open a plant in Finland of all places. Then Fisker went under and is now in receivership under the control of a Chinese company and its future is uncertain. Apparently now he is working with a Southern California dealer group to build special bespoke Mustangs. How the mighty have fallen and oh how they deserved to.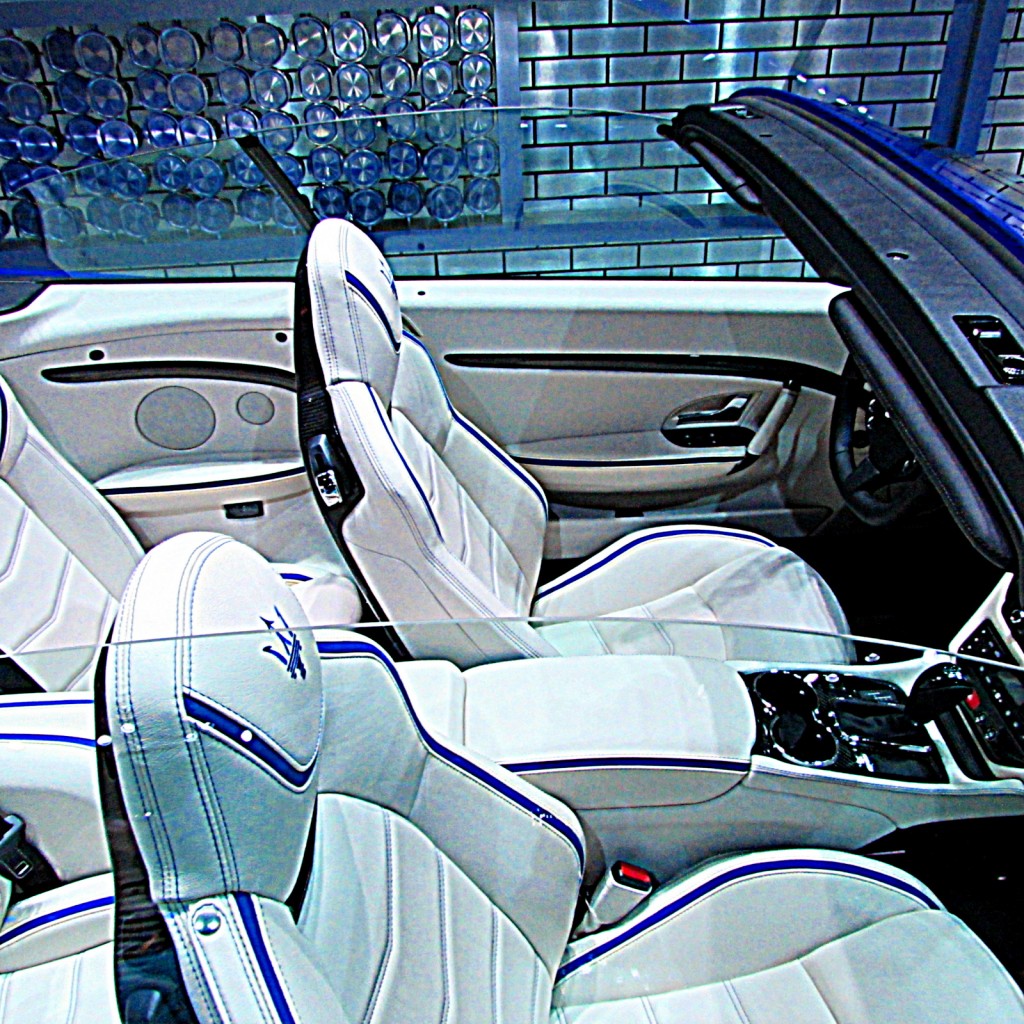 Search used cars for sale and find the best deals near you at iSeeCars.com.
To get a FREE iSeeCars VIN Report for a car, click here.