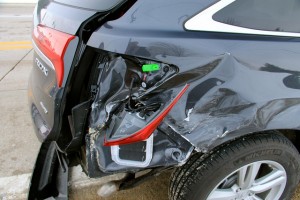 When a minor fender-bender, parking lot mishap or other accident occurs, your first thought may be, "Where's my insurance card?" But before you make a claim, you might want to think twice about it. Why? Depending on a number of factors, including where you live, type of claim, and your claims history, this could prove a very costly decision.
A new report from InsuranceQuotes.com shows that drivers pay an average of 38 percent more nationally for their car insurance after making just one claim. According to the National Association of Insurance Commissioners, the average U.S. auto insurance premium costs $791, so that 38 percent increase means a jump in premium of $301 to $1,092. Drivers living in Massachusetts get hit the hardest: a single claim hikes premiums an average of 67 percent.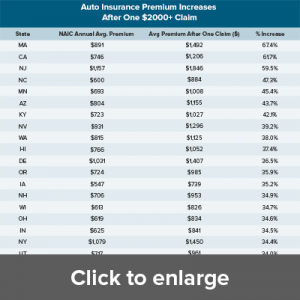 The next four states with the steepest average premium increases are: California (+62 percent), New Jersey (+59 percent), North Carolina (+47 percent), and Minnesota (+45 percent). Lowest five states for post-claim premium increases: Maryland (+20 percent), Alabama (+22 percent), Michigan (+23 percent), Wyoming (+ 23 percent), and Oklahoma (+25 percent).
It's important to note that rate increases only apply to bodily injury and property claims where you are at fault. If you get rear-ended by another driver, either their insurance or your uninsured motorist coverage will take care of the claim and your rates will not be affected.
Second Claim Even Worse
What about a second claim? How much will those set you back in annual premium increases? According to the InsuranceQuotes.com report, drivers with two claims pay nearly two times (+86 percent) as much for their car insurance as a driver who's claim-free.
The lesson here is to weigh and balance everything before making the decision to file an auto insurance claim. Don't just file for any reason, especially if the damage is only a few hundred dollars. Compare that out-of-pocket one-time cost to a premium that may skyrocket as a result of the claim to decide if it's worth it to go ahead and file.
Other Factors Affecting Premium Increases
Besides where you live, your car insurance premium increases are also affected by the type of claim you make. Most expensive at +42 percent and +41 percent, respectively, are bodily injury and property damage, including collision. Comprehensive claims, for non-collision incidents such as theft, are least expensive, resulting in an increase of +2 percent.
Premium increases following one or more claims typically last three years, so you won't be on the hook forever if you do have to make a claim. The caveat is that you can't make another claim within the three-year period. However, in California and many other states, any major convictions, like driving under the influence (DUI) remain on your driving record for as long as a decade – along with the corresponding auto insurance premium charges.
If you're still undecided about whether or not to make a claim, see the calculator on InsuranceQuotes.com to find out how a claim may affect your rates.
Search used cars for sale and find the best deals near you at iSeeCars.com.
To get a FREE iSeeCars VIN Report for a car, click here.