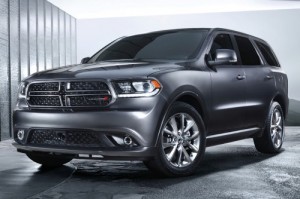 Families on the lookout for a three-row SUV that is priced right for the budget have some good choices from a number of automakers. All of these top 10 3 row SUVs come in right under the $30,000 mark, although incentives may bring the bottom line even lower.
2014 Dodge Durango – With its comfortable ride, user-friendly technology, smooth powertrain and new eight-speed automatic transmission, the three-row, seven-passenger 2014 Dodge Durango is also comfortable, well-designed and built with high-quality materials. A V6 engine is standard, but a V8 is optional, as is all-wheel drive. Cargo space behind the third row is 17.2 cubic feet, 47.7 cubic feet with the third row folded, and 84.5 cubic feet behind the front seats. Starting price is $29,795.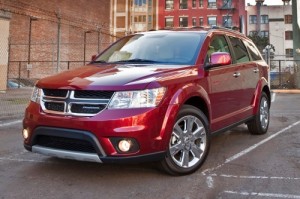 2014 Dodge Journey – Although the 2014 Dodge Journey has an optional third row, most reviewers agree that third-row seat is sufficient only for small children. Still, the midsize, seven-passenger crossover comes in at a very attractive price point, and can be optioned up to suit most small family needs. 2014 Dodge Journey prices start at $19,495.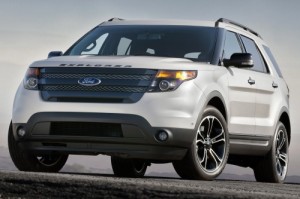 2014 Ford Explorer – The seven-passenger, three-row 2014 Ford Explorer features an attractive interior with soft-touch materials, a quiet and comfortable ride, lots of available options, and available all-wheel drive. Legroom is a little short in the second and third rows, say some reviewers, but the Explorer still holds up as a respectable choice for a three-row SUV that starts at this price range. The 2014 Ford Explorer carries a starting price of $30,015 – just a hair over the $30K mark, but close enough to be included in this top 10 list.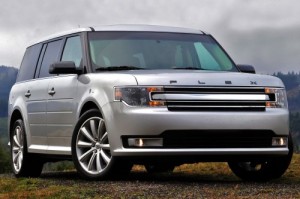 2014 Ford Flex – Since its introduction, the Ford Flex has been a top choice for a comfortable family vehicle seating up to seven. The 2014 Flex has a well-designed interior and has comfortable seating in all three rows.  Driving is also a pleasant experience. With both rear rows folded, the Flex has 83.2 cubic feet of cargo space on a completely flat load floor. The 2014 Ford Flex has a starting price of $29,015.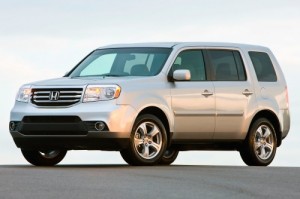 2014 Honda Pilot – Families requiring seating for eight will find the 2014 Honda Pilot more than adequate for the job. The cabin's interior is ergonomically designed, although the use of materials is thought to be a little "cheap" by some automotive critics. A plus for the Pilot is the generous knee room in the third row, a rarity among three-row SUVs. At 18 mpg city/25 mpg highway, the Pilot also provides good fuel economy for the class. Prices for the 2014 Honda Pilot start at $29,670.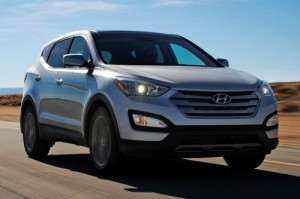 2014 Hyundai Santa Fe – Hitting on all three fronts, affordability, midsize and crossover, the 2014 Hyundai Santa Fe has something else going for it that's compelling to families – three rows of seats with seating for seven. Other pluses include a refined, but not exciting ride, high-quality interior, comfortable seats, sliding second row, roominess and lots of creature comforts. The third row, however, is mostly best for children. The 2014 Hyundai Santa Fe is priced from $29,900.
2014 Mazda CX-9 – While some auto critics say the cabin of the 2014 Mazda CX-9 three-row, seven-passenger SUV lacks the refinement of some rivals, there's no denying it is considered one of the most fun-to-drive of the midsize SUVs in the market. Reasonable price, extensive list of comfort and safety features and strong reputation for reliability and resale value are other pluses. Maximum cargo capacity with middle and third rows folded is 100.7 cubic feet. There are also under-floor storage compartments for valuables. Starting price for the 2014 Mazda CX-9 is $29,985.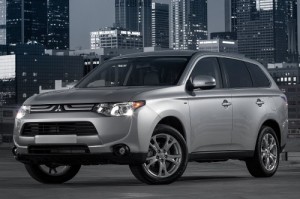 2014 Mitsubishi Outlander – Redesigned this year, the 2014 Mitsubishi Outlander offers three rows of seats for a great low starting price of just under $23,000. Outlander also has great fuel economy of 25 mpg city/31 mpg highway. But its low-buck interior, sluggish acceleration and noisy continuously variable transmission (CVT) are a turn-off for some critics. All-wheel drive is optional. Pricing on the 2014 Mitsubishi Outlander begins at $22,995.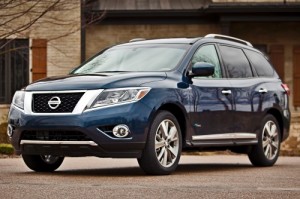 2014 Nissan Pathfinder – With its adult-friendly third row, the 2014 Nissan Pathfinder gets good fuel economy from its V6 engine, has an upscale-look cabin with high-quality materials, and parents don't have to remove a child seat to access the third row. There are, however, fewer standard features in the Pathfinder than in some rivals, and maximum cargo space with the second and third row folded is 79.8 cubic feet – considerably less than what class leaders offer. The 2014 Nissan Pathfinder is priced from $28,950.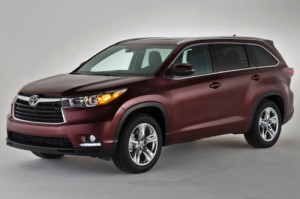 2014 Toyota Highlander – The redesigned 2014 Toyota Highlander appeals to families who need an eight-passenger, three-row SUV that's comfortable, well-designed, features high-quality materials, and offers secure handling and a smooth ride. While critics contend the Highlander isn't a particularly exciting vehicle, it isn't intended to be. Instead, it's a stylish, efficient family hauler that's high on safety, comfort and convenience. Starting price on the 2014 Toyota Highlander is $29,215.
Search used cars for sale and find the best deals near you at iSeeCars.com.
To get a FREE iSeeCars VIN Report for a car, click here.