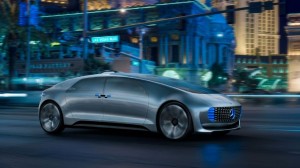 In and among the booths and exciting reveals at this year's Consumer Electronics Show (CES) in Las Vegas, it's easy to become giddy. There's just so much to take in. A lot of the newest technology involves various types of wearables, but there's a lot more that automakers are showcasing as well. Here is a list of what we consider the top 10 new car technology from CES 2015.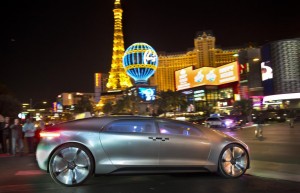 Mercedes-Benz F 015 Luxury in Motion Autonomous Concept – Showgoers may find themselves swooning over the sleek autonomous concept vehicle from Mercedes-Benz, the F 015 Luxury in Motion. The high-strength, carbon-fiber, steel and aluminum body shell does away with the need for B-pillars and the wide-opening suicide doors provide easy entrance and exit. Besides the stunning design, we love the variable seating system inside the vehicle, which allows for four passengers to engage in face-to-face conversation in rotating lounge chairs. Although not providing much detail, the German automaker says the car uses an electric drivetrain powered by a fuel cell. Autonomous driving uses the Mercedes-Benz "Intelligent Drive" system of technologies. There's also no word on when the F 015 may go into production, although Mercedes-Benz has stated its intention to have an autonomous car on sale by 2020.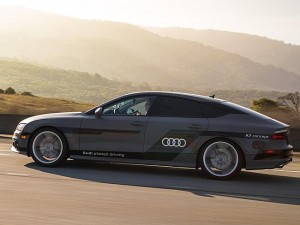 Audi A7 Autonomous Car – It literally drove itself from San Francisco to Las Vegas for CES 2015. The autonomous car from Audi, a piloted concept A7 Sportback (nicknamed "Jack"), accelerated and braked independently and warned its "driver" before changing lanes during the 560-mile trip. The pilot (or co-pilot, as it were) stepped in to assist the self-driving car in areas where software wasn't up to the task, as in cities. Audi says all the sensors and navigational systems in the concept car are "near production ready."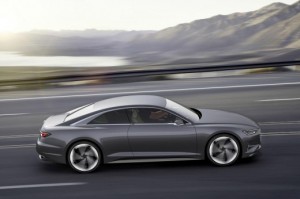 Audi Prologue Piloted Driving Concept – Like its brother, the A7 Piloted Driving Concept (the autonomous car mentioned above), the Audi Prologue Piloted Driving Concept revealed at CES 2015 has an autonomous driving system including laser scanner, radar sensors, several video cameras and ultrasound sensors – all carefully placed so as to be hidden from view. This is an updated version of the original Prologue. Interestingly, Audi also unveiled an Audi smartwatch at the show, saying the wearable device is a means of unlocking the Prologue (and, presumably, will offer other useful features for drivers, like vehicle tracking, maintenance messages and more). The first Audi production car to bear Prologue influences and be able to drive itself will be the next-generation A8 sedan, due in 2016.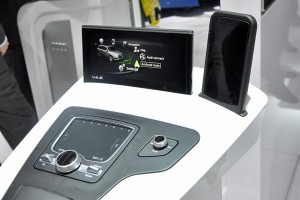 Audi Q7-Android Auto & Apple CarPlay – Although the Audi Q7 full-size SUV won't be released until later this year, one decidedly techie aspect of the seven-seat luxury vehicle was teased at CES 2015. The German automaker, refusing to take sides, says that both Android Auto and Apple CarPlay will be featured. This allows most smartphone users to have an option that works well for them. Audi integrates both digital car platforms into its existing MMI control system. One point worth noting is that the Q7 display is not touch enabled. You have to use the MMI touchpad and joystick to navigate.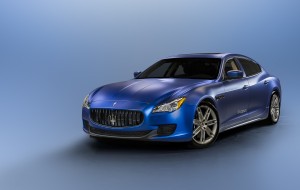 Maserati QNX Technology Concept Car – Based on a Maserati Quattroporte GTS sports sedan, the Maserati QNX Technology Concept Car had everyone buzzing at CES 2015. The QNX telematics/infotainment system in the technology concept car features a 12-inch 'portrait' (vertical) touchscreen, and instrument panel and driver assistance aids. QNX has been used in more than 50 million in-car systems to date and is the clear industry leader at 50 percent market share.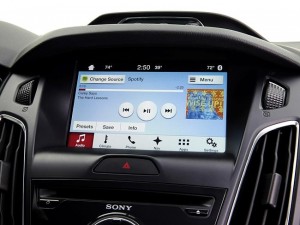 Ford Sync 3 – Boasting that the Sync 3 is much faster than its (often-complained-about) predecessor, Ford displayed and showgoers tested the revised infotainment system at the 2015 CES. The biggest deal is the simplified user interface, addressing consumer complaints in a big way. Ford also dumped Microsoft in favor of QNX, considered a huge move. Software updates will be available via Wi-Fi – no more need for dealer updates or waiting for a software mailing from Ford.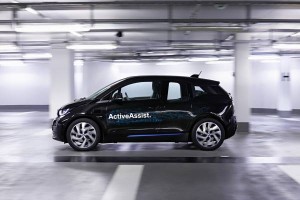 BMW – Debuting its Remote Valet Parking at the 2015 CES was just one of the highlights from German automaker BMW. Also part of BMW's news is its 360-degree collision avoidance, BMW Laserlight lighting and BMW ConnectedDrive Store.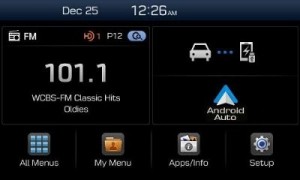 Hyundai Display Audio – Winner of the 2015 CES Editor's Choice Award, the Hyundai Display Audio system is a high-resolution, seven-inch color touchscreen display that has been fully optimized for Hyundai's latest-generation Blue Link system and enhanced smartphone integration. The Display Audio system will bring Apple CarPlay and Android Auto users into the Hyundai experience, says the Korean automaker.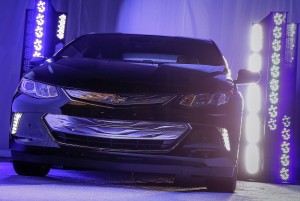 2016 Chevrolet Volt – Chevrolet dropped the curtain on the redesigned 2016 Volt at this year's CES in Las Vegas during a private event just prior to the show's opening. This still counts as a CES top new car technology, as the Detroit automaker used the show's venue to bring consumer awareness to the 2016 Volt. Full details will be revealed at the North American International Auto Show in Detroit.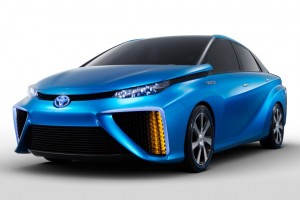 Toyota – While it didn't introduce a new vehicle at the 2015 CES (the hydrogen-powered 2016 Mirai debuts later this year), Toyota did make a major announcement that it will open up its patents for hydrogen-powered cars in an effort to jump-start the market. The Japanese automaker also said competitors won't have to pay any royalties on the more than 5,680 global patents. These patents cover everything from fuel-cell stacks, fuel system software, to hydrogen high-pressure tanks and hydrogen production/supply.
Search used cars for sale and find the best deals near you at iSeeCars.com.
To get a FREE iSeeCars VIN Report for a car, click here.