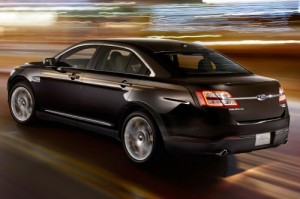 Whether you're aiming to holler "Fore" by yourself or you're transporting a foursome to the local links, it's important to have a vehicle that can handle your golfing needs. This includes sufficient trunk room for clubs as well as a roomy, comfortable and well-equipped cabin.
Checking out the variety of different years, makes and models of cars that might fit the bill, we've arrived at the following list of what we consider the top 10 used cars for golfers. Your taste may be the same or a bit different. See if you agree.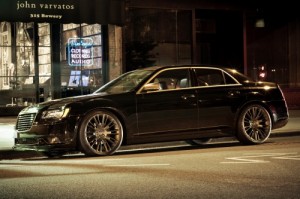 2011-2013 Chrysler 300 – Somewhat of a throwback to the big boulevard cruisers of the mid-1990s, the 2011-2013 Chrysler 300 is a large car with style, roomy cabin, including leather seats, many luxury features – and a trunk that's 16.3 cubic feet and capable of hauling four golf bags. Seating inside the 300 is also comfortable for a golf foursome (the 300 seats five). Check out prices ranging from about $14,850 for a 300 base model to $31,362 for a 300 C with John Varvatos Luxury trim.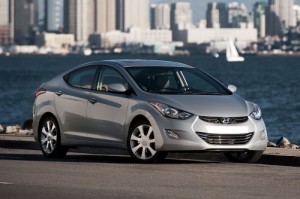 2012-2013 Hyundai Azera – Impressive interior room, lots of standard features, plenty of power, swift acceleration and suspension tuned for ride comfort – these are the characteristics of the Hyundai Azera, redesigned for 2012, that make it a logical choice for golfers looking for a large, comfortable car that can suit their needs. The trunk has 16.3 cubic feet of space, sufficient for four sets of clubs. Pricing ranges from $19,488 to $37,390.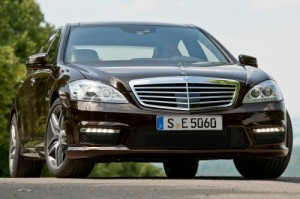 2013 Mercedes-Benz S-Class – From the hood emblem to the taillights, the 2013 Mercedes-Benz S-Class virtually shouts "country-club set" – and for good reason. The S-Class is filled with standard luxury features, boasts a copious 16.4 cubic foot trunk to house a foursome's clubs, gasoline, diesel, hybrid and V8 to V12 engines, many models and trims to choose from, including S63 and S65 AMG. Who needs to look further? Price, on the other hand, can get a little lofty, ranging from $57,590 to $82,991 (non AMG), and $101,992-$108,085 for AMG models.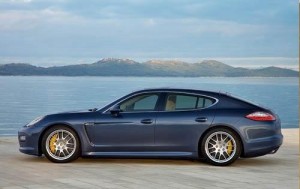 2012 Porsche Panamera – If you're by yourself (or have just one other golfer with you), fold down the rear seatbacks and there's a total of 44 cubic feet of cargo capacity to carry golf bags. The four-passenger 2012 Porsche Panamera, with all four seats in use, has 15.7 cubic feet of cargo space for golf bags and such, a little less than some of the other top 10 cars for golfers listed here. But hey, this is a Porsche, with incomparable ride and handling, exquisite interior and features, and available in base, 4, S, Turbo, Turbo S, and Hybrid models. Check out prices ranging from $58,492 to $118,705.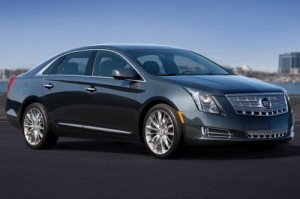 2013 Cadillac XTS – Another large luxury sedan, the 2013 Cadillac XTS in its debut year offers a golf foursome an 18-cubic-foot trunk to house necessary clubs/gear. That's not all the XTS offers, either. Check out the extra-roomy rear seats with plenty of legroom for three of five golfers sitting back there, lots of luxury touches throughout, comfort and multimedia features to please everyone. As for the prices in the used market, look for them to range from $31,991 to $47,780.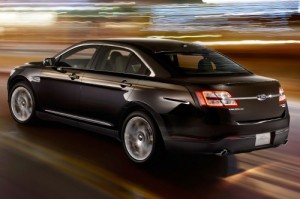 2013 Ford Taurus – Moving into the more affordable passenger car category, the 2013 Ford Taurus, with its 20.1-cubic-foot trunk capacity, has the most trunk space of any car in its class. Trunk space is more than enough to get all the necessary golf bags to the club. Interior room is a bit less than some of the other golfers' cars on this list, but it's still adequate for five golfers. A bigger horsepower bump is why we recommend the 2013 model. Available in SE, SEL, Limited and SHO models, in front- or optional all-wheel drive, pricing ranges from $14,995 to $33,500.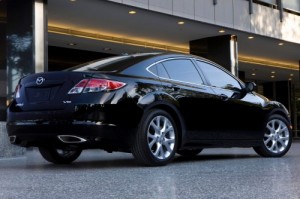 2013 Mazda Mazda6 – In the last year before its 2014 redesign, the 2013 Mazda Mazda6 midsize sedan offers good value for golfers searching for a roomy, comfortable, fun-to-drive sedan that can carry five passengers and assorted golf bags. Besides the 16.6-cubic-foot trunk, there's plenty of headroom and legroom inside for passengers. Pricing is more modest than some of the other great golfer's cars listed here, ranging from around $14,999 to $23,998.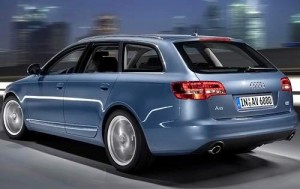 2011 Audi A6 Avant – The wagon version of the Audi A6, the 2011 Audi A6 Avant provides 34 cubic feet of cargo space behind the front seats and 59 cubic feet with them folded. A super-luxurious cabin is one of the Avant's highlights, making for comfortable driving no matter how long the trek to the country club is. The Avant also has plenty of power from its supercharged 3.0-liter V6 engine that makes 300 horsepower, paired with a six-speed automatic transmission and standard all-wheel drive. Pricing, if you can find an A6 Avant, is around $30,995.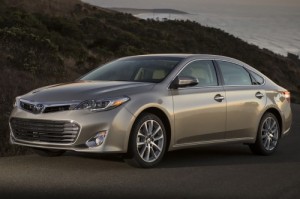 2014 Toyota Avalon – The redesigned 2014 Toyota Avalon has a 16-cubic-foot trunk, seats five and has exceptional headroom and legroom in the back seat. Seating is also comfortable for all passengers. High marks for ride quality and many standard features are compelling traits golfers may appreciate. Pricing ranges from $27,980 to $36,738.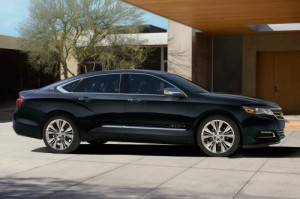 2014 Chevrolet Impala – With its attractive, aggressive styling, high-quality interior, large 18.8-cubic-foot trunk, plenty of standard features and balanced handling, the redesigned full-size five-passenger 2014 Chevrolet Impala deserves to be on the list of top 10 used cars for golfers. Available in LS, LT and LTZ trims. Check out prices that range from $20,700 to around $27,900.
Search used cars for sale and find the best deals near you at iSeeCars.com.
To get a FREE iSeeCars VIN Report for a car, click here.