Just because you have a family doesn't mean there can't be a little kid left in you. All kids enjoy the thrill of going a little faster, feeling a few extra g's on turns, and hearing the rev of a powerful engine. It seems that that youthful part of men, and several ladies as well, never dies. Their pulses quicken a little bit when the acceleration of a powerful engine throws them back in their seats. That doesn't have to change when all the blessings of family come marching into your life. There are still a few family cars out there that possess quite a bit under the hood, yet still have all the spaciousness, comfort, and convenience of any typical family sedan. Here's a look at the top three.
1. 2011 Ford Taurus SHO        New Model MSRP: $38,155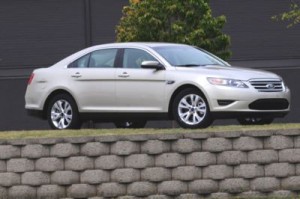 "With its roomy, comfortable interior and large trunk, the 2011 Ford Taurus is an appealing reinvention of the classic full-size American sedan," according to Edmunds. The SHO will appeal to the speed demon in many drivers with a twin-turbocharged 3.5L V6 engine that pumps out 365 horses and 350 lb.-ft. of torque. But it's features like the 20.1 cubic-foot trunk, control layout, and the adult-friendly back seat that make the Taurus a great family car. Handling us stable and secure, even with the added horsepower of the turbocharged engine, but it still feels as though you're driving a bulky sedan as opposed to something a bit sportier. Aside from the added benefit of the SHO being All-Wheel Drive, it also provides the additional turbo kick without a drop in the 18/28 mpg (city/highway) fuel efficiency that accompanies the regular 3.5L V6. A rating of four out of five stars in the government's new, more strenuous safety tests only confirms the Taurus's advantages as a family vehicle.
2. 2012 Hyundai Genesis        New Model MSRP: $34,200

It doesn't possess the All-Wheel Drive feature like the Taurus, but its 3.8L direct-injected V6 will still pump out 333 horses and 291 lb.-ft. of torque. If that isn't enough, and you've got the extra $10,000 for the upgrade, you can opt for the Genesis 4.6 which features a 4.6L V8 that harnesses 378 ponies and 324 lb.-ft. of torque. The bigger V8 will drop fuel economy down to 17/26 mpg (as opposed to 19/29 mpg from the V6), but that's still at the higher end for a V8 automobile. "Befitting a luxury touring car, the front seats of the Genesis provide plenty of comfort for both driver and passenger on longer trips. The same can be said of the rear seats, which offer optional heaters, in addition to the ample head- and legroom afforded backseat passengers," noted Edmunds editor. That can make those long family road trips seem not so long.
3. 2011 Audi A6 Wagon        New Model MSRP: $53,310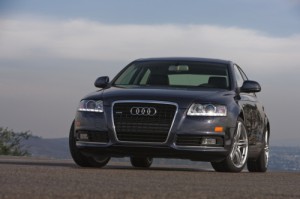 The A6 Wagon is a name that doesn't exactly inspire visions of smoking tires and hard-leaning corners, but that's exactly what is delivers with its supercharged 3.0L V6. It's the only vehicle on this list that can boast more torque than horsepower at 300 ponies and 310 lb.-ft. of torque. The A6 "continues to offer one of the finest cabins in its class, with an attractive dash layout, excellent materials quality and impressive fit and finish. All A6 models come with the Multi Media Interface (MMI), which controls entertainment, communication and standard navigation functions via the dash-mounted LCD screen and a knob and buttons on the center console." (www.edmunds.com) It also holds an ample 59 cubic feet of total cargo, which is nice because every family needs extra cargo space. But it's the A6's AWD handling prowess in bad weather that will keep everyone safe.
Search used cars for sale and find the best deals near you at iSeeCars.com.
To get a FREE iSeeCars VIN Report for a car, click here.