Remember when you were a young child and all you ever heard your parents wish for was some peace and quiet? You could never figure out what was so big about peace and quiet; it seemed pretty boring to be sitting around by yourself doing and saying nothing. And then you grew up…funny how things turn out, isn't it? Now all you can hope for is a few moments throughout your day when someone isn't screaming at you, kids aren't breaking things, and televisions aren't blaring sound through your head, shattering the windows of your mind. For most people, those few peaceful daily minutes come when they're driving. If you crave just a few moments a day where the outside world isn't blaring in on your thought process, think about making your next automotive pick one of the top 3 quietest cars, found by research from independent testers at Car and Driver, Consumer Reports, Edmunds, and Motor Trend.
2011 Lexus ES350        New Model MSRP: $36,025
Lexus has nearly cornered the market on quiet with their insulation standards. The ES350 is quiet enough to hear Grandma actually speaking when she's up front and you're stuck in the back holding a conversation with a gray-haired headrest. "At highway speeds, the cabin remains remarkably silent, mostly devoid of wind, road, or engine noise. Bumps and ruts in the road are absorbed with barely a hint of their presence reaching the passengers." (www.consumerreports.org) The cabin should be the flagship of Lexus design, packed with high-quality materials and features you'd expect to find for a much higher price.
2011 Mercedes-Benz E-Class Sedan        New Model MSRP: $49,400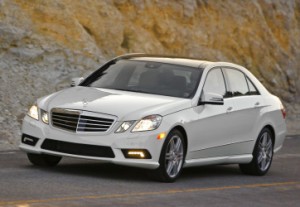 It's pricier than the Lexus ES350, but when you drive it you may find out where the difference lies. The cabin is built to reflect the reliable quality of Mercedes past. Both space and comfort are at a level of their own, and the seats are firm, yet soft enough to not get uncomfortable over long rides. Sticking with the 3.5L V6 engine will keep you near the base MSRP, but if you want to upgrade to the 5.5L V8 you'll need to deepen your pockets. Though it possesses a sleek design, visibility is ample, and the aerodynamic features of the cabin only enhance the interior silence by reducing wind noise to a minimum.
2011 Hyundai Genesis        New Model MSRP: $33,000

The Genesis is packed with extensive sound insulation, and it's noticeable at whatever speed you drive. This would be the perfect vehicle for someone who works and drives every day in a big city, and wants to shut out the sounds of the world for awhile. For being a car of luxury-class quality, the Genesis features a remarkably reasonable price. For a bit of an upgrade in price you could get the 4.6L V8 engine and boost your horsepower from 290 hp to 378 hp, and the torque would jump from 264 lb-ft. with the standard 3.8L V6 engine, to 324 lb-ft. with the V8. There is a $10,000 increase in price for that upgrade though, so you may want to simply stick with the quieter engine and enjoy your few more moments of peace.
Search used cars for sale and find the best deals near you at iSeeCars.com.
To get a FREE iSeeCars VIN Report for a car, click here.