With gasoline prices having come down significantly from its peak of over $3 / gallon, it may be time to consider a SUV.  When it comes to versatility and spaciousness, you can't beat a sport utility vehicles or SUV. Gone are the days of the purely utilitarian and box-like SUVs, replaced by increasingly sophisticated palaces on wheels with every conceivable amenity. Sure, all this comes with a penalty – often a steep price tag too much for your wallet. But you can find some great deals in used SUVs. What should you look for? Low mileage, plenty of safety and convenience features, of course, good styling and performance and finally, price. Here we list the top 5 best used SUVs according to one leading source, Consumer Reports. Note that these aren't the be-all and end-all of the best used SUVs. Use this top 5 list of used SUVs as a starting point to drive home your best deal.
* Hyundai Santa Fe (2004) – The base SUV is the one you want for overall best value. Powered by a 138-hp 4-cylinder engine mated with automatic transmission, the 2004 Hyundai Santa Fe in front-wheel drive achieves 20 mpg city/27 mpg highway. According to Consumer Reports, this model with 66,000 miles can be purchased used for about $6,500 (versus $18,799 new).
* Toyota Sequoia Ltd (2005) – The magazine's next used SUV best buy pick is the rear-wheel drive (RWD)
Sequoia Ltd with 282-hp V-8 engine and automatic transmission. This model gets EPA fuel economy ratings of 15 mpg city/18 mpg highway. With some 51,000 miles on the odometer, this SUV, which sold new for $41,605, is available to buy used for about $17,000, according to Consumer Reports.
* Subaru B9 Tribeca (2006) – The base 5-passenger SUV model with 40,000 miles in all-wheel drive configuration, 250-hp 3.0-liter 6-cylinder engine and automatic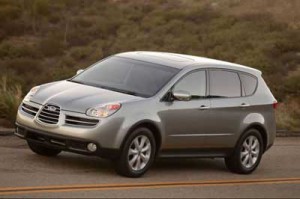 transmission, carries a used car price of about $15,000, per the editors of Consumer Reports. Other sources cite the vehicle's new car price range at between $10,800 and $19,000. For 2006, the B9 Tribeca base utility's EPA numbers are 18 mpg city/23 mpg highway.
* Mitsubishi Outlander ES (2007) – Another RWD model on Consumer Reports list of best used SUVs is this 220-hp 6-cylinder Mitsubishi Outlander ES with automatic transmission. Look for around 33,000 miles.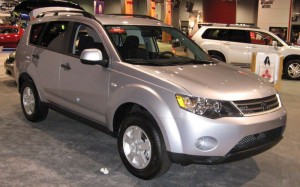 New, the model cost around $21,270, but you can find a great deal used for about $10,000. The ES in this configuration gets 20 mpg city/27 mpg highway.
* Honda Pilot VP (2008) – With 20,000 miles on the odometer, this 2008 Pilot VP is a 2-wheel drive 244-hp 6-cylinder 4-door model with automatic transmission. New, this model sold for nearly $28,000, but you can find it used for under $18,000, says Consumer Reports. The Honda Pilot VP in this configuration achieves 16 mpg city/22 mpg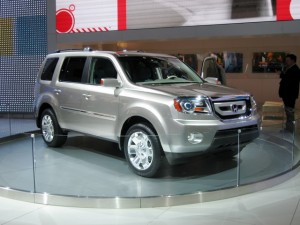 highway fuel economy.
If you're hot for an SUV, there are great bargains out there, both on dealer lots (they're eager to get them out of their inventory) and private sale. Read all the reviews you can on the particular models you're interested in and go in to see and test-drive the SUV yourself. Be knowledgeable, be confident, and… be willing to walk away. There's always another great used SUV that meets your needs and your wallet.
In addition to these SUVs, see other SUVs and cars with third row seating
To start your car search, visit http://www.iSeeCars.com to find over 2 million used cars for sale from more than 11,000 websites.

Search used cars for sale and find the best deals near you at iSeeCars.com.
To get a FREE iSeeCars VIN Report for a car, click here.