By Suzanne Kane
Searching for the most fuel-efficient car? Since it is mid-year, the list of the top 5 highest fuel economy cars includes three 2010 models and two 2009 models. Four of the five are gasoline-hybrid vehicles. The top 5 most fuel-efficient cars are ranked according to Environmental Protection Agency (EPA) fuel economy estimates in descending order with highest combined miles-per-gallon (mpg) first.
* 2010 Toyota Prius – Redesigned for the 2010 model year, the 3rd-generation gasoline hybrid Toyota Prius leads the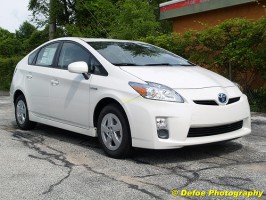 pack of highest fuel-efficient cars with EPA estimates of 51 mpg city/48 mpg highway/50 mpg combined. Powered by a larger 98-hp 1.3-liter 4-cylinder engine with three selectable drive modes, the front-wheel drive (FWD) 5-door hatchback midsize Prius also features a new driver's knee air bag and standard electronic stability control (ESC). Pre-collision system and lane change system are optional on the uplevel Prius V. The previous year model, with its 76-hp 1.5-liter I-4 engine gets an EPA-estimated 48 mpg city/45 mpg highway/46 mpg combined. Prius 2010 model pricing starts at $22,000.
* 2009 Honda Civic Hybrid – With its 110-hp 1.3-liter 4-cylinder gasoline engine with integrated motor assist, the 2009 Honda Civic Hybrid compact FWD sedan achieves EPA estimated fuel economy of 40 mpg city/45 mpg highway/42 mpg combined. Standard features include 6 airbags, ABS and vehicle stability assist (VSA). Civic Hybrid is also available with leather-trimmed interior and/or satellite-linked navigation system. Pricing for the base Civic Hybrid with continuously variable transmission (CVT) begins at $23,650.
* 2010 Honda Insight – Nudging closer to Prius for the top fuel economy spot is the new 2010 FWD Honda Insight hybrid electric vehicle (HEV), which gets an EPA-estimated 40 mpg city/43 mpg highway/41 mpg combined. Power comes from an 88-hp 1.3-liter 4-cylinder engine and an electric motor paired with a nickel metal hydride battery pack. Maximum combined horsepower is 98. The 4-door compact hatchback has standard anti-lock brakes (ABS), front-seat side airbags and side curtain airbags, but only the EX has standard ESC. The 1st-generation Insight was sold from 1999 through 2006 as a 3-door hatchback. Honda says the all-new 2010 Insight is the least expensive hybrid available in the U.S. with a base sticker price of under $20,000 ($19,800 for the LX model).
* 2010 Ford Fusion/Mercury Milan Hybrid – The midsize corporate-twin sedans, the all-new 2010 Ford Fusion and Mercury Milan hybrids, achieve EPA-estimated 41 mpg city/36 mpg highway/39 mpg combined. Power in the FWD gasoline-hybrids comes from a new 2.5-liter I-4 gasoline engine combined with an electric motor for a combined 191 net horsepower. In electric vehicle (EV) mode, the hybrids go up to 47 miles per hour before the gasoline provides the power as needed. Standard equipment includes 6 airbags, ABS, SmartGauge with Eco Guide, regenerative braking and eco-friendly cloth seats. Fusion/Milan Hybrid pricing begins at $27,995.
* 2009 smart fortwo – This small 2-seater hatchback RWD car is not for everyone, but it does boast the distinction of being the single gasoline-only rear-wheel drive (RWD) car on the top 5 most fuel-efficient cars list. EPA estimates for smart fortwo, available in coupe and convertible models, is 33 mpg city/41 mpg highway/36 mpg combined. Power comes from a 70-hp 1.0-liter inline 3-cylinder engine mated to an automated 5-speed manual transmission with overdrive. The engine block and cylinder heads are aluminum. ABS, ESC and 4 airbags are standard. The base model, the pure, has a starting price of $11,990. Passion coupe begins at $12,990 and the convertible at $16,990.
To start your search of cars for sale, visit http://www.iSeeCars.com , a leading search engine for finding over 2 million cars for sale from more than 11,000 websites.
Search used cars for sale and find the best deals near you at iSeeCars.com.
To get a FREE iSeeCars VIN Report for a car, click here.