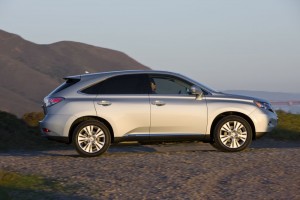 Finding a fuel-efficient used SUV that's kind to the environment and won't bust your budget is an exercise in judicious searching. On the one hand, you want a hybrid SUV, but the other part of the equation is that the vehicle has to make sense for your particular needs beyond just fuel efficiency and environmental appeal.
SUVs tend to cost more than passenger cars, but they're also more versatile, which makes them ideal for family use. Looking at the past few model years of hybrid SUVs and taking into account styling, features, safety and other factors, we've arrived at this list of the top six used hybrid SUVs under $30,000.
2010 Lexus RX 450h – For families in search of a luxury five-passenger midsize crossover SUV that comes in under the $30,000 price tag, one to definitely check out is the 2010 Lexus RX 450h. Impressive fuel economy (28 mpg combined for FWD, 27 mpg for AWD) and utility, power, amenities and excellent build quality are Lexus attributes consumers have come to expect – and the RX 450h delivers. But there's no third-row seat and the hybrid only comes in one trim level. Pricing is right around or slightly under the $30,000 mark, in the $29,000+ range.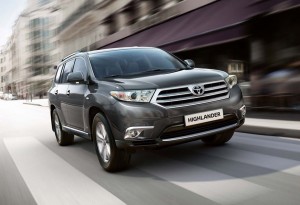 2009-2011 Toyota Highlander Hybrid – While better deals may be available for 2009 and 2010 models, go for the 2011 Toyota Highlander Hybrid if you want or need a third row, as the 2011 model year is when it became standard. The midsize Highlander Hybrid offers great fuel economy, a comfortable and high-quality interior, and top scores in safety and reliability. Pricing fluctuates quite a bit, depending on options and model year, ranging from $18,500 to right at the $30,000 mark (and higher) for 2011 models. It pays to shop around.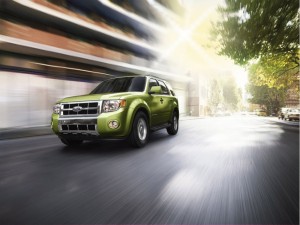 2009-2011 Ford Escape Hybrid – For a small hybrid crossover SUV, the 2009-2011 Ford Escape Hybrid does a number of things surprisingly well. For example, it provides 66.1 cubic feet of cargo room and fuel economy estimated as high as 32 mpg in combined driving. There are also numerous safety and technology features. The Escape Hybrid is comfortable and easy to drive, although there's no telescoping steering column. Pricing falls in the $19,000 to $20,000 range.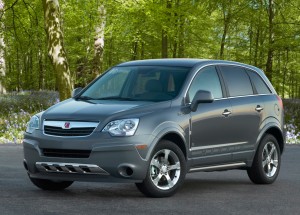 2009 Saturn VUE Hybrid – The fact that it's no longer being built and service has to come from other GM dealerships may be a turnoff to some, as is the underwhelming performance of this compact hybrid SUV. But for those looking for a real bargain-priced used SUV, the 2009 Saturn VUE hybrid may be strike all the right chords. Pluses include excellent safety scores, good fuel economy (25 mpg city/32 mpg highway), and a pleasing ride. You won't find all-wheel drive, however, which may be a deal-breaker. Pricing ranges from about $8,000 to $13,000.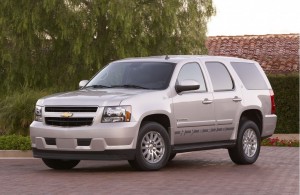 2010 Chevrolet Tahoe Hybrid, GMC Yukon Hybrid – Essentially the same hybrid SUV where it counts, and differences where it matters to consumers: styling, features and options. The 2010 Chevrolet Tahoe Hybrid and GMC Yukon Hybrid offer full-size seating and cargo capability and the fuel-efficiency and environmental greenness that should satisfy those looking for such attributes. Both hybrid SUVs get fuel economy in the 21 mpg city/22 mpg highway range, which isn't terrific, but these are full-size SUVs, not compacts. Long list of standard features, comfort and high-visibility are other pluses. Look for used prices in the $28,000 – $30,000 range.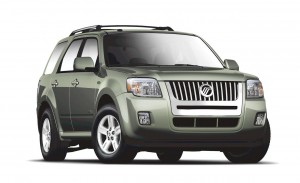 2010 Mercury Mariner Hybrid – Another hybrid (and make) that's no longer in existence, Mercury's Mariner Hybrid for the 2010 model year may prove to be a deal that makes a lot of dollars and sense. Pluses include the fact that it drives just like a conventional gasoline vehicle, is comfortable, has great fuel economy and good reliability. Some of the interior materials feel a bit cheap and the back seat may not be as comfortable as some passengers might like. Pricing is in the $20,000 to $22,000 range.
Search used cars for sale and find the best deals near you at iSeeCars.com.
To get a FREE iSeeCars VIN Report for a car, click here.