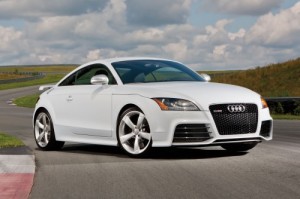 Maybe you don't have $250,000 to spend on an exotic sports car, but you do want the supreme capability of all-wheel drive (AWD) packaged in a stylish, high-performance package. Need we mention that to qualify, an AWD sports car needn't be limited to just two seats? Nope, there are several excellent used AWD sports cars that seat four.
Take a look at our list of the top seven used AWD sports cars – and then get out there and give a few a spin. If you're already eager to put the pedal to the metal, keep reading.
2012 Audi TT RS – The first of several Audi Quattro sports cars on our list, the 2012 Audi TT RS makes the grade for its distinctive styling, awesome handling, brisk acceleration, high-quality interior, and "thrifty" (by comparison) fuel economy. New to the U.S. for the 2012 model year, supplies of 2012 Audi TT RS in the used market may be limited. Negatives include loud exhaust, stiff ride and no automatic transmission option. Quattro AWD is standard. Power comes from the 360-horsepower 2.5-liter inline five-cylinder engine paired with a six-speed manual transmission. Look for prices ranging from $43,919 to $53,711.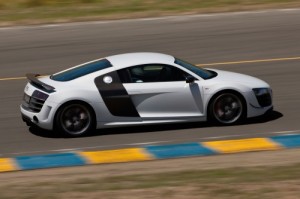 2012 Audi R8 GT – It's comfortable enough to be a daily driver, in spite of the fact that the 2012 Audi R8 GT is the German automaker's highest-performance production vehicle ever. Quattro AWD is standard in both coupe and convertible (Spyder) body styles. In the 5.2 Quattro GT and GT 5.2 FSI Quattro Spyder, the engine is the 560-horsepower 5.2-liter V10 mated with a six-speed automated manual transmission. Other highlights include comfortable cabin, the impressive Audi marquee, precise steering, decent ride, and good outward visibility. Of course, you'll give up some refinement due to limited storage space and rather "unintuitive" electronics interface.  Pricing is steep, ranging from $105,000 to $139,900.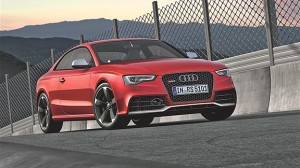 2013 Audi RS 5 – New for 2013, the Audi RS 5 is the high-performance version of the Audi A5 coupe and convertible, sitting above the S5 in the lineup. Power comes from a 450-horsepower 4.2-liter V8 engine paired with a seven-speed double-clutch S tronic transmission. Equipped with Audi's Quattro AWD, the center differential can distribute up to 70 percent of torque to front wheels, up to 85 percent to rear wheels as necessary, and 60 percent torque going to rear wheels in normal driving conditions.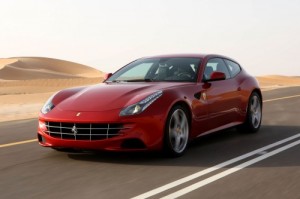 2012 Ferrari FF – A Ferrari that seats four and has all-wheel drive? The Italian super-performance automaker introduced just that with the debut of the 2012 Ferrari FF, a two-door, four-passenger ultra-performance luxury hatchback sports car. There's absolutely no shortage of power here, with the 651-horsepower V12 engine cranking out 504 pound-feet of torque, sent to all four wheels through a seven-speed "F-1" automated clutch manual. Zero to 60 mph is accomplished in 3.7 seconds, and the Ferrari FF hits a top speed (not that you'll ever drive this) of 208 mph. As for price, if you have to ask, expect to see a range from $225,900 to $258,000. Yup, it's super expensive, even used.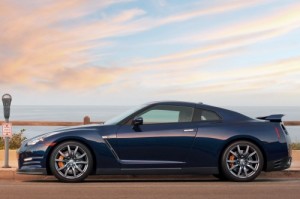 2012-2013 Nissan GT-R – While we've listed the 2012 and 2013 model years here, if you want additional 15 horsepower bump, opt for the 2013 Nissan GT-R for a total of 545 horsepower in the 3.8-liter twin turbocharged V6.. The 2013 GT-R also boasts a retuned suspension and a more refined feel and quietness in the transmission. The Nissan GT-R Black Edition receives a handmade dry carbon fiber rear spoiler. Check out pricing ranging from around $73,995 to $86,995.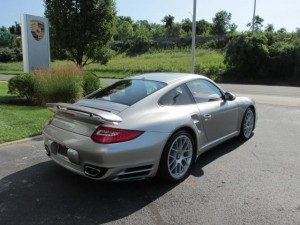 2012 Porsche 911 Turbo S – How does 530 horsepower and 516 pound-feet of torque from a 3.8-liter turbocharged flat-6 mated with a seven-speed auto-clutch manual transmission sound? Oh, and make that a rear-engine, all-wheel drive 2012 Porsche 911 Turbo S, just for clarity's sake. Other compelling reasons for the 911 Turbo S on this list of top seven used AWD sports cars is solid and stable braking, zero nosedive, excellent steering feel, terrific acceleration (naturally), and one awesome car, to be sure. This one gets a bit pricey, however, so expect to shell out anywhere from $134,900 to $133,991.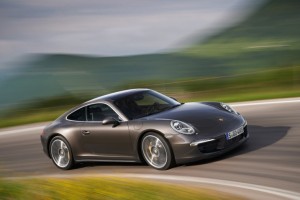 2013 Porsche 911 Carrera 4 – Continuing to make an incredible sports car even better, Porsche introduced the four-passenger Porsche 911 Carrera 4 for the 2013 model year. Power comes from a 350-horsepower engine mated with a seven-speed manual overdrive transmission or optional seven-speed automatic overdrive on the AED Carrera 4. The Porsche Traction Management system uses a multiplate clutch to alter the power distribution front/rear wheels in mere fractions of a second as road conditions demand. Pricing ranges from about $86,992 to $89,995.
Search used cars for sale and find the best deals near you at iSeeCars.com.
To get a FREE iSeeCars VIN Report for a car, click here.