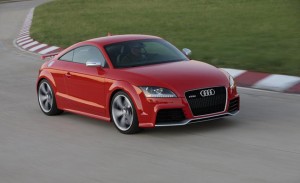 Performance in a used car is a highly sought-after attribute, particularly so if the buyer longs for a track-ready machine. But which ones are the best values? This may well depend on the eye of the beholder, their driving abilities or aspirations, not to mention available funds.
Still, there are some excellent bargains in the used market, so here we take a look at some we consider the top nine used track-ready cars.
2012-2013 Audi TT-RS – An aggressive handler, the Audi TT-RS is more than just a pretty face. Powered by a 360-horsepower 2.5-liter five-cylinder engine, the TT-RS makes 343 pound-feet of torque. Many track aficionados consider it a beast, but the TT-RS has a hard-edge character evident on the street as well. Bottom line: it's wickedly fast and begs to be driven hard. Now, find this in the used market with average retail prices ranging from $50,126 to well past $55,000.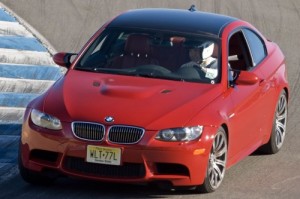 2013 BMW M3 – Enthralling driving experience comes close as a description of what it's like to drive the 2013 BMW M3 coupe. A supremely balanced chassis and available adaptive suspension make cornering steady and true while still providing a luxury-car quietness and ride comfort on city and highway. Power comes from an exclusive 4.0-liter V8 engine that delivers 414 horsepower and 295 pound-feet of torque. The engine is paired with a standard six-speed manual transmission or optional seven-speed dual-clutch automated-manual tranny. The competition package includes lowered suspension, adaptive suspension dampers, 19-inch wheels with high-performance tires, and different programming for stability control and dampers. Pricing ranges from $53,992 to $70,905.
2012 Chevrolet Camaro ZL1 – Beefed up and ready to take on a slew of comers, the Chevrolet Camaro in ZL1 guise blasts out a heart-pounding 580 horsepower, hitting 60 mph in less than four seconds. That's thanks to its supercharger strapped to the potent V8 engine. Magnetic ride control is responsible for excellent handling, with suspension settings adjusted up to 1,000 times per second. The result is precision on the track and comfort on the street. Traction control in the ZL1 is lifted right from Chevy's other uber-track-ready vehicle, the Corvette ZR1. Massive Brembo brakes and unique Goodyear Eagle F1 SuperCar G2 tires developed specifically for the ZL1 round out the package. Get real bang for the buck with the 2012 Chevrolet Camaro ZL1 at used prices in the range of $44,951 to $46,995.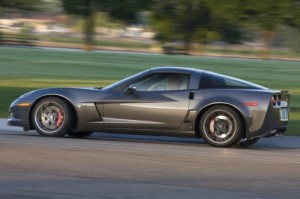 2010-2012 Chevrolet Corvette Z06 – With its race-inspired 7.0-liter V8 engine pumping out 505 horsepower and 470 pound-feet of torque, the 2010 Chevrolet Corvette Z06 has, in the view of many in the automotive press, one of the world's best motors. A six-speed manual gearbox with launch control is standard. The Corvette Z06 is certainly worth a look if you fancy a track-ready used car. Pricing's a bit steep, from about $57,994 to $69,995 for 2010 through 2012 model years.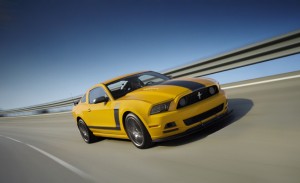 2013 Ford Mustang Boss 302 – This is a muscle car built for performance. The 2013 Ford Mustang Boss 302 is powered by a 444-horsepower 5.0-liter V8 engine delivering 380 pound-feet of torque, same as the 2012 model. But Ford tweaked some tech set-up items for improved handling and longevity: refined suspension system with higher-rate coil springs on all four corners, larger-diameter rear stabilizer bar, and stiffer suspension ratings. While the Boss 302 isn't as powerful as the 580-horsepower Chevrolet Camaro ZL1, it is definitely an eye-catcher on the track and on the street. Check out prices from $38,649 to $42,992.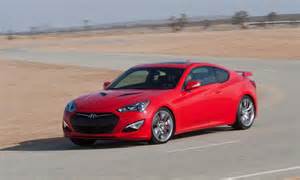 2013 Hyundai Genesis Coupe 3.8 R-Spec – Fully competitive in Formula Drift and the Pikes Peak International Hill Climb, albeit in heavily modified guise, the Hyundai Genesis Coupe 3.8 R-Spec proves that beauty is more than skin deep. The production R-Spec only comes with a six-speed manual gearbox, but does include track essentials such as Torsen limited slip differential and four-piston vented Brembo brakes. Power comes from a 3.8-liter V6 engine that produces 350 horsepower. Pricing is from about $23,916 to $26,474.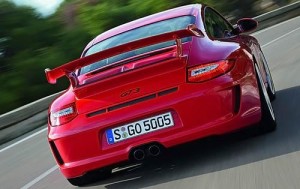 2010 Porsche 911 GT3 Coupe – While priced higher than any of the other track-ready used cars on this list, the 2010 Porsche 911 GT3 Coupe is most definitely a contender for awesome, otherworldly driving. Power comes from the 435-horsepower 3.8-liter flat-6 that makes 317 pound-feet of torque. A six-speed manual transmission is standard. For man-to-machine communication and driving composure – no matter the curves and straightaways, the Porsche 911 GT3 Coupe is phenomenal. As for price, if you have to ask, it's from a low of about $119,900 to the vicinity of $160,000.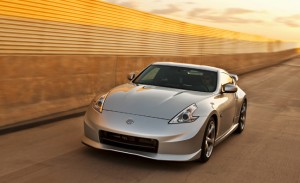 2013 Nissan 370Z NISMO – Those in the know call it the NISMO Z. Only available with a six-speed manual transmission, the NISMO Z boasts a tuned suspension setup, vented sport brakes and a few more goodies. Total horsepower is 350 from a 3.7-liter V6 engine. The NISMO Z's aggressive stance and cool aerodynamics are part of what makes it such an impressive performer. Whether you're out to lay waste to the track or just tool around town, definitely check out the 2013 Nissan 370Z NISMO. Prices may range from $31,600 to $37,995.
2012 Subaru Impreza WRX STI – Blasting around in a turbocharged Boxer engine that puts out 305 horsepower to the wheels, thanks to symmetrical all-wheel drive, the 2012 Subaru Impreza WRX STI has even more to offer with the driver-controlled center differential. Driver can set up the split between front/rear axles, thus ensuring simultaneous traction and power when needed. Try this out on the twisties at the track. The Impreza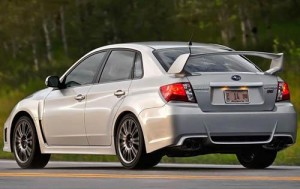 WRX STI has proven itself at the Nurburgring as well as road tracks in GRAND-AM Continental Tire Sports Car Challenge series. Look for used prices in the area of $34,999.
Search used cars for sale and find the best deals near you at iSeeCars.com.
To get a FREE iSeeCars VIN Report for a car, click here.