No matter where you stand on the issue of fuel economy and new cars getting good gas mileage, the times are definitely changing toward much more fuel-efficient new products in the marketplace. This is increasingly important to consumers who regularly commute or travel long distances, to multi-car families, as well as eco-conscious car buyers.
But what are the top green cars of 2012? Kelley Blue Book (KBB) has come out with its list of the 10 Best Green Cars of 2012.  Guess what? They're not all hybrids, or super small cars.
1) 2012 Toyota Prius c – The smallest member of the ever-expanding Prius family, the subcompact 2012 Toyota Prius c offers the discerning green consumer room for five, 53 mpg city fuel economy, and an impressive amount of cargo space, considering its size. Reasons enough for KBB to elevate the Prius c to the top of the list of 10 Best Green Cars of 2012.
2) 2012 Nissan Leaf – KBB notes that the EPA rates the range of the 2012 Nissan Leaf at 73 miles, but the automaker says the Leaf will go more than 100 miles on a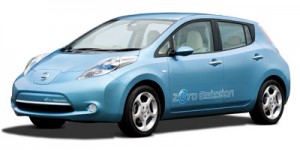 single charge. Other green selling points include the fact that the Leaf is made from recycled materials and carries a starting price of around $35,000.
3) 2012 Mitsubishi i-MiEV – How's an equivalent of 112 combined MPGe for the newest all-electric car available? Other standout points moving the 2012 Mitsubishi i-MiEV high up the list of 10 Best Green Cars of 2012 include 62-mile range rating, room for four passengers, and low starting price of $29,125 (less incentives), or $21,625 with the federal tax credit.
4) 2012 Chevrolet Volt – No need to fear "range anxiety" with the 2012 Chevrolet Volt extended range plug-in hybrid. On gasoline only, the Volt manages 35 mpg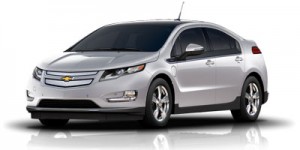 city/40 mpg highway/37 mpg combined, while in electric-only mode, the miles per gallon equivalent (MPGe) are 95/93/94 mpg. Note that the small 1.4-liter four-cylinder gasoline engine works on standby to provide juice to the battery should it need it. KBB editors also hail the Volt's good looks inside and out and room for four passengers and cargo.
5) 2012 Honda Civic – There's not a bad Civic in the model lineup, according to KBB editors, since all of them achieve "close to 40 mpg," and we tend to agree here. The 2012 Honda Civic Hybrid, however, achieves a pure 44 mpg across the board in city, highway and combined EPA ratings. The compact 2012 Honda Civic also offers fuel-efficient gasoline and natural gas (CNG) powertrains.
6) 2012 Volkswagen Passat – The midsize 2012 Volkswagen Passat with 2.0-liter turbocharged clean diesel four-cylinder engine and six-speed manual transmission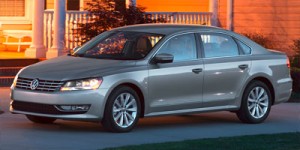 racks up an impressive EPA-estimated 31 mpg city/43 mpg highway/33 mpg combined fuel economy.  The Passat, say KBB editors, provides "the kind of power that makes passing a pleasure, all without the puttering and belching of diesels from decades ago."
7) 2012 Lexus CT 200h – Combining a fun-to-drive factor with Lexus' award-winning quality, "dynamic handling," "luxurious amenities," and impressive fuel economy (carrying EPA ratings of 43/40/42 mpg), the 2012 Lexus CT 200h proves that a hybrid, albeit small, can be green and fun.
8) 2012 Hyundai Elantra – While KBB editors list the 2012 Hyundai Elantra compact sedan on its list of 10 Best Green Cars of 2012, we note that the 2013 Hyundai Elantra Blue, powered by a 1.8-liter four-cylinder gasoline engine, manages an EPA-estimated 30 mpg city/40 mpg highway/34 mpg combined fuel economy. KBB editors say the 2012 Hyundai Elantra does this "all while looking good with its wavy sheet metal and offering value in its low entry price."
9) 2013 Chevrolet Malibu – Noting that conventional midsize sedans continue to deliver highway fuel economy in the 30s, quite a bit lower than non-hybrid compact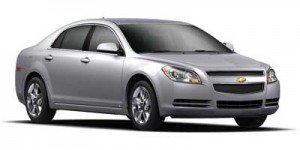 cars hitting the 40 mpg mark, editors say that the all-new 2013 Chevrolet Malibu more or less bridges the gap. We'd like to point out that the most fuel-efficient (and green) Malibu is the Malibu Eco with its eAssist system that helps conserve fuel via use of a lithium-ion battery to supplement the 182-horsepower, 2.4-liter four-cylinder engine, regenerative braking, and start-stop technology. EPA-estimated fuel economy is 25 mpg city/37 mpg highway/29 mpg combined.
10) 2012 Scion iQ – Powered by a small 1.3-liter gasoline engine that's highly fuel-efficient (EPA rated at 36/37/37 mpg), the tiny Scion iQ, from parent Toyota, does more than its part to conserving natural resources. KBB editors single out the significantly fewer materials required to build the Scion iQ, as well as its lightweight design, as other factors contributing to its inclusion on the 10 Best Green Cars of 2012 list.
Search used cars for sale and find the best deals near you at iSeeCars.com.
To get a FREE iSeeCars VIN Report for a car, click here.