There's been a shift among the top selling crossovers July 2011, compared to June's rankings. Several automakers' crossovers have made some major sales increases. The top two performers, however, remain the same.
1. 2011 Ford Escape – July sales of the 2011 Ford Escape totaled 24,411, keeping the compact Escape at the top of the crossover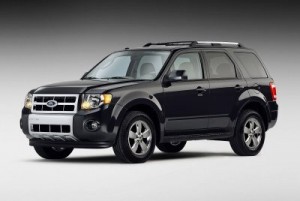 best-seller list, even though its styling is a bit dated.  The 2012 Escape is now available, but the all-new Escape will be the 2013 model. For the calendar year through July, the Escape achieved sales of 147,018, up 29.3 percent from the same period in 2010. Ford touts the fact that 50 percent of all Escapes sold are with four-cylinder engines. That's up from 40 percent just a few years ago.
2. 2011 Chevrolet Equinox – Remaining in solid second place, sales of the compact 2011 Chevrolet Equinox crossover totaled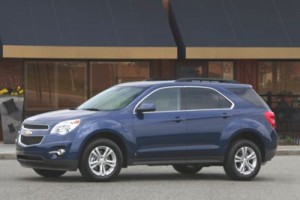 17,094 in July. Year-to-date sales of 112,932 are up 46.9 percent over year-ago levels. The compact Equinox and its corporate sibling GMC Terrain achieve an EPA rating of 32 mpg highway fuel economy. The Equinox is also a Top Safety Pick from the Insurance Institute for Highway Safety (IIHS), an important benchmark safety rating for family buyers.
3. 2011 Chevrolet Traverse – Moving up from 10th place in June to the number three spot in July sales winners is the 2011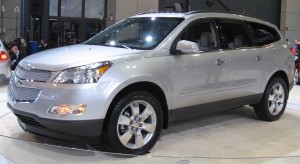 Chevrolet Traverse midsize crossover SUV. The Traverse, with seating for up to eight passengers, sold 14,283 units during the month and, calendar year-to-date has sold a total of 64,310 units, up 3.3 percent year-over-year. Customers love the car-like ride and handling, spacious cabin with adult-friendly, split-folding third-row seat, massive cargo area, and decent fuel economy. The Traverse also boasts Top Safety Pick status from the IIHS for 2011.
4. 2011 Honda CR-V – Slipping from third place to the number four spot in July crossover sales, the 2011 Honda CR-V sold 13,943 units during the past month. Through July, however, the compact CR-V crossover has racked up a total of 124,859 sales, up 16.8 over year-ago levels. Considered by reviewers to be well-rounded and a great choice for families, the CR-V offers spacious passenger and cargo areas, neat user-friendly features, agile handling and excellent crash test scores (it's another IIHS Top Safety Pick). Two downsides are that the CR-V only comes with a four-cylinder engine and there's no third-row seat option.
5. 2011 Kia Sorento – The Korean automaker's popular 2011 Kia Sorento crossover remains in fifth place of the top selling crossovers July 2011. It's no surprise why, though, since the Sorento is Kia's best-selling nameplate for the past 19 consecutive months. July sales of 13,362 are closing in on the Honda CR-V. Year-to-date sales (through July) total 75,040, which puts the Sorento in third place for overall year-to-date sales. Fully redesigned for 2011, the Sorento now features car-like ride, a new third-row seat, more powerful engines and more standard features.  Like most of the best-selling crossovers, the 2011 Kia Sorento also boasts IIHS Top Safety Pick status.
Coming in at spots six through 10 of the top selling crossovers July 2011, with July sales in parentheses are: the 2011 Nissan Rogue (11,260); the compact 2011 GMC Acadia (10,424); the midsize 2011 Ford Explorer (9,897); the 2011 Ford Edge (9,731), and the midsize 2011 Toyota Highlander (9,552). Of these, all but the Nissan Rogue are IIHS Top Safety Picks for 2011.
Search used cars for sale and find the best deals near you at iSeeCars.com.
To get a FREE iSeeCars VIN Report for a car, click here.