Popular for their ability to haul family members and plenty of cargo, the top selling minivans July 2011 prove once again that competition is fierce in this segment. The top three leaders – make that the top four – only shift spots rarely. That's because they're fresh designs and have plenty of optional safety and high-tech features that are sure to please.
1. 2011 Toyota Sienna – The redesigned-for-2011 Toyota Sienna is the only minivan in the market to offer an all-wheel drive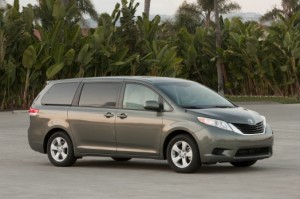 option. The third-generation Sienna proved to be the best-selling minivan in July with sales of 10,620 for the month. Year-to-date sales of 65,565 put the Sienna in overall first place January through July as well. Year-over-year, that's an increase of 22.6 percent. Styling, fuel-efficient optional V-6 engine and lots of features combine to make the Sienna, as AutoWeek says, "the best minivan out there."
2. 2011 Chrysler Town & Country – Built on the same platform as sibling Dodge Caravan, the 2011 Chrysler Town & Country cinches the number two spot of top selling minivans July 2011 with 6,503 units sold during the month. January through July, the Town & Country, with sales of 52,711 is off 24 percent year over year. There's only a single powerplant – the 283-horsepower 3.6-liter V-6 engine mated to a six-speed automatic transmission, but that's more than adequate to haul everyone around. Car and Driver observes: "…the continued success of the Chrysler/Dodge twins suggests that perhaps the minivan market isn't the place to explore styling concepts."
3. 2011 Dodge Caravan – Nipping at the rear wheels of its corporate sibling Chrysler Town & Country, the 2011 Dodge Caravan is just 18 units shy of stealing second place for the month of July. Sales of the Caravan during the month totaled 6,485, while year-to-date sales of 63,455, up 10 percent from year-ago levels, put the Caravan in solid second place for the year. Edmunds notes: "If you regularly change your minivan's interior configuration from passenger transport to cargo hauler, the 2011 Dodge Grand Caravan beats the competition with Stow 'n Go seats."
4. 2011 Honda Odyssey – Reviewers are nearly unanimous in their praise for the redesigned 2011 Honda Odyssey – especially the Touring Elite model. Sales slipped a bit due to continuing supply problems relating to the March earthquake in Japan, with July sales of the Odyssey at 6,332. For the year-to-date, the Odyssey has sold 59,300 units, off 4.8 percent year-over-year. Cars.com says: "If you have more kids than you can fit in a sedan, it's likely you're considering a minivan or three-row crossover. If you're not turned off by the minivan stigma, the Odyssey should be your first stop when shopping…[leave] the kids at home, though, because once they hear that surround-sound system in the Touring Elite, they will not let you buy a lesser trim."
5. 2011 Kia Sedona – Car and Driver praises Kia's "old-fashioned sliding-door minivan" for its many attributes, saying, "Kia's own kid-bus has a long list of standard features and options, all at value prices. A long wheelbase and a new, 271-horsepower 3.5-liter V-6 with a six-speed auto are further inducements." For July, the 2011 Kia Sedona winds up in fifth place with sales of 2,825 for the month and year-to-date sales totaling 13,831.
6. 2011 Nissan Quest – Further down the list of top selling minivans July 2011 is the 2011 Nissan Quest. With sales of 1,426 in July and 6,618 for January through July, the Quest has quite a bit of catching up to do. Still, year-over-year sales are up 3,816 percent, so it's doing something right. Road and Track comments: "It's a minivan…I won't lie to you and tell you that it drives like a 370Z, or that it's going to make you smile every time you get behind the wheel. It's not. But, if you're a parent it can make life easier. And that is something to smile about."
7. 2012 Mazda Mazda5 – Fun to drive, loads of personality, good fuel economy and low price are compelling reasons buyers chose the 2012 Mazda Mazda5 small minivan in July. Sales for the month amounted to 1,186 while 10,610 were sold year-to-date, an increase of 22.2 percent over year-ago levels. Consumer Guide says, "Mazda 5 deserves consideration as a well-made, sensibly sized wagon that's sedan nimble, minivan versatile, and priced right. This solid choice also promises good fuel economy and delivers outstanding room for four plus lots of stuff—four adults, a little cargo and, in the 3rd-row seats, two tykes."
Search used cars for sale and find the best deals near you at iSeeCars.com.
To get a FREE iSeeCars VIN Report for a car, click here.