It's an interesting turnabout for the top selling passenger cars – April 2011. In an even split, four each are Japanese makes and domestics, while Korean automaker Hyundai scores two in the top 10. Chevrolet alone accounts for three of the top 10, with two in the top five.
We'll look at the five top selling passenger cars April 2011 in brief detail and list numbers six through 10 at the end.
1. 2011 Toyota Camry – Springing back from March's third-place spot, the 2011 Toyota Camry returns to the top position in sales for April. Camry sold 30,443 units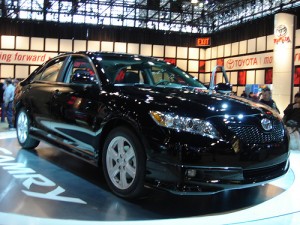 during the month, narrowly beating second-place Honda Accord. Year-to-date sales of 107,264 are 9.0 percent ahead of the same period last year. Edmunds comments: "The 2011 Toyota Camry isn't very exciting to drive, but it's a plush-riding champ on the highway and its optional V6 is superb. No wonder that the Camry remains one of the top family sedans on the market."
2. 2011 Honda Accord – The midsize 2011 Honda Accord retains its second-place position in top selling passenger cars for the month, reporting 30,310 sales. For the four months ending in April, Accord accounted for 101,854 sales. That's off 4.1 percent from year ago levels. Kelley Blue Book remarks: "With styling and performance that splits the difference between the sportier Nissan Altima and the softer Toyota Camry, the Honda Accord embodies the very balance that attracts many buyers to the mid-size sedan segment in the first place. In terms of all-around quality and refinement, the Accord registers off the chart."
3. 2011 Honda Civic – The compact 2011 Honda Civic, with April sales of 26,777, moves up one spot to third place (it was number four in March) among the top selling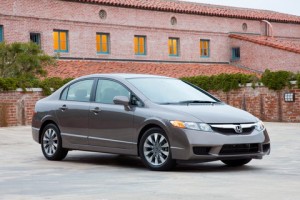 passenger cars April 2011. Year-to-date, Civic sold 91,745 units, which is an increase of 14.3 percent year-over-year. Honda piled on incentives for Civic, perhaps to clear the way for all-new 2012 model arriving soon, says Forbes.
4. 2011 Chevrolet Cruze – The surprise in April is the appearance in the top five of the all-new compact 2011 Chevrolet Cruze, which moves to fourth place from 11th position last month. Cruze posted 25,160 sales during April and has sold 75,365 units calendar year-to-date. Consumer Guide says, "Chevrolet has produced a well-rounded compact sedan that holds its own with the best entries in this class. If you are shopping compacts, the Recommended Cruze should certainly be on your shopping list."
5. 2011 Chevrolet Malibu – The midsize 2011 Chevrolet Malibu sedan easily cruises into fifth place for top selling passenger cars – April 2011. Malibu sold 24,701 units during the month and year-to-date accounts for 73,446 sales. That's an increase of 11.5 percent over the same period last year. Kelley Blue Book gives Malibu 4.7 stars (out of 5) and says, "The 2011 looks wonderful, is solidly built and carefully crafted inside and out, offers good fuel economy, drives wonderfully and is priced to sell in serious volumes."
Numbers six through 10 of the top selling passenger cars April 2011 are: 2011 Toyota Corolla (24,215), 2011 Hyundai Elantra (22,100), 2011 Hyundai Sonata (21,738), 2011 Ford Fiesta (21,189), and 2011 Chevrolet Impala (21,071).
Search used cars for sale and find the best deals near you at iSeeCars.com.
To get a FREE iSeeCars VIN Report for a car, click here.