Looking at the top selling SUVs April 2011, we're talking about those SUVs that are more typically associated with off-road and towing, rather than crossover SUVs. As it stands, some SUVs (and they're all classified as SUVs, whether they're crossovers or traditional truck-based SUVs), do quite well on-road as well as off-road.
So, setting aside the 2011 Ford Explorer – which is now crossover instead of truck-based SUV, here are the top selling SUVs April 2011. We'll go into a bit of detail on the top five and list the rest of the top 10 at the end.
1. 2011 Jeep Grand Cherokee – In number one spot is the 2011 Jeep Grand Cherokee, all-new this year and packing a pretty good sales punch, winding up with 9,802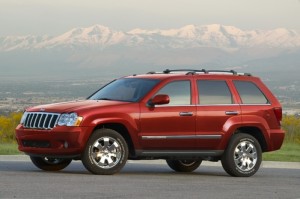 sales for the month and 35,917 January through April. That's an 86 percent increase year-over-year. Excellent off-road prowess isn't all the Jeep Grand Cherokee has going for it, though. There's a wide variety of high-tech features and options, the interior is especially nice, and the rear seat is more comfortable than before. Road & Track comments: "Completely new save for its optional carryover V-8 engine, the 2011 Jeep Grand Cherokee has traveled leagues in refinement while not losing its vaunted off-road capability. But don't worry, you'll get used to rock crawling in luxury almost immediately."
2. 2011 Honda Pilot – The eight-passenger 2011 Honda Pilot, with April sales of 9,488 and calendar year-to-date sales of 34,023 is in second place among top selling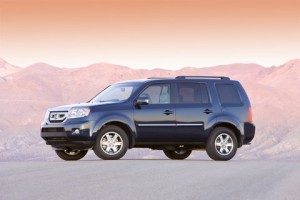 SUVs April 2011. Sales are up 6.6 percent year-over-year.  Impressive safety scores and third-row seats that actually fit passengers and a V6 engine that's more powerful than before are other plusses in Pilot's favor. Straddling the line between crossover and SUV, Pilot still earns high praise, like this from Consumer Guide: "Though trucky on the outside, Pilot is as car-like as any vehicle in this class…This Best Buy['s]…combination of performance, utility and passenger accommodations make it worthy of a high place on your shopping list."
3. 2011 Jeep Wrangler – Its strength is definitely in its off-road prowess, and sales for April of the 2011 Jeep Wrangler tell the tale, with a total of 9,051 units sold. Year-to-date, Wrangler accounted for sales of 31,928, up 16 percent over the same period last year.  In fact, the compact SUV is virtually unstoppable off-road, a point made by nearly every reviewer. No wonder Wrangler continues to snag consumers with a hankering for the off-the-beaten path. Car and Driver comments: "The four-wheel drive, go-anywhere Wrangler remains the quintessential Jeep. It is highly capable in either two-door or larger Unlimited guise, the latter offering the only four-door/convertible-top combo on the market."
4. 2011 Chevrolet Tahoe – For a full-size SUV, the 2011 Chevrolet Tahoe continues to attract consumers looking for its awesome towing and off-road capabilities, not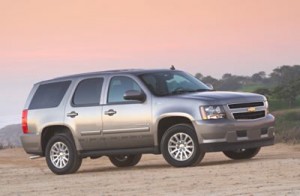 to mention space for up to nine passengers, good ride and handling for its size, and one of the best fuel economy ratings for such a large SUV (EPA-estimated at 15 mpg city/21 mpg highway). During April, Chevrolet Tahoe sold 5,458 units while year-to-date sales of 22,651 are up 10.6 percent year-over-year. Kelley Blue Book says, "The 2011 Chevrolet Tahoe continues to be one of the best full-size SUV values on the market."
5. 2011 Toyota 4Runner – The midsize 2011 Toyota 4Runner SUV sold 4,028 units in April. For the calendar year-to-date, 4Runner sold 15,986 units, up 9.7 percent compared to the same period last year. Edmunds observes, "For the relatively few drivers who require an all-conquering, all-terrain SUV, the 2011 Toyota 4Runner is a top choice. Those city folk who need more passenger space and less off-road capability would be better served by a car-based crossover SUV."
Spots six through ten of top selling SUVs April 2011 (sales figures in parentheses) go to the following: 2011 Acura MDX (3,912), 2011 Chevrolet Suburban (3,613), 2011 Ford Expedition (3,214), 2011 BMW X5 (2,360), and 2011 Audi Q5 (1,977).
Search used cars for sale and find the best deals near you at iSeeCars.com.
To get a FREE iSeeCars VIN Report for a car, click here.