The top selling SUVs May 2011 – and we're talking SUVs as opposed to only crossovers – are a mixed bag. Jeep owns five of the top ten spots, and Jeep is legendary for the off-road prowess of its SUVs.
1. 2011 Jeep Wrangler – Jeep's compact SUV, the 2011 Jeep Wrangler, is practically unstoppable off-road – a point not lost on the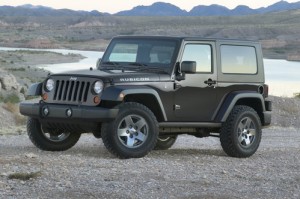 many consumers who bought the rugged Wrangler in May – to the tune of 10,008. Calendar year-to-date (through May 31) sales of 41,946 are up 13 percent compared to the same period last year. Car and Driver comments (about the 2011 Jeep Wrangler Sahara Unlimited), "Although the new interior duds make comparisons to less hard-core SUVs – the ones people drive to Starbucks and never take off-road – more relevant than ever, this remains a one-of-a-kind vehicle that's fun in almost any weather and over almost any terrain, category five hurricanes and lava fields (just barely) excluded."
2. 2011 Jeep Grand Cherokee – Redesigned for 2011, the midsize Jeep Grand Cherokee is beefier off-road than ever, plus it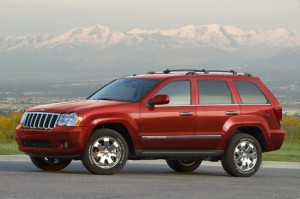 features a more refined interior and better on-road manners. Still, its 68.7 cubic feet of cargo capacity with second row folded down is less than competitor Toyota 4Runner's 88.8 cubic feet. But buyers weren't necessarily looking at Grand Cherokee's cargo capacity comparisons in May. CNET says the Grand Cherokee "has few equals in the luxury SUV segment for off-road prowess." Losing its number one spot to Jeep Wrangler, the Jeep Grand Cherokee is nipping at Wrangler's heels, selling 9,484 in May. Year-to-date sales of 45,401 are up 101 percent year-over-year.
3. 2011 Honda Pilot – It seats eight passengers, has the legendary Honda quality and reliability and, of course, the Honda name,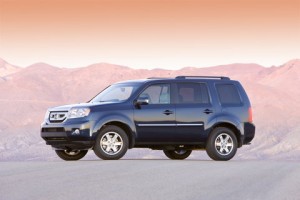 and for May, the 2011 Honda Pilot sits in solid third place with sales of 8,560. That's down from its second-place top-selling sales spot in April. Year-to-date sales of 42,583 are up 3.5 percent year-over-year. Automobile Magazine comments, "The 2011 Pilot is priced competitively for the segment, but its interior lacks the quality of some of its rivals. Drivers may also be put off by the boxy design of the Pilot."
4. 2011 Jeep Liberty – With May sales of 6,048, the 2011 Jeep Liberty compact SUV joins Wrangler and Grand Cherokee in the top selling SUVs May 2011. Fourth-place isn't a bad place to be for Liberty, and year-to-date sales of 26,048 are up 42 percent year-over-year. Liberty hasn't been redesigned since 2008 and is beginning to show its age, but its off-road prowess still attracts consumers looking for an inexpensive Jeep SUV. Edmunds hails Liberty's "useful towing capacity," but says, "The 2011 Jeep Liberty can certainly hack it in the bushes, but it struggles on the pavement. Interior quality and fuel economy also leave much to be desired."
5. 2011 Chevrolet Tahoe – With seating for up to nine passengers, good ride and handling (for a full-size SUV), awesome towing and off-road capabilities and respectable fuel economy for its size of EPA-estimated 15 mpg city/21 mpg highway, the 2011 Chevrolet Tahoe again reigns in fifth spot of top-selling SUVs. Tahoe sold 5,886 units during the month and 28,537 year-to-date. That's down 4.5 percent versus the same period last year.  Kelley Blue Book says, "The 2011 Chevrolet Tahoe continues to be one of the best full-size SUV values on the market."
In spots six through ten of the top selling SUVs May 2011, with sales in parentheses, are the following: 2011 Jeep Patriot (5,470), 2011 Jeep Compass (4,555), 2011 Dodge Durango (4,358), 2011 Chevrolet Suburban (3,954) and 2011 Ford Expedition (3,319).
Search used cars for sale and find the best deals near you at iSeeCars.com.
To get a FREE iSeeCars VIN Report for a car, click here.