When you hear the term "American-made" with respect to vehicles, do you automatically only think of those from Ford, General Motors or Chrysler? For many years, that's what consumers thought, but times have really changed as many automakers whose corporate headquarters are in foreign countries both built factories and headquarters in the U.S. As the Fourth of July celebration approaches, let's take a look at some unexpected vehicles that are made in America.
There is some argument over the percent of domestic content that is used to determine which vehicles sold here can be classified as "made in America," and we won't quibble with all that. We'll just mention the sources that track them: American University's Kogod School of Business, and Cars.com. For this list, we're concentrating on the percent of domestic content as tracked in the Kogod School of Business 2015 Index.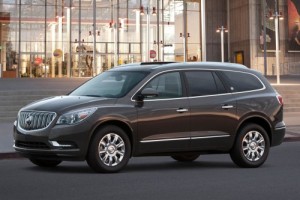 First, however, we should say that the vehicles with the highest domestic content on the Kogod School of Business 2015 Index are from automakers traditionally associated with made in America. These, all tied for number one ranking, each have a domestic content of 87.5 percent and include: 2015 Buick Enclave, 2015 Cadillac CTS Coupe, 2015 Chevrolet Corvette (automatic), 2015 Chevrolet Traverse, 2015 GMC Acadia and Acadia Denali.
Did You Know These Were American-Made Vehicles?
Now for some of the vehicles that you may not actually know are considered American made. That's because they're from foreign car companies – but qualify as made in America due to their percent domestic content.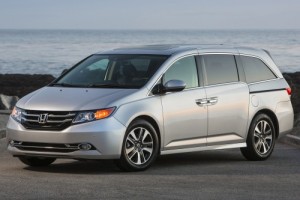 Honda/Acura
According to Honda in America, 97 percent of Honda and Acura vehicles sold in the U.S. in 2014 were manufactured in North America. Honda says that's the highest percentage of any international automaker. The highest domestic content from any foreign car company is from Japanese automaker Honda and belongs to the 2015 Honda Odyssey minivan, which has a 78.5 percent domestic content. Honda builds the Odyssey at its Lincoln, Alabama plant. Powertrains come from Ohio.
Other Honda and Acura vehicles ranking high on the Kogod 2015 Index (each with a 76 percent domestic content) include: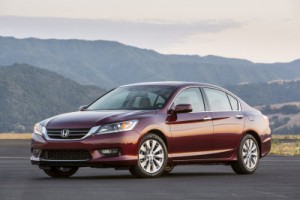 2015 Honda Accord – Honda builds the Accord at its Marysville, Ohio assembly plant. Engines come from the company's Anna, Ohio engine plant.
2015 Honda CR-V – East Liberty, Ohio is where Honda builds the CR-V compact crossover.
2015 Honda Crosstour – Honda also built the Crosstour at East Liberty, Ohio.
2015 Honda Pilot – Lincoln, Alabama is where Honda builds the Pilot SUV.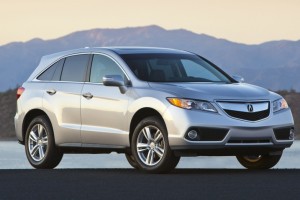 2015 Acura RDX – 2WD, 4WD – The RDX is also built at Marysville, Ohio.
Hyundai/Kia
The Korean automaker says that over half of the vehicles it sells in the U.S. are built right here. Hyundai has a manufacturing facility in Montgomery, Alabama, design, research and testing grounds in California, and engineering facilities in Michigan.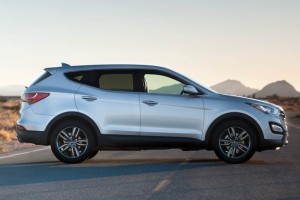 With a domestic content of 67 percent each, the 2015 Hyundai Santa Fe Sport FWD (built at Kia manufacturing's West Point, Georgia facility) and the 2015 Kia Sorento (also built at the Kia manufacturing West Point, Georgia plant) rank number 22 on the Kogod 2015 Index.
Toyota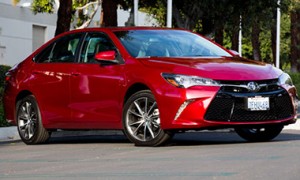 2015 Toyota Camry — The fact that the best-selling car in America is the Toyota Camry midsize sedan probably shouldn't come as any surprise. For those who have been paying attention to the numbers, however, it also should be no surprise that the Camry is decidedly made in America, capturing a 78.5 percent domestic content in the Kogod School of Business rating. Toyota builds the Camry in plants in Georgetown, Kentucky and Lafayette, Indiana. Four-cylinder engines are built in Alabama, while V6 engines are built in Kentucky.
2015 Toyota Sienna — Another made-in-America Toyota vehicle is the Sienna minivan, in both base and Sienna XLE, both of which boast a 78.5 percent domestic content. The Sienna is built at Toyota's Princeton, Indiana manufacturing facility.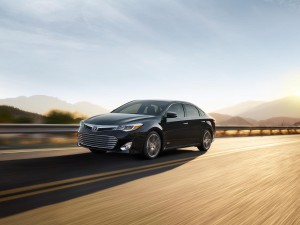 2015 Toyota Avalon – The full-size 2015 Toyota Avalon family sedan scores a 76 percent domestic content. Toyota builds the Avalon at its Georgetown, Kentucky plant. Engines for the Avalon come from Toyota's West Virginia facility.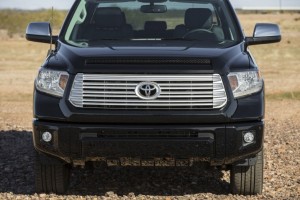 2015 Toyota Tundra – In full-size trucks, the 2015 Toyota Tundra and the 2015 Tundra Crew-Max with 5.7-liter engine rate a 76 percent domestic content. The Tundra is assembled in San Antonio, Texas, the only full-size pickup truck that is manufactured in the Lone Star State.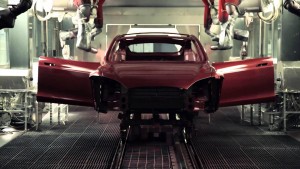 Tesla
The electric-powered 2015 Tesla Model S, with a domestic content measured at 75 percent, is another unexpected addition to the made in America list of vehicles. Clean Technica calls the Tesla the "most American green car." The Tesla Model S is built at the former GM/Toyota NUMMI facility in Fremont, California.
The Low End
On the other end of the spectrum, some vehicles that really don't make the grade as American-made vehicles include those from Audi (A3/S3, A4/S4, A5/S5, A7/S7/R7, A8, Allroad, Q3, Q5, Q7, R8 Coupe/Spyder, and TTS Coupe); Hyundai Elantra GT, Veloster; Kia Cadenza, Forte, Forte Koup, Optima Hybrid, Rio; Land Rover LR2, LR4, Range Rover; Mitsubishi Lancer; Volvo S60, S80, V60, XC60, XC70; Volkswagen CC, Eos, Tiguan; Mercedes-Benz C-Class, CLA-Class, CLS-Class, E-Class, G-Class, GLA-Class, GLK-Class, S-Class, SL-Class, SLK-Class, SLS-Class, smartfortwo, smartfortwo ed, and more.
For the full list of vehicles on the 2015 Index, click here.
As an aside, the Cars.com 2014 list of the top 10 made in America vehicles, six of the vehicles listed above appear in the top 10: Toyota Camry, Honda Odyssey, Toyota Sienna, Tundra, Avalon, and Honda Crosstour.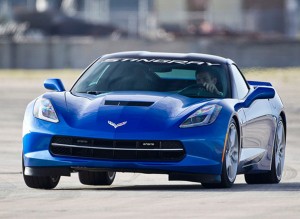 You might also want to check out the list of 10 best cars made in the USA from Consumer Reports. Here's a hint at what they consider number one: the Chevrolet Corvette, America's iconic sports car, built at the same Bowling Green, Kentucky assembly plant since the 1980s. The publication says it assembled this list based on vehicles scoring the highest in their road tests that were built in the lower 48 states.
Search used cars for sale and find the best deals near you at iSeeCars.com.
To get a FREE iSeeCars VIN Report for a car, click here.