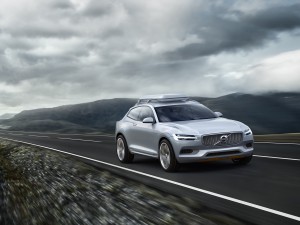 With its high-riding stance, elegant design and strong safety features, the Volvo XC Concept Coupe set to debut at the 2014 North American International Auto Show in Detroit is sure to entice showgoers looking for some glimpses into the Swedish automaker's future crossovers.
The XC Concept Coupe, as it turns out, is neither an SUV nor a true-blue crossover. What it is, however, is an excellent example of style and capability for those who enjoy an active lifestyle and want a safe vehicle at the same time.
Origin of the Design
The Volvo XC Concept Coupe is inspired by modern sports equipment design and demonstrates the safety capabilities of the company's new Scalable Product Architecture (SPA).
The XC Concept Coupe shows how the new modular platform can augment the automaker's already stellar reputation for safety without any compromise in design, size or weight.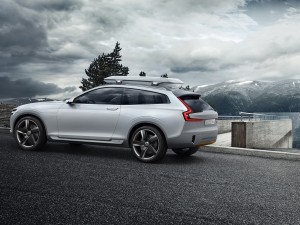 Thomas Ingenlath, senior vice president design of Volvo Car Group put it this way: "Those who love gravity sports freely seek new thrills and challenges. To ensure that they make it back in one piece, they prefer high-performance equipment that offers the ultimate sense of freedom and protection."
As for the connection with high-tech sports gear, Volvo's design team was inspired by POC, the Swedish company that develops high-tech protective gear for gravity sports athletes.
The orange details and exterior graphics plus matte rubber moldings covering the rear end of the XC Concept Coupe add to the vehicle's functional design expression, says Volvo.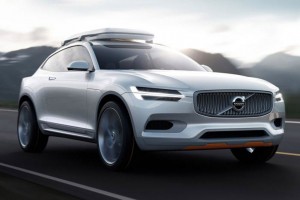 Designers wanted to strike just the right balance between functionality and aesthetics, so they added some traditional SUV elements, including skid plates and side moldings, although a more modern interpretation of the familiar features, integrated into the design and flush with surrounding body areas.
All in the Details
The sleek Volvo Concept XC Coupe is a two-door, four-seat active vehicle with a hatchback configuration and burly dimensions. It bears a strong connection to the Volvo Concept Coupe, its sibling, which debuted at the 2013 Frankfurt Motor Show.
In the Concept XC Coupe, however, the differences are pronounced. There's no mistaking the taller roofline, larger 21-inch wheels, accentuated wheel-arches, new "floating" grille design and T-shaped daytime running lights that are going to populate the Volvo lineup in coming years.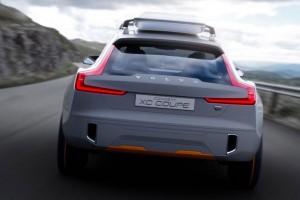 The rear light "signature" is also a distinctive design element in Volvo cars.
As Autoblog reports, leaked design sketches of the all-new next-generation 2015 Volvo XC90 due out at the end of 2014 bear a strong resemblance to the Volvo XC Concept Coupe.
What about safety? Extensive use of high-strength boron steel and structures with new coupling allows Volvo to keep the XC Concept Coupe compact and light, yet safer than any previous Volvo model. With some exterior badges visible for surround radar and a 360-degree camera system, the XC Concept Coupe is likely to have numerous advanced safety features present.
No word yet on powertrain or other pertinent details. Those will come out during the official Detroit debut.
Search used cars for sale and find the best deals near you at iSeeCars.com.
To get a FREE iSeeCars VIN Report for a car, click here.