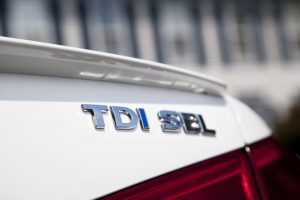 Once accounting for more than 20 percent of its sales (prior to the emissions scandal that erupted last fall), diesels won't be available in cars sold in the U.S. That's according to Volkswagen Group of America CEO Hinrich Woebcken who told Automotive News that the German automaker is done selling diesels in the U.S. – for now.
The publication reports that the diesel engine's future is in doubt, although Volkswagen hasn't said publicly that it's gone for good. Diesel powertrains remain in the automaker's plans for the 2017-2019 period, which assumes regulatory approval.
Woebcken told Automotive News: "We are not stopping diesel. Wherever diesel makes sense as a package to the car, we'll continue."
But it doesn't look good for diesel. "But in reality, we have to accept that the high percentage of diesels that we had before will not come back again."
Tougher federal standards for Tier 3 tailpipe emissions that go into effect in 2017 pose more problems for the VW diesel future. And the regulations become even more stringent after 2019.
"The regulations from 2019-2020 are going to be so hard that we would have had to find an alternative to a certain extent anyhow," said Woebcken. "The diesel crisis is forcing us to simply think about this earlier."
Where VW Goes from Here
Volkswagen instead will reposition the brand in the U.S. to put a greater emphasis on crossovers and all-wheel drive vehicles in the short-term, and electric vehicles in the longer-term.
First up will be the 2017 Golf Alltrack, arriving this fall. The Alltrack is a higher-riding wagon in the Golf lineup that will face off with marketplace competitors like the Subaru XV Crosstrek and Outback.
Next spring, a midsize crossover built at VW's U.S. plant will arrive, followed in summer by a new, longer-wheelbase Tiguan compact crossover built in Puebla, Mexico.
Woebcken disclosed to the trade publication that it will introduce the first of multiple electric vehicles in 2020. That EV will be based on VW's MEB modular battery-electric platform.
In another interview, speaking with The Wall Street Journal, Woebcken said that the new SUV is a seven-seat family hauler, code-named B-SUV for now. It will compete head-on with SUVs from Honda, Ford and Toyota. Woebcken said that when the new VW SUV comes to market in the U.S. early next year it will carry "a solid American name."
Search used cars for sale and find the best deals near you at iSeeCars.com.
To get a FREE iSeeCars VIN Report for a car, click here.