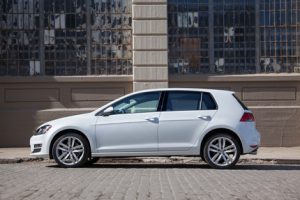 Hoping to get out from under the black cloud surrounding its diesel emission scandal, German automaker Volkswagen has agreed to pay up to $14.7 billion to settle claims in the United States.
A proposed consent decree filed by the Justice Department confirms that VW will set aside $10.033 billion to pay for buybacks and fixes, $2.7 billion in funds to offset diesel emissions, and $2 billion for green energy investment.
The settlement stems from VW's admission in September 2015 that it intentionally misled U.S. regulators by installing "defeat device" software on its "clean diesel" cars to cheat on air-quality tests.
But this settlement only pertains to the 475,000 VW 2.0-liter TDI vehicles in the U.S. It does not address the larger polluting 3.0-liter VW, Audi and Porsche diesel cars.
At a Washington, D.C. news conference June 27, Sally Q. Yates, U.S. deputy attorney general, called the VW scandal "one of the most flagrant violations of environmental and consumer laws" ever in the United States.
This is certainly not the end, added Ms. Yates. "The settlements do not address any potential criminal liability, though I can assure you our criminal investigation is active and ongoing." She went on to say that the U.S. plans to aggressively pursue a criminal investigation that includes the company and individuals.
What the Settlement Means to U.S. Consumers
While there is $10.033 billion allocated in the settlement, what VW will actually have to pay will depend on how many consumers opt to sell their vehicles back to the automaker at pre-scandal value. That amount will vary depending on the vehicles' age and mileage.
The costs may go higher. The company said in a statement that "Due to the complexities and legal uncertainties associated with resolving the diesel matter, a future assessment of the risks may be different."
Under the terms of the proposed 2.0-liter TDI settlement program:
VW will "buy back or terminate the leases of eligible vehicles (or provide free emissions modifications (if approved by the EPA and CARB), and also make cash payments to affect current and certain former owners and lessees."
Customers can choose to sell their vehicle back to VW or terminate their lease without any penalty, or choose to have their vehicle modified at no charge and keep it (if modification is approved). No matter which option the customer chooses, they will also get a cash payment from VW.
Value of the eligible vehicle for buyback will be determined based on the Clean Trade In Value as published in the September 2015 NADA Used Car Guide, adjusting for factory-installed options and mileage.
Owners can learn more about the settlement agreement and enter their vehicle's VIN number to see if it is included in the settlement at a special VW website: https://www.vwcourtsettlement.com/en/.
Eligible models include:
2009-2015 Volkswagen Jetta TDI
2009-2014 Volkswagen Jetta SportWagen TDI
2012-2015 Volkswagen Beetle TDI
2012-2015 Volkswagen Beetle Convertible TDI
2010-2015 Audi A3 TDI
2010-2015 Volkswagen Golf TDI
2015 Volkswagen Golf SportWagen TDI
2012-2015 Volkswagen Passat TDI
The settlement still has to be approved. For now, it's subject to a review by a federal judge and public comment, which is expected to take until fall. If approved, Volkswagen is required to act quickly. The company must make all repairs and payments by December 2018.
VW Not Out of the Woods
Gina McCarthy, EPA administrator, said in the June 27 Washington news conference that the "unprecedented agreement" bars VW from exporting the vehicles is buys back from exporting them without fixes to countries with less stringent emissions laws.
"These are not going to be shipped elsewhere in their current form," McCarthy said. "We are not shipping the air pollution elsewhere."
A report by Reuters, said that VW has until June 2019 to buy back or repair 85 percent of the 475,000 vehicles in the U.S. or face penalties of $100 for every percentage point it falls below that figure.
This settlement doesn't lift the ban on sale of 2016 VW vehicles imposed last September.
It also doesn't cover attorney fees for owners suing the company.
In addition, it doesn't include any civil fines VW faces under the Clean Air Act for emissions violations. The actual amount of those fines is yet to be determined.
The fate of former VW top executives is also unclear. German officials are currently investigating former Volkswagen Group CEO Martin Winterkorn, Herbert Diess, the current brand chief, and at least one board member over charges they manipulated the market. At the center of the investigation is whether these individuals could have warned shareholders of potential financial losses before the news about the diesel emissions scandal broke last September. A guilty verdict could result in a sentence of up to five years in jail.
And it's not over yet. South Korea just issued a warrant for the arrest of a Volkswagen executive in that country. Two other VW executives have been charged with criminal complaints over emissions violations. The company has also been fined $12 million dollars and ordered to recall 125,522 vehicles.
But, regarding the VW settlement reached in the U.S., Volkswagen AG CEO Matthias Mueller said in a statement: "We take our commitment to make things right very seriously and believe these agreements are a significant step forward."
When will Volkswagen be able to steer its way out of the woods? Time will tell. At least there is some daylight for owners of certain VW, Porsche and Audi 2.0-liter TDI vehicles.
Search used cars for sale and find the best deals near you at iSeeCars.com.
To get a FREE iSeeCars VIN Report for a car, click here.