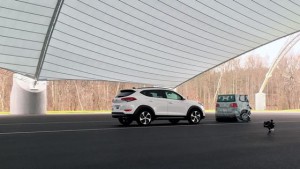 A lot has happened on the automotive safety front in terms of the tests used by the Insurance Institute for Highway Safety (IIHS) and the National Highway Traffic Safety Administration (NHTSA) to rate cars for safety. While consumers are used to hearing about "Good" ratings from the IIHS and know what a Top Safety Pick and Top Safety Pick+ are, as well as having a fair knowledge about a five-star overall safety rating from the NHTSA, the bar has just been raised by both agencies. In other words, the standards for the safest cars are being raised. The IIHS has already toughened the requirements for achieving the top-ranked Top Safety Pick+ and the NHTSA in early December just proposed new safety standards that will go into effect with 2019 model year vehicles.
What do these new and proposed auto safety rules mean for consumers? In the short term, you'll notice that some of the popular makes and models from domestic automakers haven't made the list for the coveted Top Safety Pick+ designation from the IIHS. Expect that to change, however, as automakers double down and make the necessary changes to ensure they can qualify the next go-round of testing. As for the proposed standards the NHTSA just published, there's a 60-day period for public comment, followed by a rulemaking decision that will be made by the end of 2016.
The IIHS Amps Up Requirements to Achieve TSP+
It's becoming a challenge for some automakers to take home the top rating from the IIHS. A number of automakers that did score the Top Safety Pick+ (TSP+) last year didn't make the cut for 2016. The reason is that this year's requirements include a "Good" rating in the "challenging" small overlap front crash test and the addition of an available front crash system.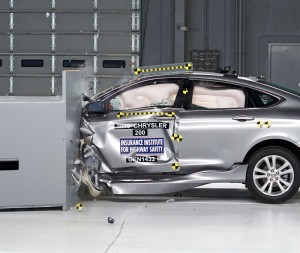 For example, the 2016 Chrysler 200 is the only domestic vehicle that qualifies for a 2016 TSP+.
The winners of the 2016 TSP+ award all have a superior-rated or an advanced-rated front crash prevention system with automatic braking capabilities. In tests, vehicles must have the ability to stop or slow down without driver intervention before hitting a target at speeds of 12 mph, or 25 mph, or both. If a vehicle has only basic front crash protection (it only provides a warning, but doesn't initiate braking), it qualifies for Top Safety Pick (TSP).
The baseline requirements for both TSP and TSP+ include achieving a "Good" score in all five crashworthiness evaluations: small overlap front, moderate overlap front, side, roof strength, and head restraint tests, as well as a standard or optional front crash protection system.
Just because a vehicle didn't earn TSP+ doesn't mean it's not a safe vehicle. The TSP rating still means a vehicle is safe. It's just that the IIHS wants to recognize progress and encourage further safety technology advances. That's why they made the ratings more stringent.
The IIHS encourages consumers to look for new vehicles with autobrake and forward collision warning features when they're in the market to buy or lease. Under a voluntary agreement being developed between automakers, the IIHS and the NHTSA, more automakers are expected to make the autobrake feature part of standard vehicle equipment in the near future.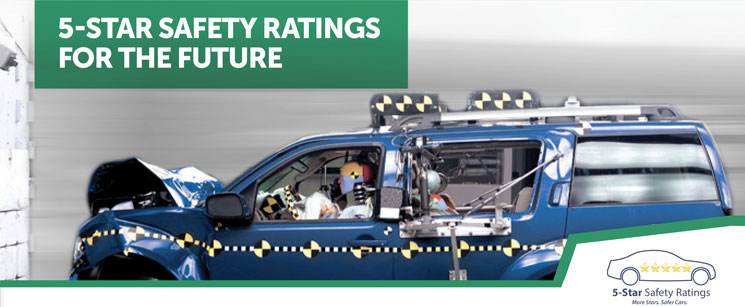 Big Changes Proposed for the NHTSA Five-Star Safety Rating System
Announced by the U.S. Department of Transportation in early December 2015, the proposed new safety ratings for the National Highway Traffic Safety Administration's New Car Assessment Program (NCAP) mean the system will go much more high-tech. When fully implemented, consumers will benefit by having better information to enable them to choose safer vehicles and automobile manufacturers will be encouraged to build their vehicles with better crash protection and advanced technology.
Transportation Secretary Anthony Foxx said that "these changes … will help accelerate the technology that saves lives.
Here's how the current system works:
Every year, the NHTSA's NCAP tests new vehicles and rates them according to how well they protect occupants in crashes involving front, side and rollover. The test results are then compiled and ranked with one to five stars, with more stars indicating a safer car.
These ratings appear on the window stickers of new cars and consumers can search ratings of new cars on the NHTSA's Safercar.gov website.
The current NCAP program also includes a list of recommended technologies, including forward collision warning, lane departure warning, and rear-visibility cameras.
Here's how the five-star rating system will work with the proposed changes:
The NCAP will use a new five-star safety rating system. This system will, for the first time, include assessment of both crash avoidance and advance technology systems and those for pedestrian protection.
There'll be a new frontal oblique test to measure how well vehicles protect those inside the car in an angled frontal crash.
Vehicles will be assessed according to how well they protect pedestrians from injuries to the head, legs and pelvis when a pedestrian is struck by a vehicle.
In order to spur safety improvements for rear-seat passengers, there'll be an improved full frontal barrier crash test.
New crash test dummies will be implemented, including the Test device for Human Occupant Restraint (THOR) and WorldSID. The new test dummies will provide vastly improved data on the effect a crash has on the human body.
Additional crash avoidance and advanced technologies will be assessed. These will be technologies that provide drivers the most potential to avoid or mitigate a vehicle crash.
The agency will start using half star increments in an effort to give consumers more discriminating information about vehicle safety performance.
The program will have the ability to dynamically update, to stay on top of emerging safety technologies.
Search used cars for sale and find the best deals near you at iSeeCars.com.
To get a FREE iSeeCars VIN Report for a car, click here.