Where are you most likely to find yourself in a drag race? Chances are it's in one of the states where drivers love the power and speed of muscle cars. 
To find out who buys the most muscle cars, iSeeCars.com's data team analyzed 4 million sales of used passenger cars (coupes, sedans, convertibles and hatchbacks) and identified how many had at least 400 horsepower – twice the average of cars on the road – and they are located.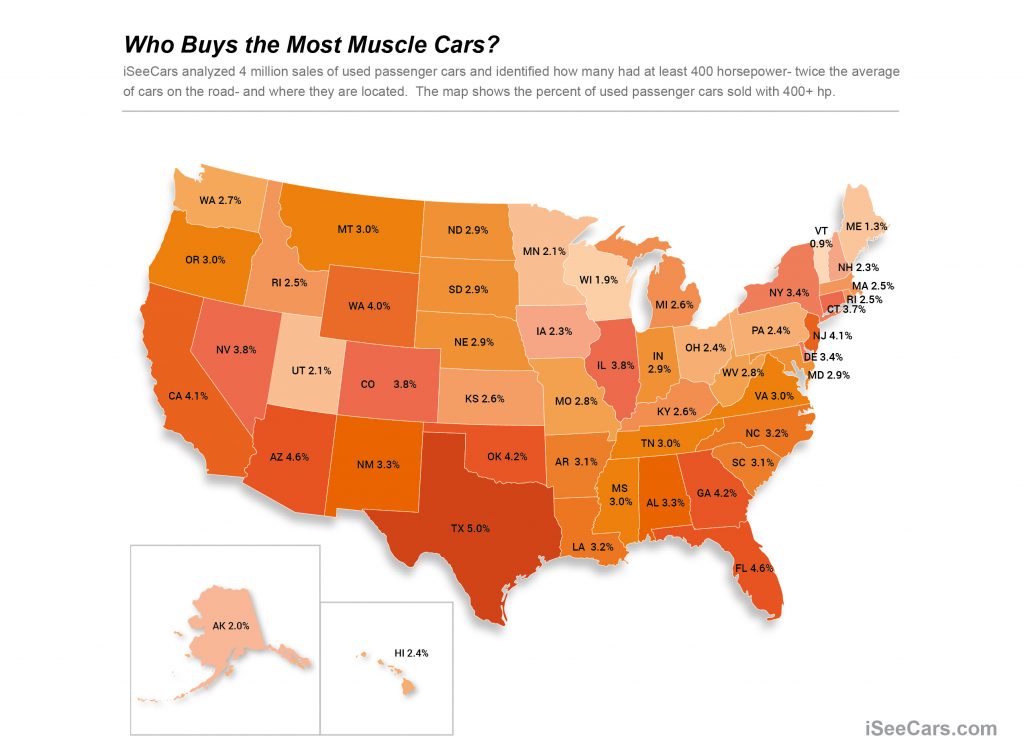 The most power-hungry state is Texas. The first-ranked Lone Star State had 5 percent of used passenger cars sold with 400+ hp, which is 1.4 times the national average of 3.6 percent. One percent of all the passenger cars purchased in Texas are 400+ hp Ford Mustang models. That's almost double the number of Mustangs purchased in Florida, which is tied with Arizona for second place on the top 10 list.
The Top 10 Most Power-Hungry States
| | | |
| --- | --- | --- |
| Rank | State | % Muscle Cars |
| 1 | Texas | 5.0% |
| 2 | Florida | 4.6% |
| 3 | Arizona | 4.6% |
| 4 | Georgia | 4.2% |
| 5 | Oklahoma | 4.2% |
| 6 | California | 4.1% |
| 7 | New Jersey | 4.1% |
| 8 | Wyoming | 4.0% |
| 9 | Colorado | 3.8% |
| 10 | Illinois | 3.8% |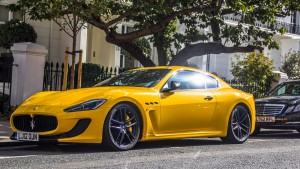 In Florida, California and New Jersey, luxury power is very popular with a large portion of the 400+ hp cars sold in those states being high-end Maseratis, Ferraris, Lamborghinis, Rolls Royces, Aston Martins, McLarens and others.
It appears that the South Florida and Southern California big-screen stereotypes are based on some reality. New Jersey is a bit of a surprise, but given its proximity to New York City and the fact that it ranks third in the US for median household income, maybe it's not so puzzling. Jersey's most popular muscle car is the Mercedes-Benz S-Class.
In 8 of the top 10 states, the Ford Mustang is the most popular pavement burner of choice. Exceptions are the aforementioned New Jersey and Wyoming, where the most popular muscle car is the Chevrolet Camaro.
Do you have a favorite muscle car? Comment below and let us know where you live.
Methodology: iSeeCars.com analyzed over 4 million used passenger cars (sedans, coupes, convertibles, and hatchbacks) from model years 2012-2016 sold in 2016. For each state, the number of passenger cars which had at least 400 horsepower was expressed as a percentage of all passenger cars. After ranking by this percentage, the top 10 states were identified on the list of Top 10 Most Power-Hungry States.
Search used cars for sale and find the best deals near you at iSeeCars.com.
To get a FREE iSeeCars VIN Report for a car, click here.