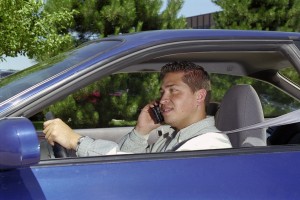 We're a nation of do-what-we-want-when-we-want drivers. At least, that's a reasonable conclusion after looking at research from State Farm. In its sixth annual driver survey, the auto insurer learned some rather interesting pieces of information.
Drivers Don't Walk the Talk
While the survey found a "large" majority of drivers support state and local laws banning the use of cellphones behind the wheel, their admitted behavior while driving clearly belies their stated beliefs.
It's almost as if the laws are supposed to apply to everyone else but them.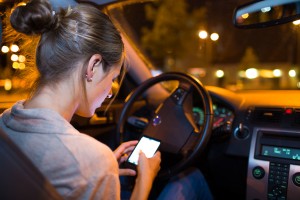 Most Likely Hand-held Use Times
As for the times that the drivers surveyed said they were most likely to use a hand-held phone, it's about what we've heard from other surveys:
At a red light, stopped – some 59 percent said they'd use their phone at this time and location.
Driving on the "open" highway – here the tally was 30 percent.
Drivers More Likely to Nix Using Cellphone During These Times
When aren't drivers likely to use their cellphones when driving? According to the survey results, there are certain conditions they'd consider avoiding cellphone use, including:
Icy – 93 percent
Snow – 92 percent
Fog – 91 percent
Rain – 88 percent
Construction zone – 87 percent
School zone – 83 percent
Heavy traffic – 78 percent
Dark outside – 75 percent
What State Farm found "particularly troubling" was the fact that at least 10 percent of drivers said driving in a school or construction zone had no impact on their cellphone use.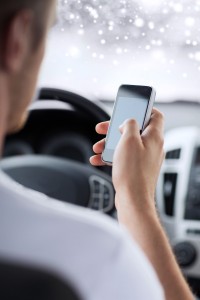 Times Have Changed – Somewhat
Over the course of the six years State Farm has conducted this survey, some things have definitely changed with respect to driver behavior and cellphone use.
Although the number of drivers texting has remained stable in the period and the number of people talking on hand-held cellphones has steadily reduced, the number talking on hands-free phones has increased.
In addition, smartphone ownership is growing, leading to all sorts of new distractions. In 2011 it was 52 percent, but had grown to 80 percent in 2014.
It's not just talking and texting on smartphones that's distracting to drivers. Now they use the devices for reading and responding to emails, going on the Internet, reading Facebook and other social media, and programming and listening to a vehicle navigation system.
Chris Mullen, State Farm's director of technology research, offers some cautions about drivers continuing to engage in these types of distracted driving. "While much attention is paid to the dangers of talking and texting while driving, it's critical that we also address the use of other smartphone features and other sources of distraction."
To view the full State Farm Distracted Driving Survey 2014, click here.
Search used cars for sale and find the best deals near you at iSeeCars.com.
To get a FREE iSeeCars VIN Report for a car, click here.