If you drive a car, you need auto insurance. That's the law in all 50 states and the District of Columbia. But what you pay for insurance, the type of coverage you obtain, and how easy it is to do business with your insurer are variables that consumers can have some measure of control over. In order to find the best insurance to fit your needs, however, you need to know what's out there. Why drivers don't shop for or switch car insurance very often is quite illuminating. We spoke with Laura Adams, senior insurance analyst for InsuranceQuotes.com, a Bankrate company, to get some answers.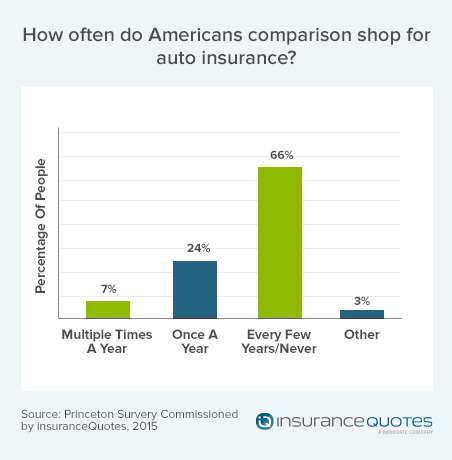 iSeeCars.com: What are the reasons people give for not shopping for car insurance on a somewhat regular basis?
Laura Adams: The recent InsuranceQuotes survey highlights a couple of reasons why consumers don't shop for auto insurance as frequently as they should. One is that only 52% of respondents knew that you could switch carriers at any time during the year, instead of having to wait until your policy's next renewal date.
Another reason for infrequent shopping is that 62% indicated that it's time-consuming. The reality is that completing an online request could take as little as 15 minutes. I also believe that our human nature to procrastinate keeps us from re-evaluating our insurance policies as often as we should.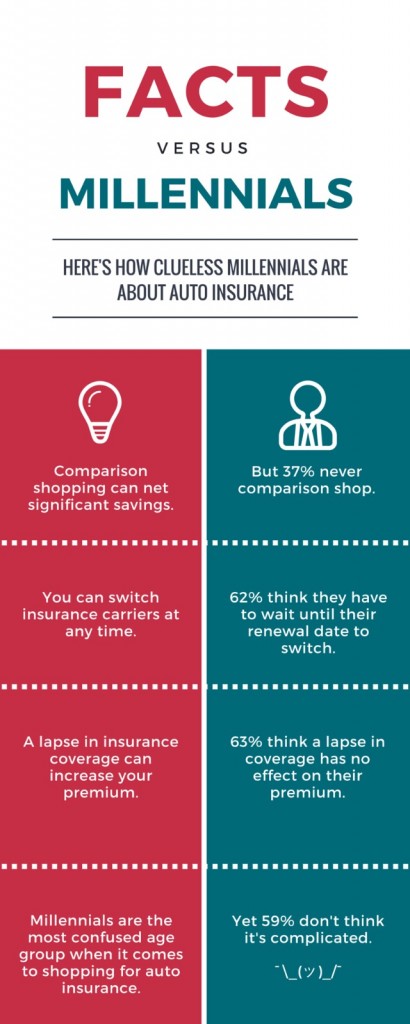 iSC: What are the biggest misconceptions millennials have about switching car insurance companies or what's involved in making a switch?
LA: Our survey found that millennials are the most likely to misunderstand that you can switch auto insurance companies immediately, and don't have to wait until renewal date.
iSC: Why do senior citizens balk at shopping for car insurance? Do they say they think it's a waste of time, that they're already getting the best deal, it's too much of a hassle, what?
LA: Respondents age 65 and above were the most likely to say that shopping for insurance is complicated and the least likely to say that it's simple.
iSC: Do any mention fear as a factor? By this I mean that they believe if they go online and request quotes that their current insurer will find out and it will hurt their rates? Another possibility is being inundated with agents calling and emailing to pester them for business (since you have to provide a certain amount of personal information to get the quotes).
LA: We didn't include fear as a way to describe shopping for auto insurance. However, my gut tells me that both of your ideas are valid reasons that may keep consumers from shopping as frequently as they should.
iSC: What are some tips on how drivers can cut their premiums?
LA: Drivers should definitely check out these three tips to help them cut their auto insurance cost:
Bundle your policies. Our studies have shown that combining policies, such as auto, home, renters, and life, with the same carrier can save money in most states.
Increase your deductibles. Raising your deductible lowers your annual premiums. Just make sure you keep enough money in savings to cover your out-of-pocket expense if you need to make a claim.
Ask for discounts. Carriers offer a variety of discounts, but won't know you're eligible for many unless you don't speak up! The good student discount, low mileage discount, and occupational discount are often missed.
iSC: Does it differ for different age groups, like younger drivers, singles, families with children, older drivers? 
LA: Some discounts are more applicable to different age groups than others. For instance, the good student discount typically applies to teen drivers up to age 25. Many carriers give drivers over age 55 a discount for completing a driver education safety course. And in general, married drivers pay less for auto insurance than singles.
iSC: What amount of money saved annually in premiums would be considered a good reason to switch – all things considered and the coverage is the same? Did people give a breakdown of this?
LA: The savings amount that makes switching auto insurance companies worthwhile will be different for everyone. Cutting your annual insurance expense by at least $100 is probably enough to make changing carriers a worthwhile endeavor for most.
iSC: Does the reluctance to shop around at least once a year vary according to geographic region? For example, are drivers in the Midwest less likely to shop than drivers in the West or East coasts?
LA: We don't have that information – sorry!
iSC: If people do request a quote from an individual insurance company, what factors should they also consider when trying to determine if they should make the switch? Are there certain questions they should ask or things to look for in the insurance company besides the cost of the premium to insure the vehicle?
LA: Cost is just one variable consumers should consider when switching auto insurance companies. Having good customer service and convenient options for paying bills and submitting claims online or through a smartphone app are features to look for.
********************
The full InsuranceQuotes.com study, conducted in June 2015 by Princeton Survey Research Associates International, is available here. It includes the recommendations to shop regularly (at least once per year),use various channels (going through an independent agent who can shop 8-10 carriers, check one or two companies that don't use independent agents, and go online), choose a good company, and make sure you don't have a coverage gap when you do decide to switch car insurers.
Search used cars for sale and find the best deals near you at iSeeCars.com.
To get a FREE iSeeCars VIN Report for a car, click here.