If you're thinking about shopping for and buying or leasing a new vehicle, in addition to eagerly scouring the hot deals, standard and optional features offered, give some thought to what type of engine you want as well. In fact, one of the reasons why turbochargers are becoming popular is that increased fuel efficiency and reduced carbon emissions are ranking high on consumers' must-have lists.
Why the Big Push?
Automakers are gearing up to meet the Environmental Protection Agency's (EPA's) corporate average fuel economy (CAFE) standards of 54.5 miles per gallon by 2025. In order to get there, car companies are going with a mix of electric, hybrid, improved efficiency gasoline and diesel engines, smaller-displacement engines, and turbocharged engines, among other changes.
The old standard was an eight-cylinder engine, followed by the proliferation of six-cylinder engines, then adding five cylinders and four-cylinder engines into a product line mix, three-cylinders, and even one-cylinder engines. "A six with the power of an eight," and "A four with the power of a six," were some of the taglines in new car ads, brochures, and reviews. Marketing slogans, backed up by the numbers, proved an enticing lure for consumers.
Consumers, for their part, want the improved gas mileage and like the idea of greener engines, but they absolutely don't want to sacrifice performance for it. Enter the competition for highly advanced turbochargers – and certain automakers are leading the way. Here are a few examples.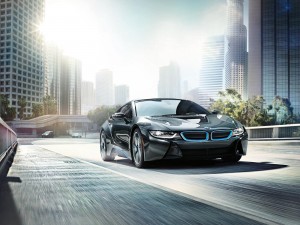 2015 BMW i8
The BMW i8 was just named "International Engine of the Year" by Engine Technology International magazine. Equipped with the Continental turbocharger, the 1.5-liter 231 PS TwinPower turbo three-cylinder gasoline engine joins forces with a 131 PS electric motor to power the hybrid sports car.
The TwinPower turbo features a newly developed steel turbocharger with an outstanding power-to-weight ratio and is able to withstand exhaust temperatures of more than 1,000 degrees C. The combination of highly efficient exhaust turbocharging and direct injection produces a high specific output and simultaneously markedly reduces CO2 emissions.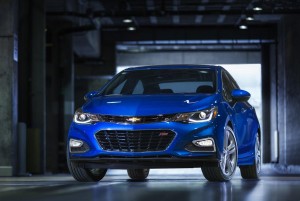 2016 Chevrolet Cruze
There's excitement over at Chevrolet over the upcoming 2016 Cruze compact sedan and its new Ecotec 1.4-liter turbocharged engine with direct injection. With available six-speed automatic transmission (a six-speed manual is standard), the 1.4-liter turbo will get an estimated (by General Motors for now) 40 mpg on the highway. Included as standard will be stop/start technology that help the engine be more efficient in everyday traffic. The engine delivers 153 horsepower and 177 pound-feet of torque. Also contributing to the fuel efficiency of the 2016 Cruze is the fact that the compact dropped 250 pounds (a significant weight reduction).
2016 Hyundai Veloster Turbo R-Spec
It's not brand-new, but the 2016 Hyundai Veloster Turbo R-Spec does receive some significant performance and appearance upgrades. The heart of the Veloster Turbo R-Spec is the 201-horsepower 1.6-liter turbocharged direct-injected four-cylinder engine. The sport suspension and steering settings are retuned to provide optimum performance. The Veloster Turbo R-Spec also offers a six-speed manual transmission with short-throw B&M Racing® Sport Shifter – giving the driver a tighter and more direct shift feel. Available Torque Vectoring Control is a Veloster Turbo exclusive that drivers really notice during dynamic cornering, aka enthusiastic driving.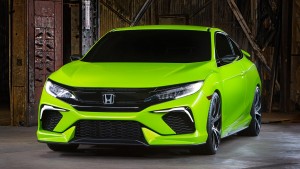 2016 Honda Civic
Honda showed off its all-new Civic Concept at the 2015 New York Auto Show, promising that it's the basis for the entire 2016 Civic lineup. This fall, the Civic sedan comes out first, followed by a coupe, Si, a five-door model, and a new Civic Type-R. The Civic Concept pictured here is powered by a new turbocharged engine, a fitting enhancement for the 10th-generation lineup of Civics. Testing at Nurburgring recently in a prototype Type-R  resulted in a new record for production front-wheel-drive cars. Under the hood: a 310-horsepower 2.0-liter turbocharged four-cylinder engine matched with a six-speed manual transmission. Whether this is the turbo that winds up in the production Civic Type-R remains to be seen.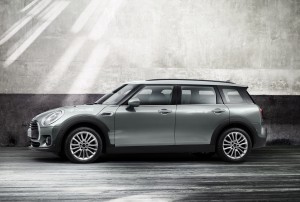 2016 MINI Cooper Clubman
Boasting the same popular wagon body style as previous generations, the 2016 MINI Cooper Clubman adds to the franchise with six doors. The 2016 model is 11 inches longer and approximately 3 inches wider than the outgoing model. In the base Cooper Clubman, power comes from a 134-horsepower 1.5-liter turbocharged three-cylinder engine. In the Cooper S Clubman, the powerplant is a 189-horsepower 2.0-liter turbocharged four-cylinder engine. Six-speed manual transmission is standard, with an optional six-speed automatic available in Cooper Clubman, and Cooper S gets an eight-speed automatic – a MINI first. The 2016 MINI Cooper Clubman goes on sale in the U.S. in January 2016.
Is a Turbocharger For You?
Automotive experts have their opinions, just like everyone else, but in the end, the consumer – you – decide what's right for you. If you believe that performance is enhanced with a turbocharger and don't mind potential tradeoffs with fuel economy (some publications, such as Consumer Reports, reported in 2013 that the actual fuel economy in some small turbocharged engines is less than the claims by marketers).
In our view, the goal is generally achieving a good balance between performance and fuel economy. If you're more of a performance-oriented driver, you'll likely opt for a turbocharger. If fuel economy is higher on your must-have list than performance, you may go for a hybrid, smaller-displacement gasoline engine, or a diesel.
That's why automakers are covering all the bases, frankly. While they're mandated to get more fuel economy out of their vehicles by 2020, they also want and need to deliver what consumers want. And many consumers – being brutally frank – want it all. Can automakers deliver? We're betting they will and we'll be right here with the news of the latest products and features when they're announced.
Search used cars for sale and find the best deals near you at iSeeCars.com.
To get a FREE iSeeCars VIN Report for a car, click here.