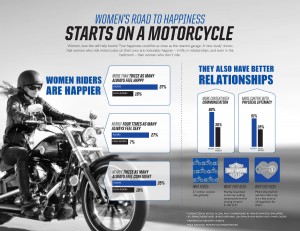 A new survey finds some surprising, or not-so-surprising results. It seems that women, who ride motorcycles, say they're happier, feel more confident and in control and that riding even helps improve their relationships, compared with non-motorcycle-riding women.
The survey, commissioned by Harley-Davidson and conducted by Kelton from May 20-28, 2013, involved interviews with just over 1,000 each female motorcycle riders (who ride sometimes or regularly) and non-motorcycle riders (who never ride).
As for the specifics, let's motor through what the survey discovered:
Happiness and more on a Harley
Okay, so it doesn't have to be a Harley, but the survey found that riding a motorcycle greatly improves a woman's feelings of overall self-worth. The study found that:
More than 2X as many women say they always feel happy (37 percent of riders vs. 16 percent of non-riders)
Nearly 4X as many women say they always feel sexy (27 percent compared to 7 percent)
Nearly 2X as many women say they always feel confident (35 percent of riders vs. 18 percent of non-riders)
More than half (53 percent) of women who ride specifically cite their motorcycle as a key source of happiness.
74 percent (nearly 3 in 4) believe their lives have improved since they took up riding.
How riding improves relationships
As for riding a motorcycle being able to improve relationships, here the survey takes a decidedly different turn. It all stems from the positive impact that riding gives to women's sense of self-worth.
But there's more. Riding can also improve relationships by making women more content with communicating with their significant other (60 percent of riders vs. 38 percent of non-riders), and physical intimacy (51 percent compared to 35 percent).
What's often the biggest factor detracting from relationships? It's stress, which can cause tension and chip away at personal interaction with significant others. The Harley-commissioned survey found that nearly one-third (34 percent) of women riders say they now feel less stress after starting to ride.
Also not surprising, then, is that 50 percent of female motorcycle riders surveyed say they are "extremely satisfied" with the state of their current relationship.
Get more out of life on two wheels
Harley is promoting its website where women can learn more about getting started riding a motorcycle. Their riders section has a number of tools that may help, including overviews of motorcycles and gear, testimonials, and news about special Harley-Davidson Garage Party ™ events where women can get hands-on demos and tips in a comfortable environment. Check it out at Garage Party.
Want to know more about learning to ride more confidently? Harley has this aspect of new motorcycle ownership covered as well, promoting its Harley-Davidson River's Edge® New Rider Course. This is a 25-hour course with expert guidance in the classroom and on the practice range, available at local Harley-Davidson dealership locations.
As for accessories and wearables, if women are in the market for a Harley-Davidson, dealers stock lots of appropriate garb to outfit even the most picky woman rider.
Ah, the open road beckons. Make mine a Harley. What about you?
Search used cars for sale and find the best deals near you at iSeeCars.com.
To get a FREE iSeeCars VIN Report for a car, click here.