If you think beetles aren't fast, think again. Not the insects that skittle away as your feet traipse across the floor. Nope, the world's fastest beetle is the 4-wheeled kind: the Volkswagen Beetle LSR.
Even thinking about a VW Beetle as the fastest anything in the world may be a stretch, as beloved as the car is to its loyal fans and owners.
Yet if they were at the 2016 World of Speed event in Wendover, Utah, they would've witnessed the fastest speed ever recorded for a VW Beetle. Here are the details: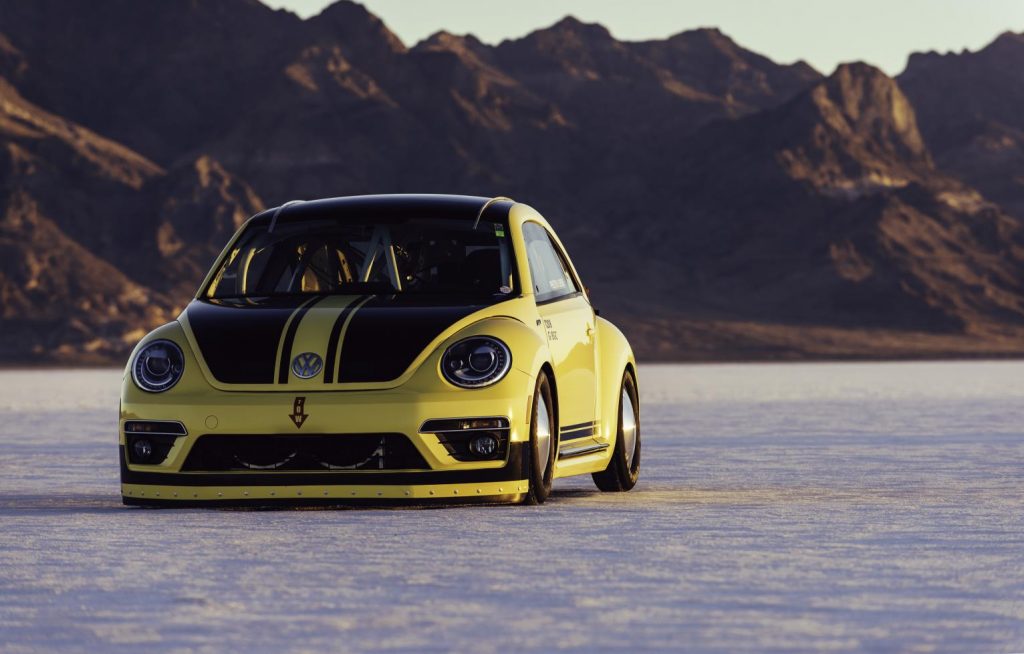 Record-Breaking Speed – The Beetle LSR achieved 205.122 miles per hour over a flying mile.
Event – Utah Salt Flats Racing Association's 2016 World of Speed event on the Bonneville Salt Flats.
Driver – Preston Lerner, contributing editor for Automobile magazine.
Power – VW's specially-tuned Beetle LSR is powered by a 2.0-liter turbocharged, direct-injection 4-cylinder TSI gasoline engine.
Powertrain Modifications – Getting the horsepower above 200 mph while still adhering to the rules of the Southern California Timing Association (SCTA) G/BCG rules required significant modifications. THR Manufacturing, Santa Paula, California, added new turbochargers, pistons, camshafts, head modifications and connecting rods. The result: 543 horsepower and 421 pound-feet of torque.
Other Beetle LSR Changes – In addition, the Beetle LSR benefitted from a lowered suspension, special Salt Flat wheels and tires, a limited-slip differential, a stripped interior outfitted with a rollcage, safety seat and harness. To help slow the car, two parachutes were also added.
While most Beetle drivers will never want to go that fast on regular roads, the stock 2017 Volkswagen Beetle R-Line coupe boasts a 210-horsepower turbocharged and direct injection 2.0-liter TSI engine that goes 0 to 60 mph in 6.6 seconds, with an electronically governed top speed of 130 mph.
Search used cars for sale and find the best deals near you at iSeeCars.com.
To get a FREE iSeeCars VIN Report for a car, click here.